Joined

Dec 21, 2000
Messages

2,695
Location
Well, 6 good days of hunting and no critters on the ground, but much fun has been had by all!
I've seen about 6 300ish bulls at 50 yards or less, but have had no shot opps! Almost let fly on a 4 point rag 2 days ago, but again, not quite the angle I needed before he got nervous and got out! Oh well, its all fun!
This first pic is the sight I saw when we chased some bugling up through a canyon towards a saddle. I should have been staking out the saddle while my buddy pushed! 50 elk, 40 cows, 5 spikes, a big 5 a dandy 6 and 3 rags!
This nice bull was grunting up a storm and I was within 15 yards of him many times. Wish I had that tag!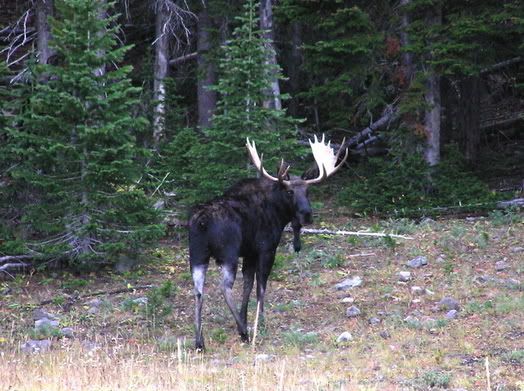 Elk hunting or goat hunting??

A sweet water hole I found in the middle of NOWHERE! May have to pack a treestand in here someday (only about a 3 hour pack in).
Good Luck All!