Joined

May 31, 2007
Messages

2,485
Location
I drew one of the 10 or so non-resident early September muzzleloader bull tags for the zone that includes the Jarbidge Wilderness area. I had hunted there in 2012 on an early November mule deer buck tag. The Jarbidge is a special place and while I could hunt the tag solo without ever stepping into the wilderness, I wanted to return miles deep into the wilderness. I would need horses in order to get a few hundred pounds of gear in and then get that gear plus a few hundred pounds of tasty elk meat out.
I hired the same outfitter which my brother and I used in 2012. My hunt would begin opening morning of the season. We would ride a few miles into the wilderness the morning before.
I had practiced with my muzzleloader for dozens of rounds a couple of months before the hunt. Initially used Powerbelts but soon switched to 290 grain T-EZ FB Barnes bullets. I used 140 grains of Blackhorn 209 with a CCI Magnum 209 primer. Thompson Omega 50 caliber muzzleloader with a peep sight modification. I could shoot tight groups at 100 yards. I could hit the target at 200 yards but the front bead covered more than the vitals zone so decided to limit my shots to 125 yards.
Loaded up rental truck as depart for the adventure. 11 hours of driving later and 590 miles I get to where the dirt road ends.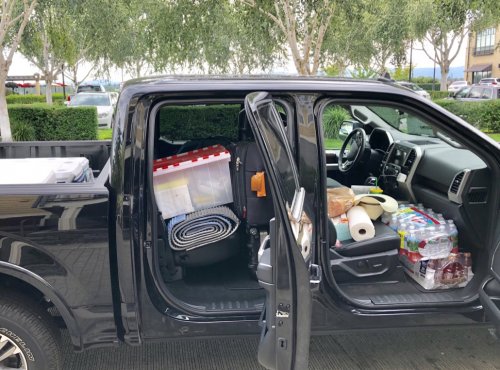 Last edited: