Joined

Feb 9, 2018
Messages

420
Location
It's always fun to go to new places. Whether it's hunting, fishing or just seeing a new place it's usually a good time. Often I (and I'm guessing you) dream of a new place and what mysteries it holds. Maybe its a 170" whitetail or a 380" bull. I try to keep my mind in check because I don't want a great trip ruined because of unrealistic expectations. This isn't one of those trips. I had high expectations, but I had no idea what we were heading towards. This is one of the few fishing stories that's all true.
Last November my friend Justin and I were hanging out one afternoon before heading into the whitetail woods and we starting discussing our mutual desire to go on a fishing trip. A year earlier Justin's dad and a friend had gone down to Grand Isle, LA and caught some really great red and black drum. We looked at the calendar and picked out some dates the first week of March. I did some research and found some small beach cabins that were very reasonably price and we sent them a check. The plan was made. We would leave Thursday morning and drive the 12hrs to Grand Isle to fish for a couple days then drive home on Sunday. We would be pulling a 14' john boat down there and fishing in the marsh and on the massive flats. For those of you that don't know where Grand Isle is look 50 miles due south of New Orleans and find where the last road ends. You drive on bridges for hours to get to the island and when you arrive you can see oil rigs a few miles off shore. Its a cool island town. Both Justin and I have caught our fair share or red drum but never a giant and neither of us had ever caught a black drum. Our goal was to catch both.
We arrived Thursday afternoon checked into our cabin and headed to the water. It didn't go well. We caught a few saltwater catfish, but that was it. We didn't have any real fresh bait and we didn't have any crabs (which we were told to use). After an excursion to find live crabs on the main land we were back on the water before lunch time. It took a little bit of moving around, but finally we found the fish in 2 different main locations and when I say we found the fish I mean WE FOUND THE FISH! We fished Friday for about 7 hours then because of bad wind only fished Saturday afternoon for about 4 hours. We averaged a fish over 20lbs every 11 minutes. We both caught a big red 41" and 43". I caught the biggest black drum Saturday afternoon right before we left he was 37" long and 37" around (last pic). It was nonstop action with big hard fighting fish.
We even drove a 14' john boat out into the Gulf of Mexico just to say we did. That is not advised. We immediately discovered we made a mistake and turned around while fearing for our lives, lol. Fun times were had by all.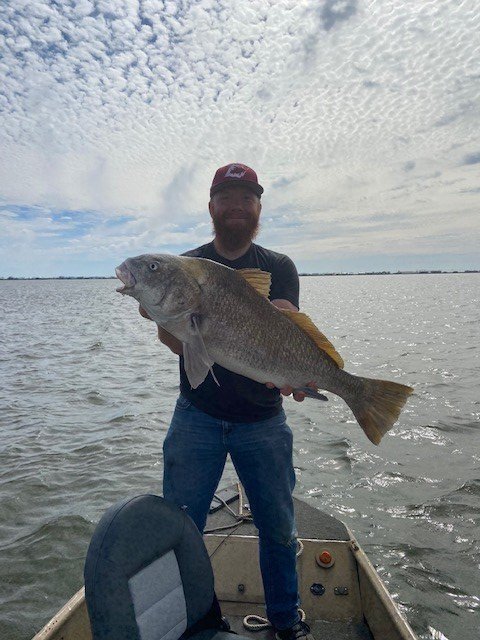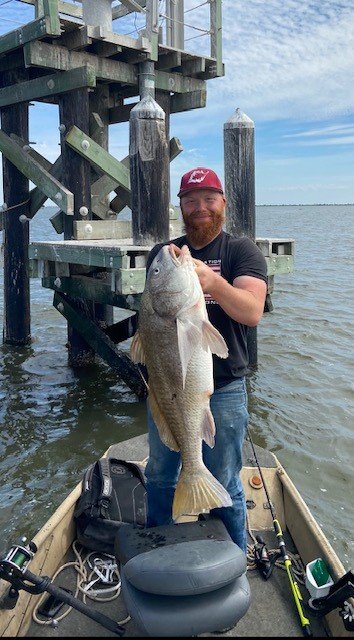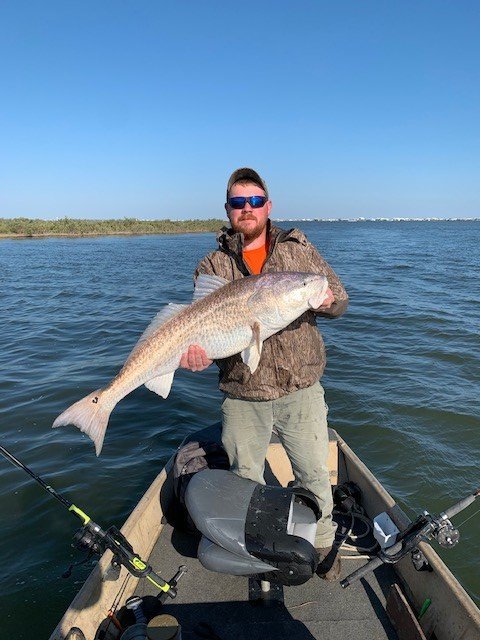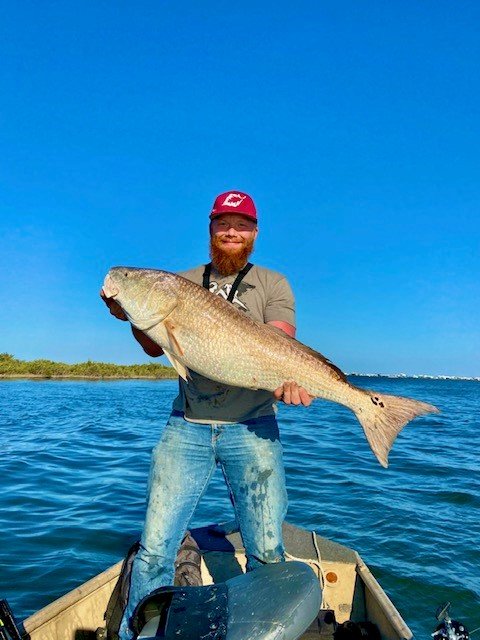 Last edited: