Joined

Jan 9, 2001
Messages

12,891
Location
To follow up on the deer thread, the elk version.
Started out the 2020 season in January with this WY cow...had no idea at this point the mess 2020 would become. Seems like a lot longer ago than 11 months:
First thing this year, helped my good friend from Laramie with this elk. He wanted to try out one of my rifles and shot it with a 140 grain e tip from my 7 RM:
Next up was general elk with oldest nephew and 3 friends that normally hunt late cows. They all drew general tags this year. My nephew had some tough luck, seeing bulls and elk everyday but not connecting. I blew one opportunity for him when I topped a ridge too fast and spooked off a good bull. He could have shot multiple cows, but wanted a bull or nothing. Sometimes its nothing.
Later in the season and after changing up locations a bit, we started bumping into a lot more elk. It was just an "off" year with all the fires, fire restrictions, dry weather, about on par with 2020. Day 6 of the season, my friend and I decided to hunt together and hike up on a ridge elk like to feed on. Just a daylight we heard a bull bugle and soon spotted a 5 point, spike, and several cows grazing. I've shot a lot of elk and since my buddy had never killed a bull, told him it was all his. He made a great shot with his 7 RM. The one thing I appreciate about hunting with these guys is their shooting ability. If they find what they want, their shooting is not a question.
My friend with his first bull, he was pretty darn happy and so was I.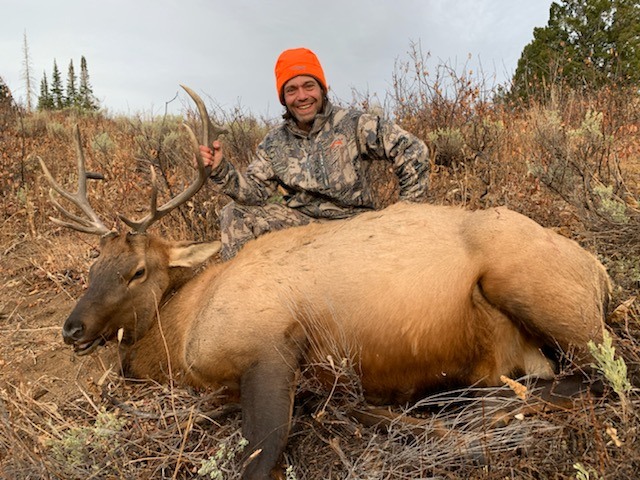 The very next morning, we decided to try a place I'd scouted earlier, but had never hunted. We all split up and about a half hour after daylight my old high school friend from Montana killed a spike bull, also his first bull. He's not big into pictures and didnt take any, but he was real happy. I decided to continue to hunt while he was breaking his elk down. I didn't hunt long and found a cow edging along feeding in the timber about 50 yards away. She was all alone and just kept getting closer. Finally, at about 30 yards I placed the leupold dot behind her shoulder and squeezed the trigger on the 7-08. A quick 30 yard run and a crash and I had some work to do: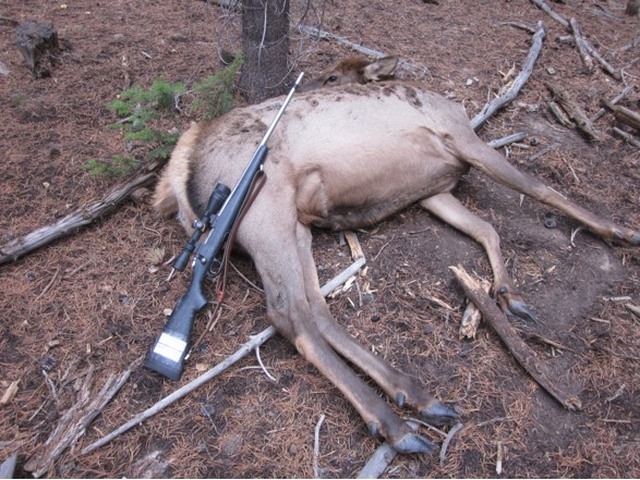 Another look: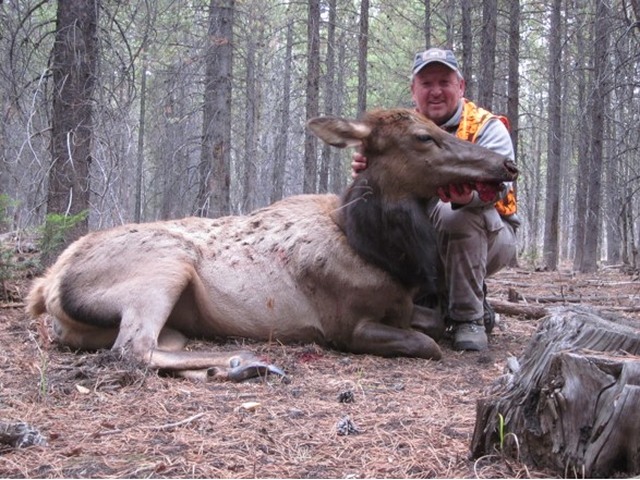 With only one tag left, the last of the camp filled out hunting a spring where we had watched elk drink from 2 nights in a row. Just like reading a script a half dozen made their way down to the spring.
Not the best picture, but only one I have:
In spite of the fires, heat, etc. we managed to go 4/5 on general elk. It was pretty cool that my nephew made the decision to hunt for only a bull and passed up cows, no way I would have done that at his age.