Joined

Jun 6, 2013
Messages

2,918
Location
There are lots of threads out there on boiling skulls, and this question may have been answered but I didn't see it.
I have used Buzz's directions on this post with great success on numerous deer.
It is a testament to how often I shoot bull elk, that I recently found that despite the fact that it's not that big, the bull I shot this year won't fit in my typical skull pot. The antlers prohibit it from sinking down far enough.
The Ghost of Yesteryear's Miller Light
will no longer work.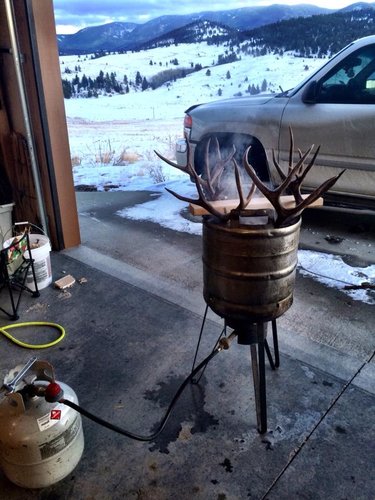 I went around to some stores last night but couldn't find anything that seemed it would be big enough. I did find some galvanized trough looking things that may work at Murdochs, but before I pulled the trigger I figured I'd ask the collective wisdom here.
What vessel do you simmer your elk skulls in?