Joined

Oct 14, 2016
Messages

682
Location
Ok since Mr.
@mtmuley
has this hunch that I'm just a thread troller with no big game hunting experience, I thought I would please him with a good full on story of the first time my wife and I packed the bags set for the wilderness unknown.
That wilderness unknown was the Tongass NF and to most people, unknown and unexplored it is.
The planning began around Christmas time the year before and over the course of 7 months we put in a lot of effort collecting the correct gear, making phone calls gathering information and coordinating logistics for the travel to get there. The logistics were probably the most intimidating for a couple trying for the first time to do an out of state big game hunt. It was a 7 hour drive to the airport for us, two commercial flights to Ketchikan, float plane to POW island, pick up and drop off to get a rental of a 4wd pickup and then a 2 hour drive to where we wanted to start our hiking from. We left at 8pm on a Friday and then didn't get to that hiking spot until 10pm the next day.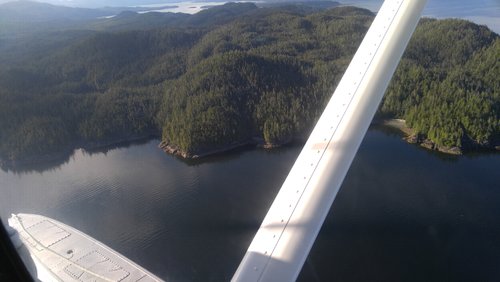 So our hunting plan was to over 3 to 4 days hike up and hop around from high mountain top to high mountain top in the alpine searching for late summer bucks still hanging out up there and then spend the last 3 to 4 days looking for a black bear down feeding on the salmon streams. Sounds easy right? Those of you right now that have ever been to the Tongass are probably rolling on the ground laughing.
So we woke up Sunday morning and began to hike. It was first a 5 mile hike up an old logging road to get up past a bulk of the heavy dark timber and then a .5 mile walk up through some dark timber and 1.5 miles to the base of this large peak. The old logging road hike wasn't too bad with some downfall and a large rockslide area with a few deep creeks to cross. Once we left this old logging road is where the real fun began. The dark timber wasn't terrible but some downfall and the steep incline still made for a challenge. Then there was 1.5 miles of alpine muskeg and that is a whole another kind of fun. When we finally arrived at where we saw on the map we wanted to pitch camp, it was 7 miles in, a 1500 foot elevation climb (we started at sea level) and took about 12 hours getting us there just after 5pm. My wife wanted to rest and just work on setting up the tent so I hiked to a knob about 300 yards away to start glassing. Did that into twilight with no deer spotted but did find a really nice spot we could glass from in the morning and then this nice ridge we could work up glassing as we went. I went back to camp to a grumpy sore wife telling me that this is it for her. She can't make it doing that kind of hike day after day keeping camp with us. She wasn't moving camp and stated "there better be deer here cause this is where our camp is staying".
We got up in the dark the next morning and headed right to that nice glassing spot I found maybe 600 yards from camp but through muskeg hell. For those of you not familiar with muskeg, it's basically this vast mat of vegetation that is kinda floating on water. Or so it seems...sometimes your walking on hard ground and the next thing you know your boot busts through and its 1-3 feet until it hits bottom. Anyways, we made it to the spot just as it was getting light out and we are glassing down below us in this big open creek meadow as well as a few benches on the north slope of this mountain. About 3/4 of the way up this mountain, most vegetation ends and it's rocky. There's a deer! Hey it's a buck! Holy crap it's a dandy buck! He is perfectly silhouetted standing right up on the top of this mountain. Not where I was expecting to see a buck at all. He was 800 yards away and about 800 feet of vertical elevation above us. All we could do was watch him and he went up and over the top out of view. Ok, so there are deer here, let's see what else we can find. We take a hike for a few hundred yards and look back to that mountain and what the hell, on a bench we've been staring at all early morning now stands a doe. Well I guess we need to get up there. Took about 2 hours to hike up that way which was only a distance of about 600 yards, it's some rough, steep stuff to hike. We got right at the base of where the vegetation mostly ends and turns to rock and I hear my wife go,
"you got to be kidding me"
"What's wrong?" I replied.
"Look down there, right where we were glassing this morning...there's a deer there"
Wouldn't you know it, sure enough not more than 30 yards from the exact spot we were glassing from is a deer and not just a deer but a forkie buck. A legal buck. Well we came this far up this beast of a mountain top, might as well explore it some and see why that buck was up here. We spent the early afternoon up on top reviewing numerous big deer tracks, watching geese come in and land on the tiny pond in a little crater of to one side of this mountain and just enjoying the spectacular view.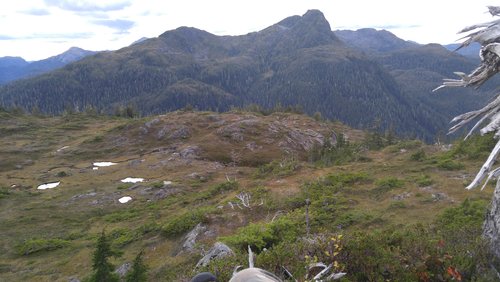 We made our decent down to a bench on the north slope to watch that creek valley meadow until dark and didn't turn up any more deer.
The next morning the plan was to just spend the whole day from that first glassing spot and have the discipline to wait it out and catch the deer moving around that area. Plenty of tracks were there and we saw a buck and a doe in that area so we had high hopes a buck would give us a chance eventually if we were patient. Well that lasted all of 30 minutes when just like the morning before, the same buck shows up in the same spot up in the rocks and he has a friend, a much bigger friend. Like an absolute giant 10 pointer (I'm from the midwest, I call them for what they really are). We watched them feed, drink, walk around up at the very top of that mountain for a good 30 minutes before just like the day before they disappeared over the top. I looked at my wife and told her we have two options: either we stick to the original plan and wait it out or we go back to camp, pack up, move it to about 500 yards under those bucks and then get up super early and beat the bucks up top and hope they show up again tomorrow morning. I was glad she decided to move camp cause that is what I was leaning towards.
We went back to camp and packed up. The hike and then setting camp back up took us well into the day, until around 2pm. The good thing about this move was that from camp, it was a short 100 yard walk to this ledge that overlooked the same creek meadow we were looking at in the morning but it was just on the other side. This allowed my wife to sit that evening still watching that area while I wanted to hike up the mountain and GPS my path and the amount of time it was going to take to allow for easier travel in the morning. I got up top, sat for awhile enjoying the view again (with a small glimmer of hope of seeing one of those big bucks) and then headed back down to just sit with my wife for the last hour of light.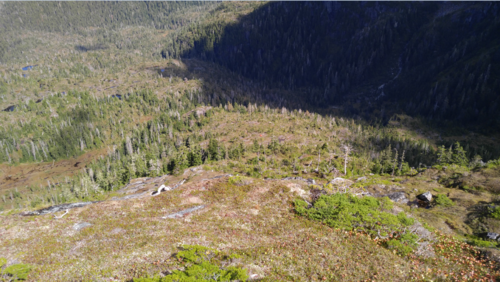 If you look really close in this picture above, you can actually see our second camp location. Its a bright red tent in the center of this picture. Off to the left of this photo you can actually see the creek valley we have been focusing our efforts on thus far. Basically right off the left edge of the photo the far side of that valley has this big steep little knob where we were glassing from. Where I'm standing when I took this photo is exactly where we saw those big bucks. They were hanging out on these mountain "flats" feeding and drinking in the puddles created up here in the rocks. Our game plan was to beat them up here in the morning, get the wind in our favor and hope they show up.
Last edited: