Joined

Nov 1, 2012
Messages

1,173
Location
I wanted to share a family tradition of mine over the Holiday Season. I had this rolled meat when I was little - but by the time I had gotten into my teens, my Grandmother had stopped making it. She passed away in the late 90's - and I didn't get the "family recipe" (if it ever did exist). But every year around the holidays - my Dad and Uncle would always reminisce about the Rullepolse. Trying to recreate the family traditions, I first started making it in 2008, just trying different recipes I could find on the internet. Most of them are the Danish variant, using pork belly. My family always used the rib meat off deer or elk. So I've experimented over the years - and have it pretty close. My Dad says it's exactly as he remembers, but old Norwegians have poor memories.
The correct pronunciation is more like 'ruhl-puls', but my family always pronounced it 'Rolla-Polsa'. Anyway, given the high number of Minnesota / Scandinavian folks on this board - maybe some of you will have some tips and recipes. Here is the current recipe I have in working order. I welcome any suggestions.
When I am butchering (in the field most often) - I look for keeping long, flat pieces together as much as possible. I'll trim them up before freezing - but keep them as big as possible. Here is a chunk off a bull in 2013:
I'll filet the meat so that I can get about a 1/4" consistency. Sometimes you need to pound the meat a bit as well:
I filet'ed 2 other pieces to kind of make a rectangle:
According to the recipes - you usually roll the meat around meat. So I strip some more rib meat off the elk: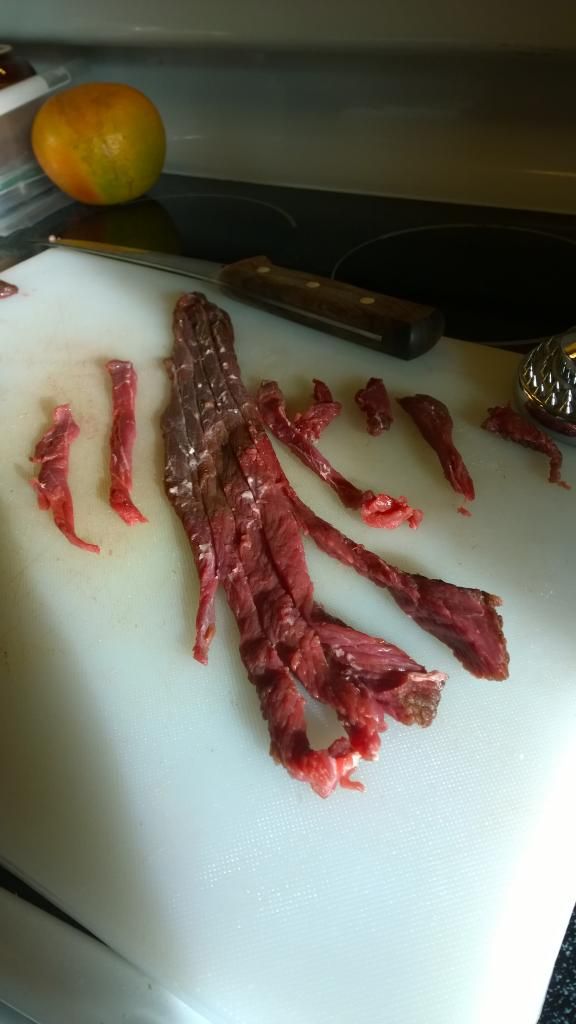 When I am ready to start building the roll, I will lay out a piece of cheesecloth and build on top of it. For spices on the meat I use Allspice and Paprika. I stay with generic - but I'm sure you can get fancy with it (toasted spices, etc). I put a dusting / coating of each onto the meat. Then I'll make a paste with Onions, Garlic and Fresh Basil in the food processor:
I'll dust with the spices, spread out the paste on the meat and lay in my strips of meat:
Next comes the rolling. It's good to include the next generation in this process (and write down the recipe so they don't have to figure it out).
After it's rolled, I secure it with kitchen string as well to keep everything together.
This will now go into a brine. I used a simple brine:
10 cups water
1.5 cups salt (non-iodized)
0.25 cups sugar
0.5 teaspoons of Morton's Tender Quick salt
The roll goes into the brine, stored in a cool location for 4-5 days. After the brine, I'll make the cooking liquid in a stock pot. I add enough water to fully cover the roll, then add in 3 teaspoons of allspice, 1 tablespoon freshly ground black pepper and 3 bay leaves. I then simmer the roll for about 2 hours. I consider it done when I can push a skewer into the meat easily.
Now it's time to press the roll. After I let the roll drain of liquid for a few minutes - I wrap it in saran-wrap. I have a press made out of 2X4's - but couldn't find it this time. So I improvised this one up:
A closer look at the roll:
I'll let it press in a cool place for at least 24 hours. The press is important - I've tried it without doing it. The texture and moisture content isn't the same without it.
After the press is done - time to unwrap:
I'll trim the ends a little bit (the chef's way of tasting anyway):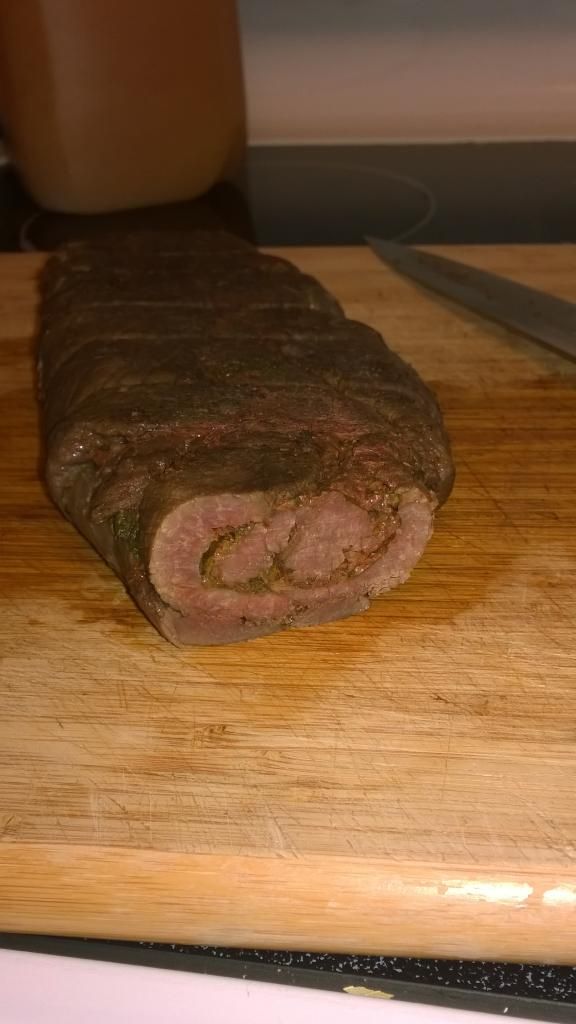 I usually cut it so I have 4-5 inches of roll "per serving". I've found that my family will eat it all regardless of how much is served at a time. So if we're getting together over multiple days - it's better to package separately at the beginning.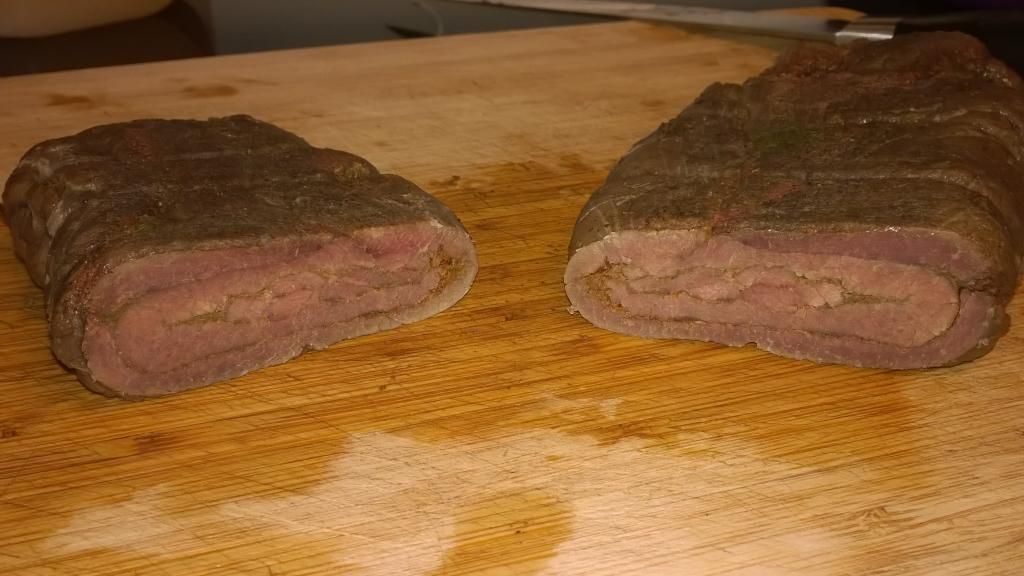 I wrap each little log in tinfoil and place in the fridge. I'll slice them up one at a time over the holidays. Just slice them thin - how thin will depend on the pressing. If it's really firm you can slice thinner than softer rullepolse (at least that has been my experience).
This past weekend I put them on a platter with some pickled plums, Dilly Beans and Brie cheese. I have one more serving saved for Christmas day.
Last edited: