Joined

Jun 6, 2013
Messages

5,473
Location
I know there are quite a few big fish to fry in the world of comments, hunting proposals, etc, right now. Something I have thought about lately is Montana's impending black bear hound hunting season. Being frank, I know very little about hound hunting, much less hound hunting and bears.
FWP has put out a proposed map, that I sense will be changed a fair amount by the time all is said and done, but I figured this is as good a place as any to ask about what folks think about hound hunting with bears, potential conflicts, and some assumptions I have that are wild ass guesses.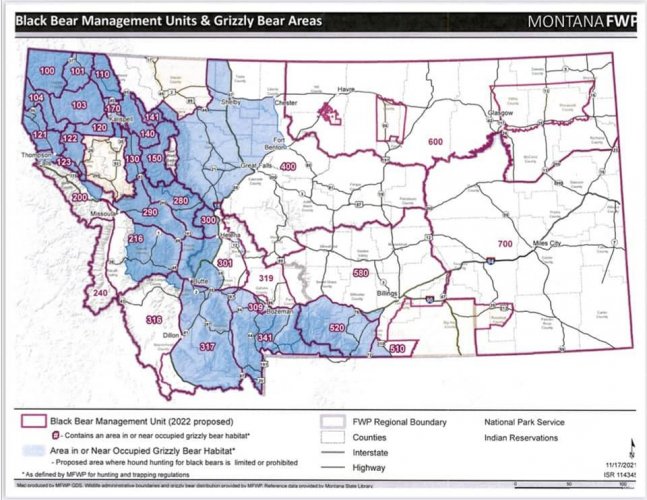 Full disclosure. I would prefer a Montana where hound hunting with bears was not an option. But I am ignorant as hell and have some specific as well as general questions about hound hunting.
Questions:
1. Do you believe that hunting black bears with hounds will result in a fair amount of grizzly conflicts? If so, does it even matter really (As in, who will know anyway)?
2. The hound hunting that occurs on Montana's landscape now, occurs over the winter. Do you think there will be a fair amount of user conflicts when it occurs in May/June? I can imagine people hiking with dogs, shed hunters, bear hunters, fishermen even, etc having conflicts.
3. Is dogs running onto private property an issue with hound hunting in general? I am not assuming this issue will be any different than it currently is with cats, but I just was curious.
4. We will have hounds running around at the same time as calving is occurring or about to occur in ungulates. Are hounds only focused on that which they are tracking? Do they mess with ungulates too, if they come across them?
5. When it comes to hound hunting with bears. Are they treeing them basically? Is it similar in that folks will be looking for tracks to turn their dogs loose on?
6. If I shoot a bear, and there is hound hunting occurring in the same area, will I potentially be dealing with a bunch of dogs barking at me while I'm skinning it until their owner catches up? Will I have bear sprayed them and or killed them by then? I have little patience for dogs off leash that F with me, anywhere.
7. Are all these concerns overstated? As in, will there be so few hound hunters chasing bear on the landscape that for most of us, we likely won't even run into them and this is much ado about nothing?
8. Do you anticipate that after say, a decade, black bear take will have increased in a meaningful way due to hound hunting with bears?
9. Are hounds likely to be aggressive to other dogs? When I am out mushroom hunting or shed hunting in May with my lab, and if we were to cross paths with a pile of hounds in the hills, will it be an issue? Again, I have little faith in dogs not under direct control of their owner.
10. Knowing we are doomed to this due to a legislative action. How would you comment on the map above? More, less? FWP has asked for statements of support where warranted ( a tactic to water down the BS I know), but I am willing to do so where it makes sense.
Some of these questions are white belt in nature, but I have never had interest in hound hunting anything and so I am ignorant, and am genuinely curious about how folks imagine this will play out.
We have until the 21st of January to comment.
Thanks for any input
Last edited: