Administrator
Staff member
Joined

Dec 27, 2000
Messages

15,124
Location
Tomorrow we will be posting up Podcast Episode #8. In this podcast I will have two great guys for my guests; Charlie Decker and Bob Munson, two of the four founders of the Rocky Mountain Elk Foundation. When you listen to this one, you will hear from two of the most determined (their wive's say bullheaded) hunter-conservationists on the planet.
They explain how they pulled this off. How they borrowed money from parents, raided college savings accounts, and a myriad of other things that would get most men divorced. Yet, through it all, their wive's backed them and their families pitched in. What started as a dream in Troy, Montana in 1984 has grown to be an organization with 205,000 members; an organization that has conserved over 7 million acres of wildlife habitat; that has created 700,000+ acres of access for public hunting.
It has been my pleasure to have known these two crazy guys for over 20 years. I have seen them work from afar, I have served with them on committees over the years, and the last three years I have served on the RMEF Board of Directors with them. Those have been some of the more rewarding experiences I have had in my time as a hunting advocate.
When I came to the RMEF Board, Charlie Decker had nominated me. All of you know the bruhaha that caused. Charlie and Bob were staunch supporters of me and my nomination. Charlie was appointed my Board mentor for my first year of service. Any mistakes I make while on the Board, I can attribute to my mentoring.
We have so many great laughs when talking about these things. Bob and Charlie serve as a huge motivator to me, though they give the "Aw schucks" reply when I tell them that. They dreamed big and they found a way to make it work. Their dreams were not about themselves or for personal fame or fortune, rather about something near and dear to them; elk, elk country, and elk hunting.
When you think about who would mortgage their house to fulfill a dream of a better day for elk and the future of hunting, most would be surprised that the effort was lead by a logger and a realtor. Charlies calls himself a gypo logger. Bob jokes he was such a struggling at realtor, he needed to be successful at something else. Both are very understated in what talents they have and the personal risks they took to get RMEF to where it is today.
This podcast is a lot of laughs. A lot of Randy setting the table for Bob and Charlie to toot their horn a bit; something they are not very good at. I hope you grant me some small pardon for doing so on their behalf.
In today's world, when so much is made of every negative event in the hunting world, my goal was to add a few smiles and shine a brighter light on the work of hunters; in this case, two guys who pushed forward when their dreams looked to be crashing down around them. A unique story in American conservation, but not so unique in that hunters seem to have a way of finding the path when it comes to making it a better place for wildlife, wild lands, and those of us dependent upon such.
Hope you enjoy it when we get it posted up tomorrow.
Thanks, Bob and Charlie. You guys will never admit what a difference you've made in pursuit of this idea. I am thankful that you followed your dream. Even this snotty-nosed kid from Big Falls, Minnesota is now an elk hunter, thanks in part to you.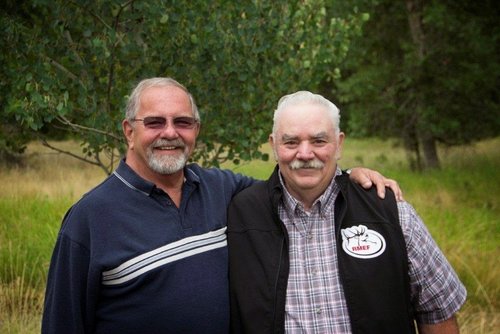 P.S. We recorded this in late July. At the end of our RMEF Board meeting, Charlie notified the rest of the Board that he and Bob would be a bit late for the dinner by proclaiming, "We're recording an
"Ipod"
with Newberg." The rest of the Board looked at each other with the same "how do you record an Ipod" look. But, they all know Charlie and appreciated the good laugh at Charlie's expense.