Joined

Apr 7, 2019
Messages

29
Randy has really been an inspiration and this forum has as well. We had a blast and here is what I learned. There are more pictures at
my blog
if you are interested.
1. I am impressed by the genuine warmness of the Alaskans. Locals on various hunting forums shared tips and hunt locations seemed honestly hopeful we had success. In fact, I made a friend who called each night and gave me suggestions where and how to continue our adventure. If not for him, we wouldn't have brought any fish or bear home. Thanks Art! I'll get a blue quail hunt lined up for us. The rest of the union could learn from their friendliness.
2. Flying with guns to Alaska is a breeze. TSA rules for flying with them are found
here
. Airlines have their own rules as well, so always check whatever airline you are flying. Alaska Air makes it simple.
3. Four kids, 5 guns, 6 carry-on bags, 6 checked bags, 5 backpacks, plus a food bag and toy bag pretty much fills an SUV. Tetras skills come in handy when packing and I recommend ponying up for the largest Suburban the rental company offers.
4. The TSA now uses a dog in addition to the normal screen. Oliver and Finn walked sort of like models on a runway, side by side, between a couple rope dividers as the dog and his handler sternly watched. As Finn passed, the lab perked up and happily trotted after my little man tail just a wagging. This indicates they suspect the four year old as a terrorist. Oliver too. Finn had his favorite toy in hand, a fishing plug with the hooks removed. This is what I think grabbed the dogs attention. After a thorough pat down, bag search, and magic wand wave, they determined Finn and Oliver were not, in fact, threats to Travel Security. The delay forced Susan (who stayed behind) and the boys to run to make the plane. It was a close call. It looked like they would miss the flight. I texted Susan hoping to encourage/console her. "Just get on the next plane you can and we will wait in Anchorage for you." Luckily, they made it aboard five minutes before takeoff.
5. We were wet and chilly each day afield. Rain, sweat and dew on the tall grass kept us damp, but our wool baselayers proved warm enough despite the sog. The Outdoor Research gaiters I bought were useless, my boots and socks soaked the whole time.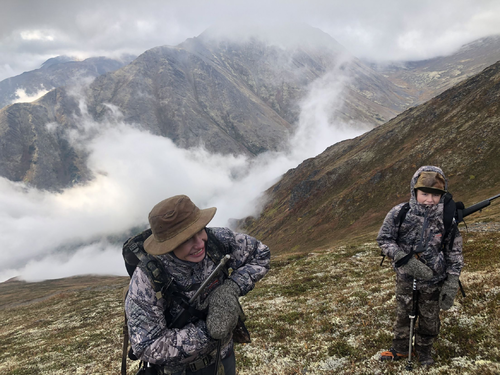 6. Some suggested base camping above tree line, and I agree that's better than climbing up and down each day for serious hunters. But we aren't serious hunters, only hunting every other day.
7. Leather work gloves, the kind used to build barb wired fences, are required anywhere Devils Club is found. Packing a machete seemed dumb, but it made easy work of the devils club. Im glad we brought it. That said, a week later and we are still finding little "gifts" in our elbows and knees we brought back from the spiny plants.
3024"]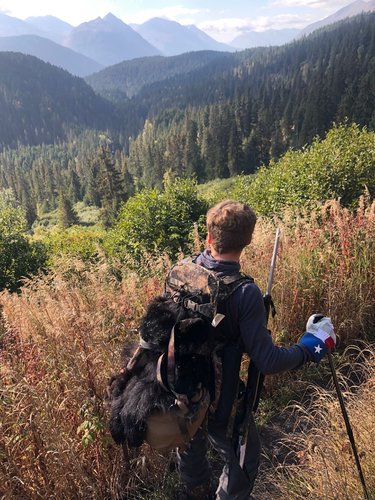 8. I don't like slings on rifles when I have a pack on, so we brought along the
Kifaru Gun Bearer system
for carrying our guns. It worked great on the trail for hands free walking and quick removal for shooting. But it failed multiple times after our first jaunt off the trail and through the alders. The alders would rip it loose, and then afterwards the upper strap would simply come off our packs (Mystery Ranch Crew Cab and Eberlestock Main Frame). I'd recommend something more heavy duty to strap your gun in when going though the alder jungle. They resemble fig trees planted too close to each other. But alders and devils club are better than....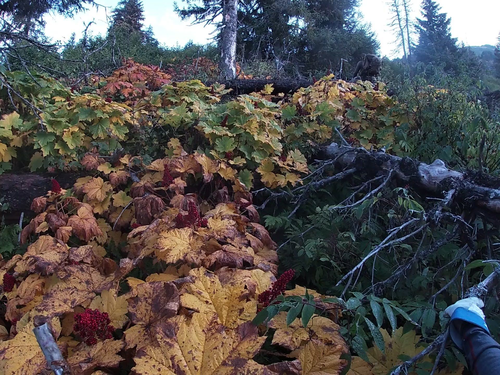 9. Dead spruce. Blowdowns suck. Climbing over dead trees from knee to chest high really slowed us down and wore us out. But it is where animals go to escape us humans and I can see why. Here is Oliver climbing through the blowdowns to our bear:

9. Grizz Fear. It was real, but lessened the longer we were in Alaska . We were about 200 yards off the trail where we shot the black bear on the first day. The trail was little used, bordered by grass over your head, and had several places a bear had bedded down. We walked through a "toilet" where a big bear enjoyed pooping on a regular basis. Mostly high bush cranberries by the look of it. We could only see about 50 yards in any direction where I quartered our black bear. Our main concern was a brown bear smelling the black bear as we cleaned it and coming to eat it and us. This meant a rushed quartering job and heavy packs. We overcame our grizz fear the more time we spent in the woods, and by the end of our vacation only had a healthy respect for the big old bruins.
10. Like any hunting, the game is where you find it. We expected to get our bears way up high. Nope, all bears were seen between sea level and 1500 feet. Go figure.
11. Be ready to shoot at all times. Just as we exited the first patch of alders on the first morning, our bear greeted us not 40 yards away woofing and bouncing on a fallen tree. I really wanted Oliver or Keegan to get the first bear, but Oliver was about 15 yards downhill picking his way through the alders. I motioned for Oliver to come shoot. He couldn't get to me in time. The bear turned toward us and I shot.
12. Bears look big. When I saw the bear, I thought it was at least as big as the
last bear I shot
. Turns out it was just an average sized sow for the Kenai. Probably 150 pounds, but we were stoked to get one together. About three hours later we were thankful it didn't weigh 400 pounds.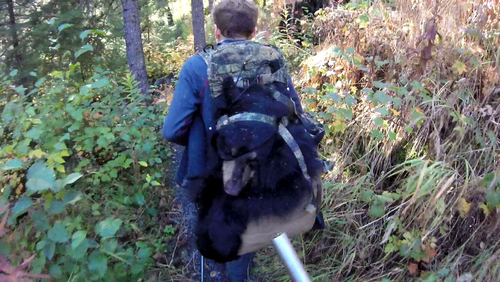 13. Toting about 80 pounds of red meat on your back sure make
pack mules sound enticing
. The first 250 yards down hill were the worst. Maintaining balance under a heavy load was a new experience for me--the most I've rucked is about 60 pounds. To get back to the trail, we had to scramble over deadfalls, tight rope walk a few down trees, and go back through the alder jungle bending over and high stepping through the thickets. Oliver's pack was about 50 pounds, and mine was probably in the 120 pound range.
We left the boned out rib cage, vertebrae, and the entrails. Everything else we brought out, including about 25 pounds of the purest white fat I've ever seen. We didn't waste anytime, due to the brown bears. Oliver stood look out while I skinned and I expected any minute for an angry red eyed grizzley to barrell in upon us. That's why we decided to put some miles between us and the gut pile, rather than stick around deboning the meat. This
podcast
is mostly to blame for our fears, but I highly recommend listening.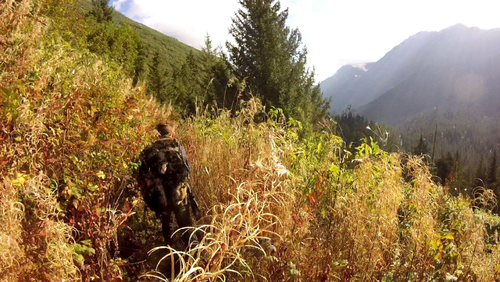 The last mile was rough. By then, Oliver's forgotten belt meant his pants kept dropping. My arms were numb. Somewhere in this last stretch I lost the .22 we carried. Either fell out, or I just forgot to grab at a rest stop.