Joined

Apr 4, 2013
Messages

1,726
Location
Screwed up the pictures yesterday, hopefully they work this time.
Fairly pic heavy, if you don't feel like reading the long version just scroll through the pics.
Camp

Had an incredible season this year, tagging along with all my buddies and brother on their hunts this year. We don't usually clean house like we did this season, but everyone has a full freezer and a set of horns or 2. This was a cold and snowy hunt made possible by bkondeff, Goldberg (posts on MM's) as well as my 2 best hunting buddies who came despite not having any tags.
We left on a Wednesday after work at 6pm sharp. 2 nice 6 point bulls ran across the road as we were on the highway just as we entered the unit. I would have shot either during daylight!
4 hours later we pulled into the spot that we usually camp. Setting up the tent in the dark in negative wind chill values is always fun, since it seems that is the norm every time we hunt this unit. The buddy heater kept it around 60 degrees inside, despite the highs of 15 and lows around 0.
The goal for this hunt was my first 6x6 point bull. The next morning, we split up, driving to our different glassing points. Me and Michael in my truck, Justin in his. He has a bachelor group of 11 bulls run across the road in front of him, one small 6. Killing them on the road always adds to the B&C score for bulls. Unfortunately, it was too far for him to reach us on the radio, so they take off up the hill.
Me and Michael spot a herd of about 80 cows and 20 bulls running across the sage flats to our left just as it's getting light. We pull over, pull out the spotter and determine the biggest is a young 6x6. Our decision was made when 3 trucks round the corner chasing this herd down, running the poor elk to death. Let's find some elk that aren't spooked.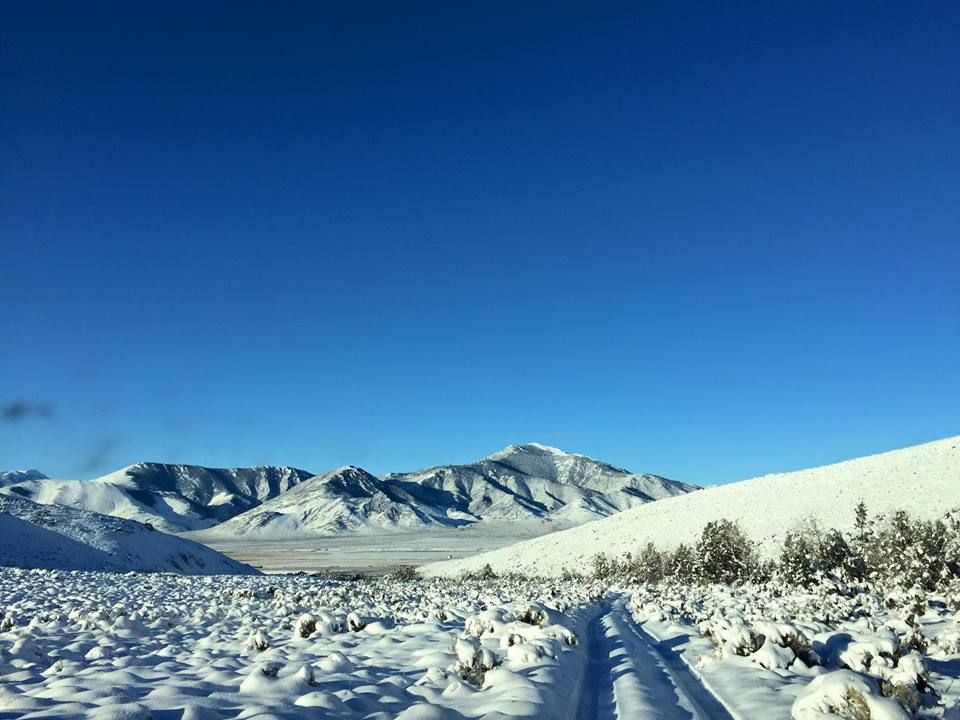 I'm sure this scenery will look familiar to many, but there was elk on every hillside, no secret in this unit. Albeit, it's tough to find a good bull as this unit as a ton of opportunity. We saw 51 bulls over the course of 4 days, the largest being two 6x6's, topping out around 280-290.
We we're at the base of that mountain on the other side of that valley glassing it when another hunter pulls up and asks if we've seen anything. Just mule deer does, no elk yet. He's a nice guy, but goes and parks about 100 yards away. He gets out, ties his barking dog up to his bumper, grabs his pack and day gear then proceeds to hike right up through the face we were glassing. A 5x5 bull walked out 400 yards above him, unfortunately he never saw it... Luckily no bigger bulls walked out with that one, eventually he spooks. Poor guy did a bunch of hiking and never got a shot.
Frustrated Michael decides to look behind us and glass across the valley, where he spots 3 elk 2 miles away walking into some trees. We hop in the truck, haul ass to get as close as we can for a better look. By the time they entered the trees all we could tell was that they had big frames and walked like mature bulls, but it was the best opportunity yet. They walked into the big patch of timber in the middle of the pic. The plan was set for me to leave the truck at about 1, hike up and get into shooting position by 3 and hope that they would feed out in the same spot come evening. Like they usually do in this unit.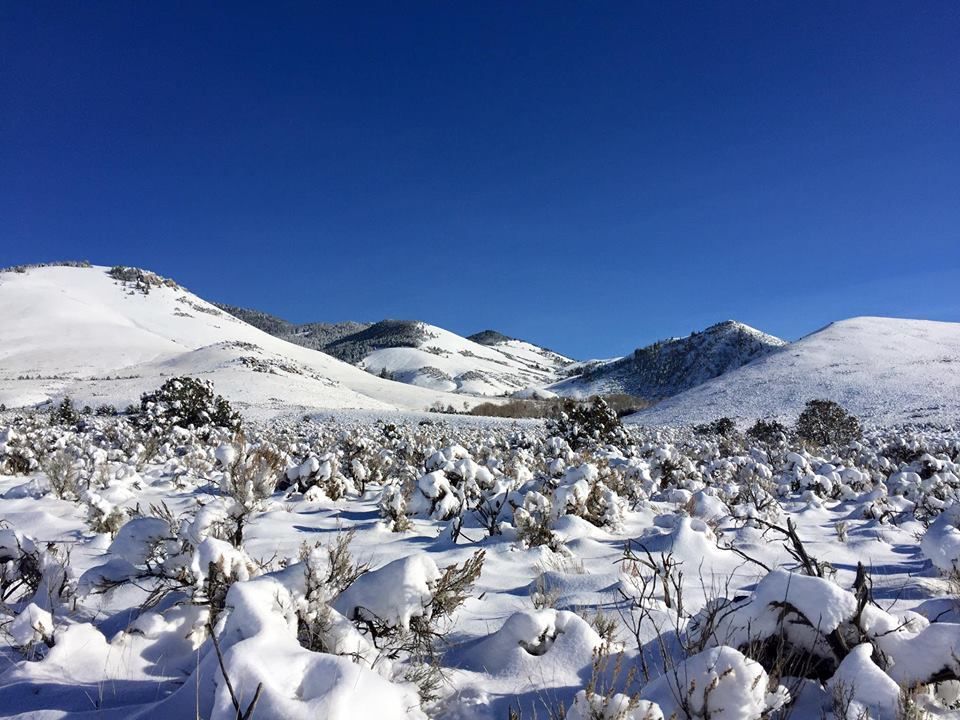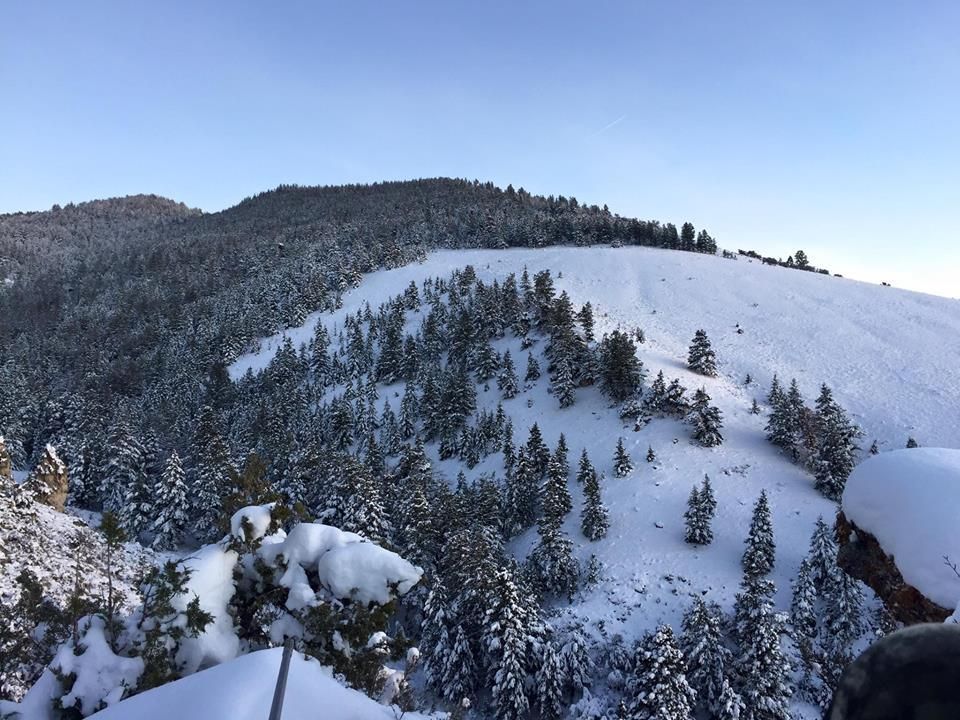 The view from my shooting bench. 485 yards to the top part of the clearing, perfect! The elk had walked into the bottom left finger (280 yards) of this clearing that morning.
I froze my balls off while Michael and Justin enjoyed hot chocolate, pizza and heated seats a mile down below. Gotta keep the sherpas happy and energized! 10 minutes before it got dark, 2 cows fed out into the clearing but no bull.
When I got back to the truck the boys told me that the bull fed out on the right side of my clearing just as it was getting dark. He fit the bill and was a good clean 6x6, but there was no way to see him or get to him from my perch with 10 minutes of daylight left, bummer.
The 6x6 walked out to the right of that triangle of timber above the patch of junipers.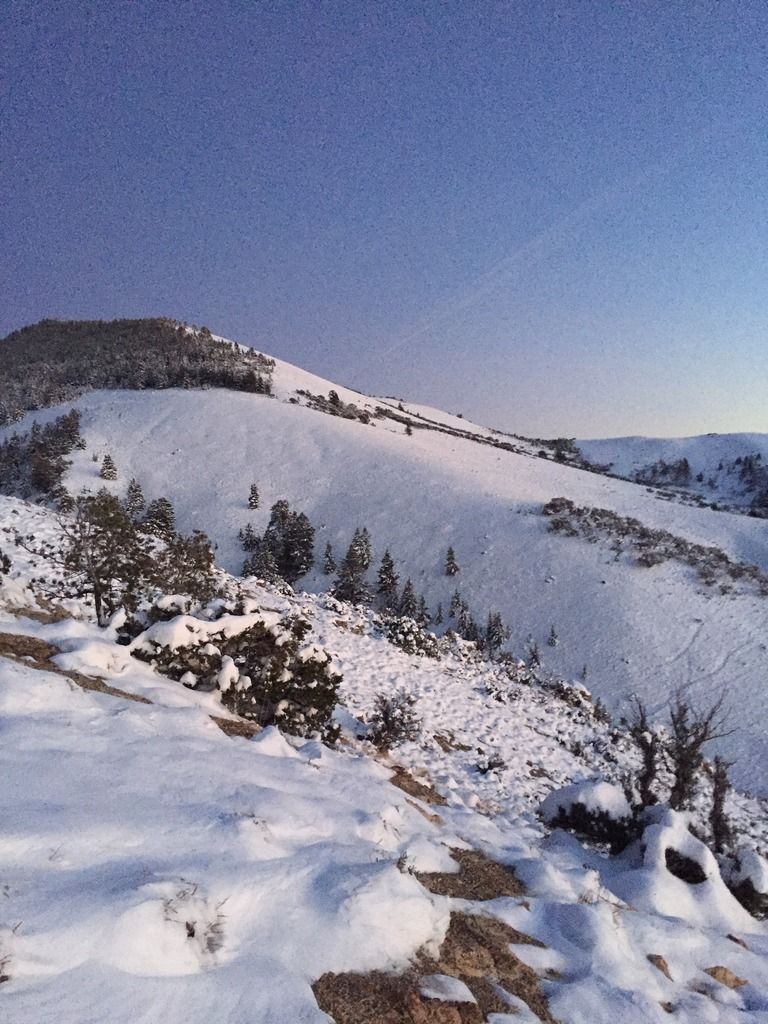 My view coming down.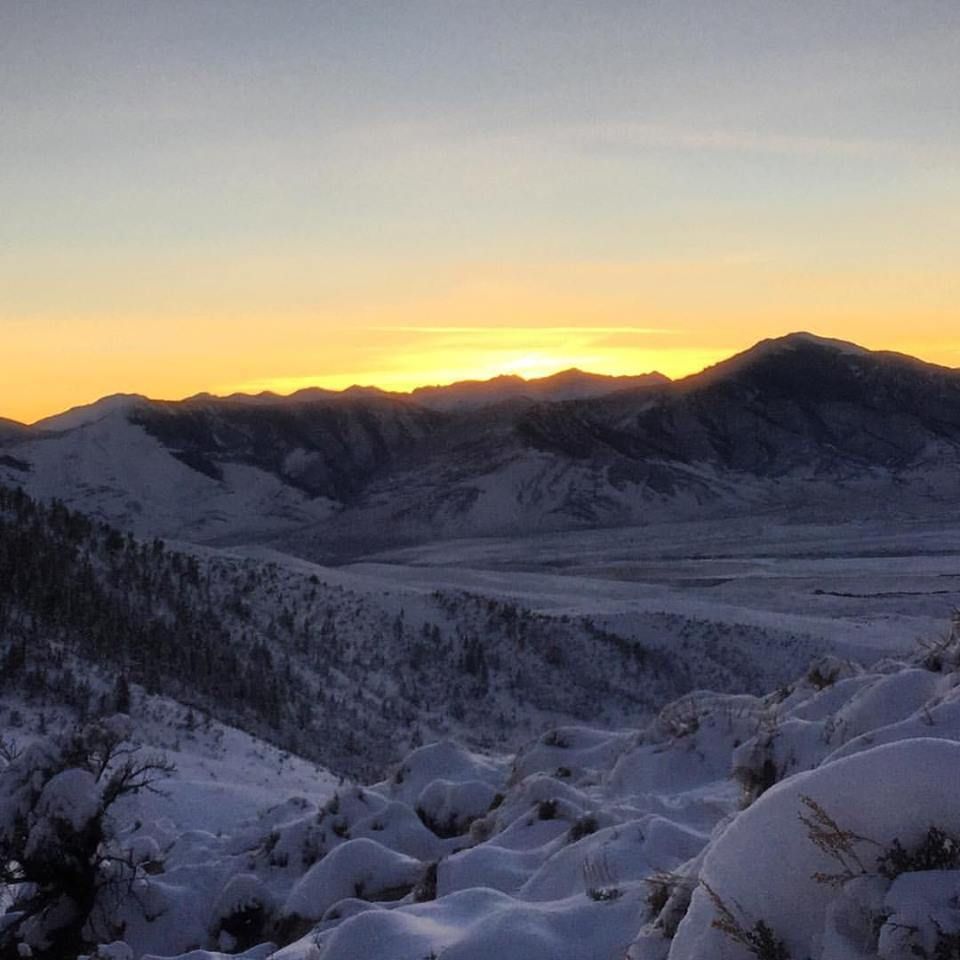 No elk came out of that clearing the next morning either, so we were back to square 1.
Over the next day we spotted many elk and even had 2 more herds cross the road in front of us, as we covered ground in the unit. The bulls were just 5x5's, rag horns and spikes. I think the big bulls were bachelor'd up and higher fighting the snow to avoid the pressure.
There were hunters everywhere, but plenty of elk to be had by all. There were other opportunities to kill bulls that didn't pan out due to other hunters, swirling wind and the lack of shooters. But that's public land hunting.
The last day, Sunday, was our last morning to hunt as Justin had to hit the road back to Texas at noon and me and Michael still had a long drive back to Boise. Killing a bull Sunday night was out of the question since we had work Monday morning. We were seeing lots of elk Sunday morning, but all cows and rag horns. 45 minutes into glassing, Justin says makes a great spot of a big herd of elk moving way way way across the valley. They looked like ants at that distance.