Joined

Feb 1, 2021
Messages

387
Part 1
Got to give credit where credit is due. The last 2 hunting season have been incredible, in large part due to BigFin and his willingness to educate and share… It was through an old episode of Fresh tracks that I learned about the MT license system and apprentice program.
Since WY does not allow youth to hunt big game until they are 12, the last 2 seasons found us hunting MT NR deer. I and my wife applied each year. Figuring that if one of us drew the tag (without points) that we would just add his apprentice license to who drew. When the draws came out both years we were excited to see that I drew the NR deer tag each year.
For both seasons we hit the week of Thanksgiving. As a teacher, I do not have "Vacation Time" I get 2 personal days a year, as such the week of Thanksgiving is a chance for us to have a decent hunt.
2020 On our first year we had a blast, we rented a small AirBNB for the week. My wife, Daughter, and even my mom all joined us for the week. He and I hunted, the girls hung out, went sightseeing, shopping and slept in etc. Truth be told it was a great family trip and all of us got to see new place etc. On the second day of our hunt we hiked into a spot at first light with a goal of hitting a specific old burn. From the maps it looked like the only public access to this area was a little over 2 mile hike. We left the jeep a little later than we had planned, it took longer to drive out of town and we took one wrong turn etc. At 10 my son had developed an appreciation for hiking hard, covering ground etc. At lunch time we found ourselves just over 3 miles into our hike. We decide to climb to the highest point and eat lunch/glass. Just as we topped out we see our first deer of the day, literally in a spot that I E-Scouted and in the exact drainage that was our "goal" to hunt.
A mule deer doe, snuck out from below us followed quickly by a good buck and a dink… No shot available, we watched as they ran around the corner into the next little draw. The doe was the only one we spooked, the bucks were just chasing her. We stayed high on top snuck around the corner. We soon saw the doe and the dink below us in the trees, but not the big buck. We set up for a shot and waited, a couple second pass and the buck steps out. My son sitting on my lap shooting off the bog pod. He gets a shot and hit the buck hard. The buck spins downhill hard stumbles out of sight. We collect ourselves and head down to find his first big game animal about 40 yards below. Since we were 3 miles in, we debone the entire buck, I pack all the meat in my pack he takes the binos, range finder, in his… He insisted to carry the head by hand. It was a great day…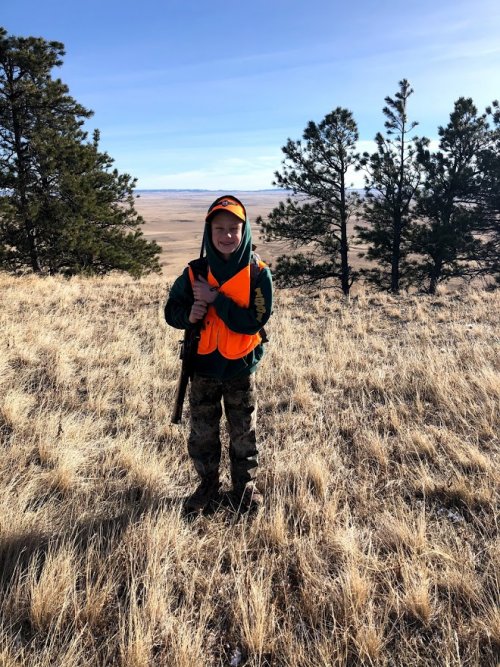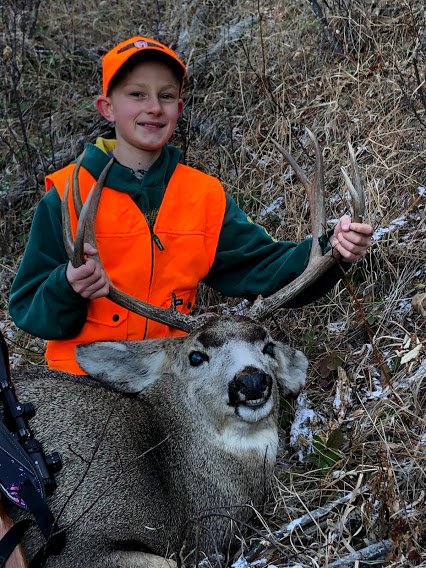 The next day we get up and try a few small chunks public along the river looking for a white tail. We rattled in a few small bucks and eventually find a buck later afternoon. I took my first white tail with my son by my side. He was across the river so we had get the waders out and by the time we got him done it was well after dark.