Over the past couple of years, I've been trying my hand at a bit of at-home taxidermy and want to share my most recent experience. Last fall I went on my first Pronghorn hunt with plans to tan the hide if I filled my tag. I was curious how it would turn out considering that most of the info I read says to not waste your time because all of the hair will fall out and leave your house a mess.
I followed the same procedure that has consistently worked for me on my previous projects and I must say, I'm pretty stoked at the way it turned out. I found this step by step process on Field and Streams website, I don't quite follow it to a T but I would recommend giving it a shot if you're planning on tanning a hide of your own. Link here >>
Field and Stream link
I will say that compared to a Whitetail the Pronghorn did shed quite a bit more hair during the process but not so much that I was worried, I was also careful not to tug and be rough with it to combat any additional hair loss. Now that it's finished, some hair still falls out but in all honesty, its hair that was already loose and on the way out. I've gone over it a good bit tugging at the coat to see how it holds up and it's just fine. Since I was planning to hang it on a wall I didn't worry about breaking the hide down and getting it nice and soft, this likely helped with keeping the coat intact as well.
I figured y'all might find it interesting to check out. If anyone else has tried this I would be happy to hear how it went.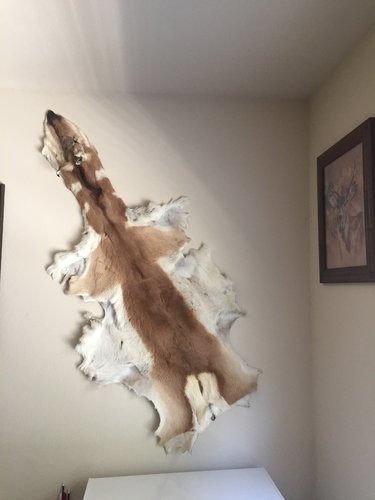 Last edited: