Joined

Feb 18, 2013
Messages

657
I have a Desert Bighorn hunt in a month and was planning on taking a Cooper 92 that I bought off HT Classifieds a few years ago. It wears Talley UL Rings and a Swarovski Z5 and was grouping averages of .485" with 180gr Nosler Accubonds.
A few weeks ago it started spraying bullets everywhere...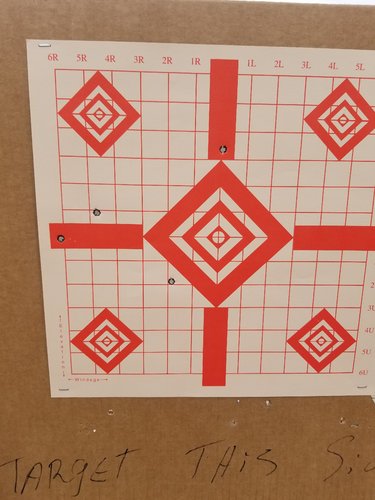 I noticed the parallax adjustment was stiff and could feel "gears" while turning the knob and figured something had broken inside the scope. I called Swaro and they told me it would take until August 27th, best case, to get it back to me. This is a concern since I leave for my hunt the second week of September. The Swaro Rep had me remove the scope, and voila! the parallax was free again. I know the rings were properly torqued but she said the front ring could have been pinching the parallax internals. Instead of sending it in immediately, I decided to try remounting the scope and shooting it again.
Today, it shot the first three groups around an inch at 300 yards (circled on target) so I thought I had it fixed. I then spun the parallax knob both ways and put it back to 300 yards and shot again. It opened up the group to a terrible horizontal string (ignore the "bullseye" as that was the fouling shot and was pure luck)...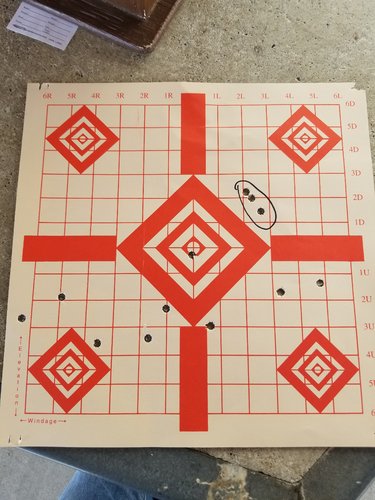 Now I was pretty convinced the scope was bad and went to Sportsman's Warehouse to look at buying a new scope. We took the scope off again and the parallax loosened right up.
Now we were stumped, but I really don't want to spend $1200 on a new scope if that's not the issue, so we decided to replace the Talley UL Rings with some Warne rings. After removing the scope, we used a lap bar and found the rear Talley ring was crooked. It forced the scope to pinch to the right side of the front ring, but when we rotated the ring around, it forced the scope to pinch the left side of the front ring. We hypothesized that this was crimping the scope tube just enough to seize the internals.
I found a post on the Nosler forum of somebody else having the same problem and Swaro told them not to use Talley rings so it may be somewhat of a known issue.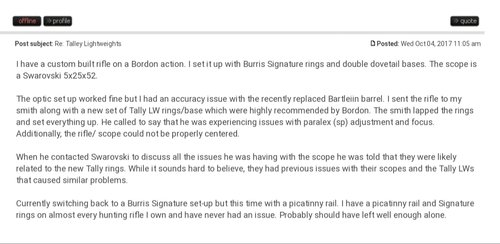 We put some new rings on it and the parallax knob feels loose for now. I'll shoot it tomorrow. Wish me luck!
PS. If you have a Swarovski scope, you may want to consider rings other than Talley UL