Joined

Mar 11, 2020
Messages

531
Left town Friday morning for the weekend
Hunt and had camp set up around 2. Decided to go out for a quick evening hunt to check things out.
My Girlfriend and I hiked up to the first spot I like to glass and only seen one lone doe. After a few more minutes I ask her if she's up to head a little further in and see if we see anything in the deep canyon I like to glass. And she says ok. (Keep in mind This is the first time she's ever been hunting in her life and first time in this kind of terrain)
We hike another 3/4 of a mile to my other glassing spot and as I'm trying to get us set up against a rock wall out of site she says there's 3 Right there. As she says this All 3 deer take off and the only one I see is a decent buck I get on him shoot and down he goes about 325 yards away. But starts kicking his front legs and gets into a thick tree line out of site.
As I start looking at our options to get down to the deer I realize we have 2 options drop off a steep rock face and crawl our way down into this canyon or hike about a mile and a half around to the opposite side and try to pick our way down that side which would be dark by the time we get there. We went with option 1.
It took us about 40 mins to pick our way down and when we get there no blood in the area. I start moving through the trees he went through and can hear him but not see him. Finally I find where he's trying to move with just his front legs and put him down for good.
We got him quartered out well after dark and attempted the pack out. I made it about 100 yards up the side of the canyon with all 4 quarters and decided to put 3 in a tree and just take 1 quarter and back straps and trim out. Made it another 100 yards and didn't feel safe doing it at night. So stashed the last of the meat in another tree. It was too steep and dark and I didn't feel it was safe for us. We ended up back at the truck a little after 11pm and drove back to camp.
The next morning we slept until about 8am and took our time Around camp and got back to trailhead at 11. We got back to the quartered out deer and spent the afternoon taking our time and packing the deer out. After we got him out of the steep canyon it was fairly easy pack out and took us about 4.5 hours to get back to the truck. we enjoyed the scenery together and talked and laughed about it and joked how if dragging her down there to do that didn't scare her away nothing would.
It was a great hunt even though it was short and definitely kicked my butt and reminded me I got more to do to be in shape for elk season next month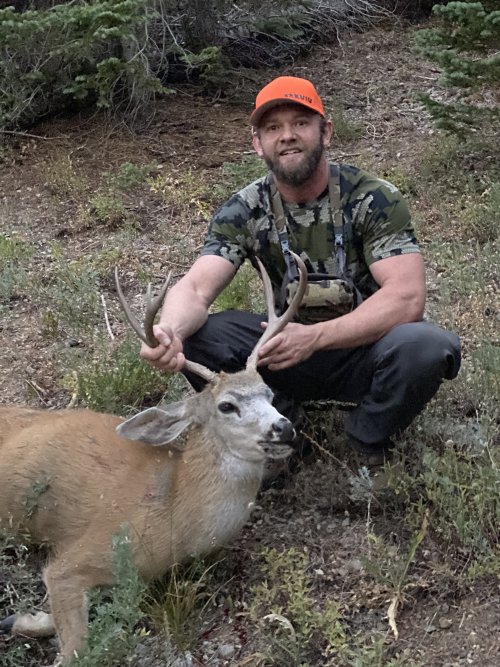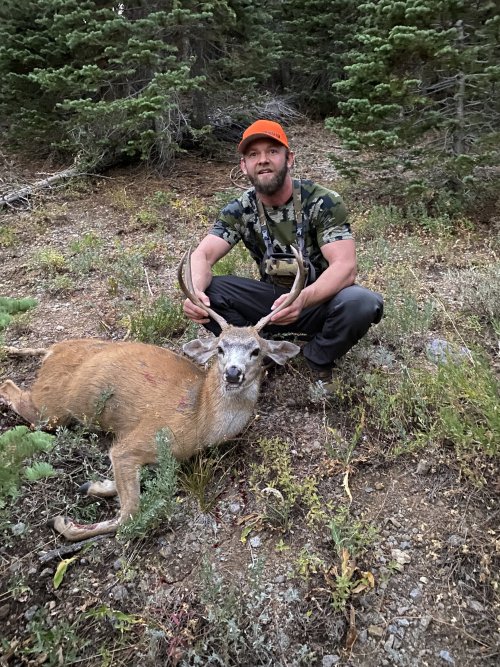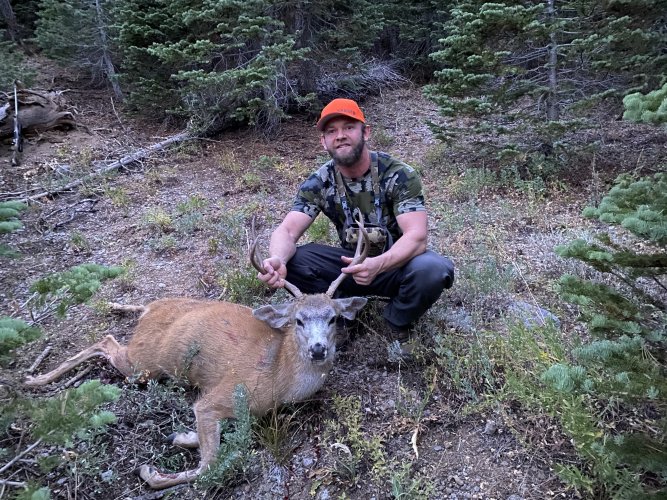 Last edited: