Joined

May 21, 2015
Messages

136
Took some time this weekend and hit the range. I will be carrying the muzzleloader this fall in New Mexico so there is no time like now to shoot all summer.
I run a Burris 2x7x35 FFII with Ballistic Plex and my projectiles are Hornady 350gr RN, Speer 350 Hotcore FP, or Kodiak RN ( all .458) with an orange MMP sabot. I use the Hornady's for practise and the Speer/Kodiak for hunting. Back in 2015 I took a bull in the Pecos Wilderness 7.5 miles from the trailhead with the same combo and accuracy was outstanding. I practiced out to 200 yards all summer and shot my bull at 30 yards... better to be over prepared I guess.
Anyway, I run 110-115 of blackhorn depending on the bullet as each one likes a different amount. The Hornady and Kodiak like 115 and the Speer really shines at 110. I decided to chrono the Hornady with 115's and I was very happy. 1937, 1920, and 1933 were the speeds. That is full house 45/70 speeds.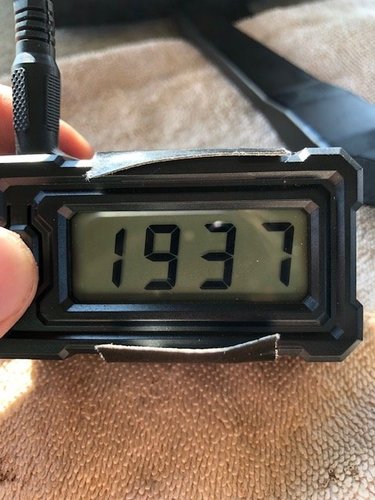 After settling in since it has been about 6 months since I last shot, and the TC likes a dirty barrel, I shot 12 with the Hornady combo. Accuracy was typical with 3 inch groups and about 3 inches high. I then loaded and fired 3 with the Speer combo, which is tighter and always shoots well. Next time out I will give her a few clicks up, reverify, and then shoot all summer at 200. I also plan on Chrono'ing the 110 load to see where it falls so as to see what trajectory would be at 300 for grins.