I always had a dream as a young hunter to hunt up in the wild part of Wyoming and I finally had the ability to do that this year. I put in for a elk tag southwest of Cody, and to my surprise drew it the first time putting in. So with luck already on my side I was ready to see what this area would offer and hope to get lucky on a big bull. After all summer of e-scouting and waiting for the rifle opener, the time finally came to drive up. Me and a guy and his son all headed up two days before the opener to pack camp in and see what we could find and we were not disappointed. I have never seen so many elk in a half day off scouting in my life. We glassed up 2 big bulls with satellite bulls that are bigger than anything I had ever shot. You could say we were excited and thought in the morning it would be easy pickins. Here is one of the bulls we were dreaming about all night.
Opening morning finally came and to say it was a rut fest would be a understatement. The elk were going crazy but all we saw were average 6 points and not the big guys we were hoping to see right away. After some time, we finally saw one of the big bulls but he was heading down the hill with his cows to a tough location so we made a play and got to a decent shooting location and the guy I was with shot and just missed and the bull walked out of our lives never to be seen again. After spending the rest of the day hunting around and getting opportunities at good 6's, we decided to keep looking around since we had the time and weather on our side still. After shooting nothing opening day, and anticipating horses coming in the next day to help pack elk, we decided we needed to get an elk or two down so the horses would have something to pack off the mountain, otherwise it was up to us to get it off the mountain, so the horse plan sounded a little more appealing then doing it ourselves. We didn't have a hard time finding an elk and getting him killed. Ended up having 6, 6 points in one draw and this one presented the best opportunity so the guys son shot it. It was relief to finally get one bull down on the trip.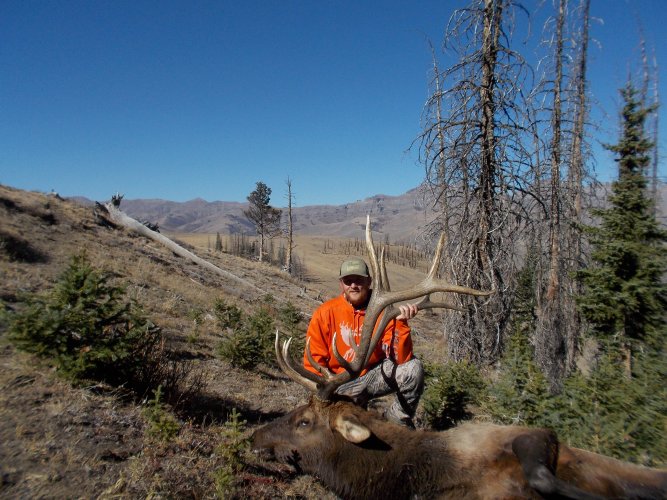 After spending the next day and half looking for a big bull and getting one shot out from under our noises, and dealing with horse hunters, we decided to find an easy place to hunt. We didn't stand a chance out racing horse hunters while we were on feet. So the next morning we found a place with a good trail and walked to the top of the basin hoping there would be elk there. Right before the top we could here a bull bugling and a couple cows chirping, so I figured it had to at least be a good heard bull. I crept up behind a little hill and looked over and at like 200 yards were 30 elk feeding with a good 6 point in it. I did not waste time to look him over much, all I knew was that he was a good bull and I shot. Upon walking up on the bull I realized he was a 7 point on one side which made it even better. It was an awesome place to kill an elk and the weather was awesome, almost too hot to be elk hunting. But an awesome day on the mountin, we were back to the truck by noon.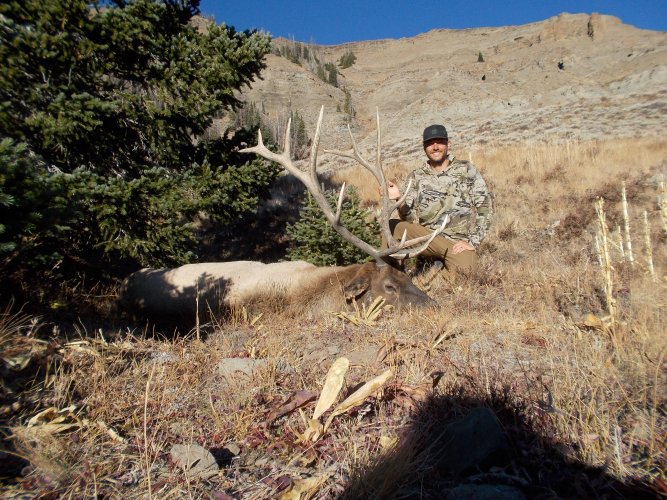 Since we had 2 of the 3 tags filled we had to just fill one more. By now we had been at it hard for 5 days and were getting burned out but figured we would try one more spot to se if we could find on more bull. So we drove to the whole other side of the area and figured we would end our hunt on this side and hope it works out. We hiked in and glassed all the way till dark and right before shooting light a small 6 stepped out and we shot him and he headed into the timber. Since we were in grizzly country we figured we would come back in the morning and find him and pray nothing happened to him and luckily nothing did. It wasn't the bull we initially thought we would shoot but since we hunted hard for a big one for a couple days and striking out we figured a meat elk would have to do now which is a good problem to have in my opinion, when a little 6 is a consolation prize.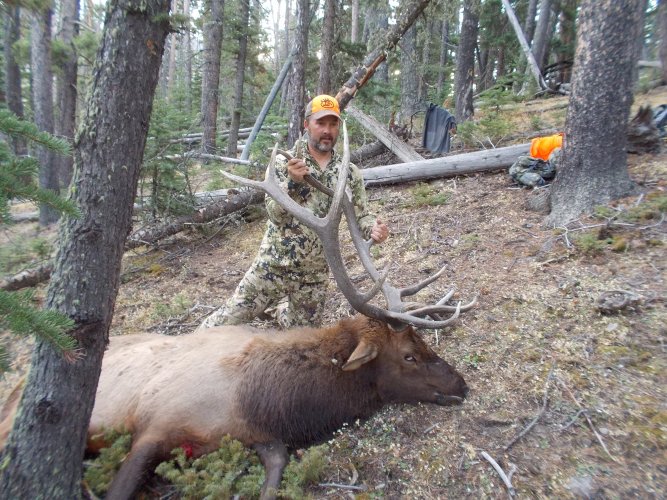 Overall, the hunt was everything I wanted and more. Even though we didn't get a true giant, I saw more elk in this one trip then I feel like in my whole life haha and I got to see some of Wyoming's most beautiful mountain ranges. I learned that those mountains are the real deal compared to where I live in the southern part of the state. I was able to see my first grizzly and hunt in bear country and all the extra work it takes to hunt there. I truly appreciated the true wild elk and seeing elk act and rut like elk should and I'll never forget that night prior to the opener, it was what elk hunting should be like. But thought I would share the best elk hunt I have been on and can't wait to apply again one day.