Joined

Sep 11, 2020
Messages

3,511
My brother shot this buck back in 1969 in the CMR near Roy. I used a piece of our grandpa's milled walnut to make a plaque but not a very good job (crappy tools). At some point the cap mount fell off the wall and broke in two. Two years ago when hunting with him in Montana I went to the family home and retrieved the pieces from the garage attic. Besides skull split, the horns were covered with badly yellowed varnish. I put the skull back together using fiberglass and homemade jig to hold it together till glass set up. Backed it with a quarter inch plywood plate and my daughter stained the rack back to original color (chemical stripper leaves it looking pretty bland). I covered it with brown velvet to match the 7pt bull elk rack I mounted for him in 1980. This plaque is from McKenzie. I can't buy the walnut wood for what they charge for finished plaque. Wish they'd shoot it with a clear finish that's a little more substantial. The velvet is stapled to back of backing plate which is screwed to the plaque from back of plaque. I have designed my own hanger setup. Pound the cheap dollar store hanger flat, throw away the teeny brads (unless you like watching your trophies fall off the wall) and drill out the hangers to accept 4x1/2 screws. Use a 1" forster bit to drill out a cavity for hanging nail. To recess the hanger and screws I made a jig to use with my Dremel tool mounted on a grout cutting attachment (turns it into miniature router). This way the plaque mounts flush to the wall.
Mike and I both prefer the pleated velvet look over the usual dome-and-rope method of mounting antler caps. I find the cheezy drapery rope detracts from the antlers. Looks like something you'd win at a carnival. Clients seem to prefer that rope crap.
He'll pick up the mount when he comes out for my daughter's wedding.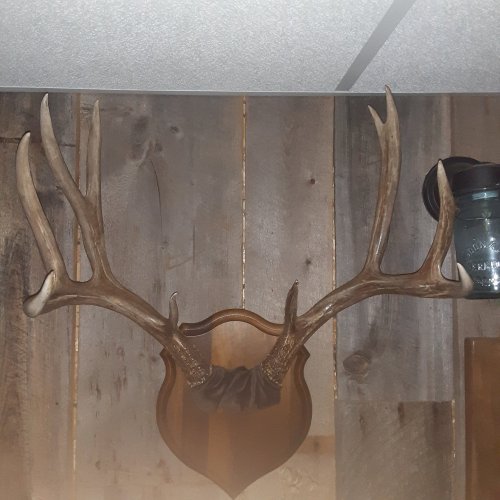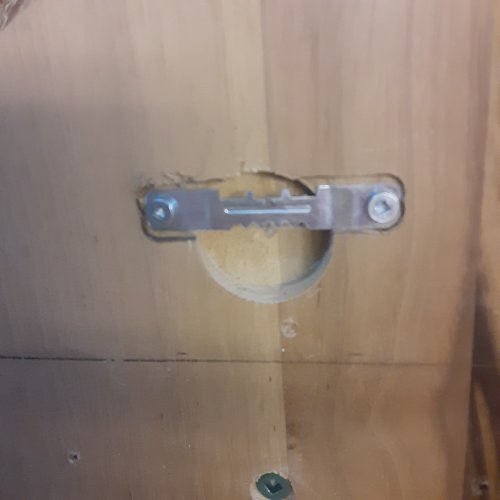 Last edited: