Joined

Oct 1, 2004
Messages

16
Location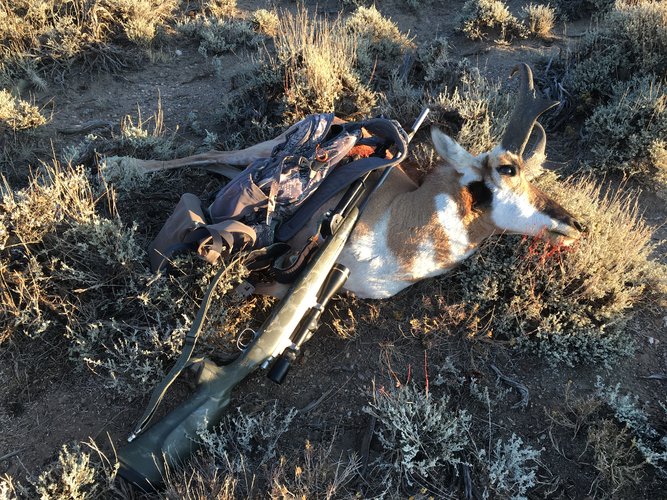 We just finished up our 2020 antelope hunt in unit 52-2. The hunting was tough as I'd estimate 90% of the antelope were on private property. We had to hunt hard to find decent bucks on public land. I killed mine at 110 yards after a 1/4 mile of crawling and scrambling. Our group took three mature bucks and 2 does total, over 5 days. Two of our party took their first antelope after some great stalks.
The rut was really kicking in, and our strategy was basically to hunt the edges of ag fields, picking off rutting bucks as they occasionally chased does or young bucks out into the BLM. The antelope seemed to know exactly where the boundaries were. I also shot my first sage grouse which was awesome.
We stayed in Riverside, and scouted and hunted the whole unit. We found antelope all the way up into the timberline on the west. There were literally hundreds of antelope in some of the large hay fields. We saw bucks fighting, scraping and attempting to mount does. I think the actual peak of the rut will happen over the next two weeks, the first 2 weeks of October. We chose to hunt a little later in the season to avoid crowds, and to try to hit the peak of the rut. Hunting pressure was indeed light, and once we left the roads we saw few hunters.
None of the water sources I had marked while map scouting actually held water. I'm sure this also explains why so many antelope are on the private ground.
In summary there seem to be a lot of antelope in 52-2 but you will need to be willing to actually hunt, to be sure of taking mature bucks here. We are not road hunters and we were in the field well before shooting light every morning, often a mile or from main roads when the sun rose. Much of the unit had only very occasional antelope with little stalking cover. If I hunt this unit again I'll hunt on the opener, or after October 1st to hit the peak of the rut.
All in all a very rewarding hunt. Had some great stalks, and got to help two hunters take their first antelope in the right way.
Downer: Found two bucks shot and left to rot. One with a leg shot off, and one 9" buck that appeared to have been shot and left intentionally.
Last edited: