Joined

Jan 2, 2011
Messages

622
Location
Well after a little more than 3 years of planning I was able to make a trip to AK for caribou. I've got to thank my wife Toni here as my trips out west are certainly not a necessity. She has always supported me within reason and doesn't fight me over following some of my dreams while I am still able. It is one of the many reasons I love her dearly.
In the beginning I sent out a text to 4 guys that I thought might be not only interested but also competent in making the hunt. Right off the bat Kevin Timm answered back that he was already considering a hunt. I met Kevin in 2015 if I remember correctly, when Nathan Coleman, someone with whom I had only talked on the phone, put me in touch with Kevin who rallied help to assist me pack out my first bull elk from the high country of CO. Nathan and Kevin worked together to design the pack and frame I was using then and to this day really. I was hunting solo that year and pushed too high and too far when I killed the bull. Alone, it would have easily taken me three days to pack out the meat and horns, that is if I could have done it without giving up at some point. Anyway, Kevin and I have been friends ever since. Kevin and his wife Angie own Seek Outside, an alpha level ultralight backpacking gear company. Nathan is also very involved with the company. Kevin has some connections through the industry and was already talking with 40 Mile Air out of Tok, AK about a fly in caribou hunt when I sent out my text. 40 Mile is one of the premier transporters in AK and you have to wait until a hunt slot is left unfilled by previous clients before you can schedule with them. We originally scheduled for August of 2020 but the pandemic cancelled that trip. 40 Mile, living up to their reputation as a quality, stand up company, offered to just hold the deposits and hunt slots for 2021 for anyone needing to cancel, so customers didn't lose anything. In the end our hunt group was made up of Kevin and his son Owen, Nathan Coleman, and myself. We made plans for the middle of August 2021.
So a comment on the guys in my group. Over the years I would see Kevin and Angie on occasion but had never met Owen or Nathan in person. Kevin is a good guy with a wealth of experience using backcountry gear. He has a bit of genius when it comes to shapes and geometry which helps him with his company and product design. He kinda reminds me of Dr Emmet Brown from the movie Back to the Future. Like Dr Brown, there will be a conversation or an experience and you can see the wheels start turning in Kevin's mind. He's thinking about the next thing, whatever that may be.
Untitled
by
Hatchie
, on Flickr
Owen was the youngest in the group and a nice mix between a boy and a man. He seems to appreciate the experience and is much more thoughtful about things than I was at his age. I liked him immediately.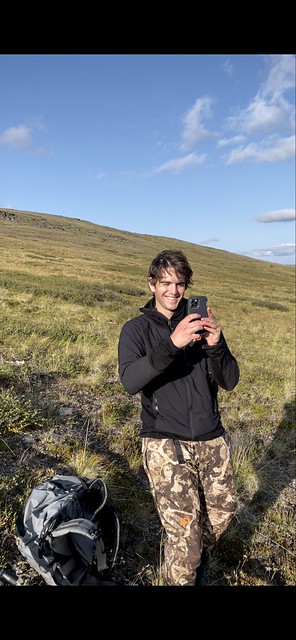 Untitled
by
Hatchie
, on Flickr
Finally there was Nathan Coleman of Totty's Bend, TN. After all these years I had never met Nathan in person but we exchanged texts and such from time to time. Nathan is a quiet guy who hunts in old woolen caps and shirts. Like others I've met of his kind, Nathan is not going to stand out in a crowd but he is supremely competent in the outdoors. He has a lot of skill in the little details that make one successful on a hunt and we all leaned on him at times. Nathan strikes me as the kind of guy that once he has a skill or knowledge, he has it. I don't think he forgets much. I heard him described as a stone cold killer with a rifle and after a week with him, I don't think I'll argue.
Here's a pic of Nathan at the weigh in.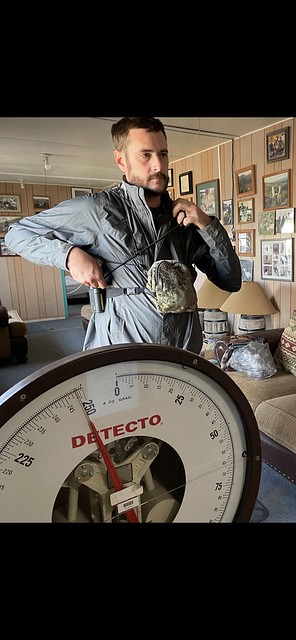 Untitled
by
Hatchie
, on Flickr
Then me of course. I'm fortunate to have these guys as friends and have no great skill set. I get by with a modest amount of knowledge, but I will go and I will hardly ever quit.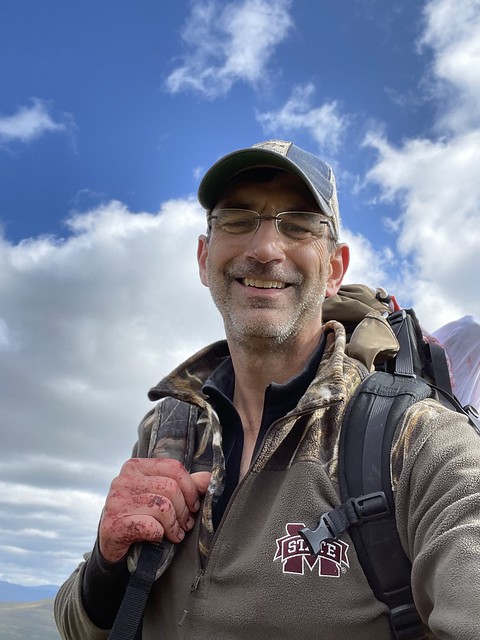 Untitled
by
Hatchie
, on Flickr
So Nathan and I flew out of Nashville on August the 14th and arrived in Fairbanks the same afternoon albeit with a three hour time difference. The Timms were already in AK doing some fishing as a family, so Nathan and i would meet them in Tok. Nathan and I picked up a rental SUV for the Timms and then I had reserved a UHaul for us all if we were fortunate enough to get animals. It was hard to find a place to stay in Fairbanks and what was available was very expensive. So finally we found an Airbnb outside of Fairbanks a bit without running water but it had electricity and was very clean. There was also a five gallon cooler over the sink for drinking etc. It was a cool start to the trip.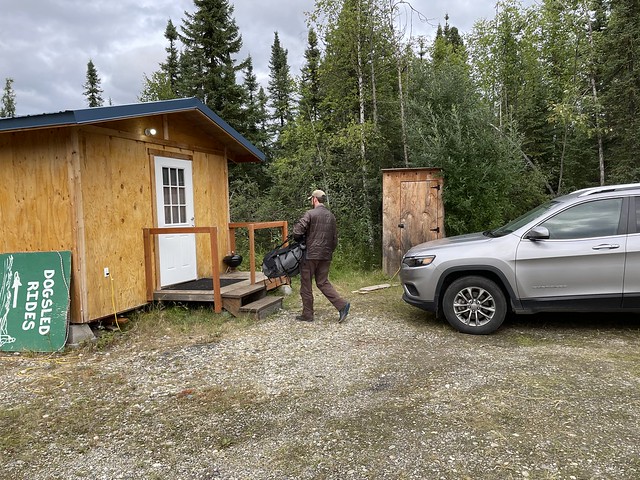 Untitled
by
Hatchie
, on Flickr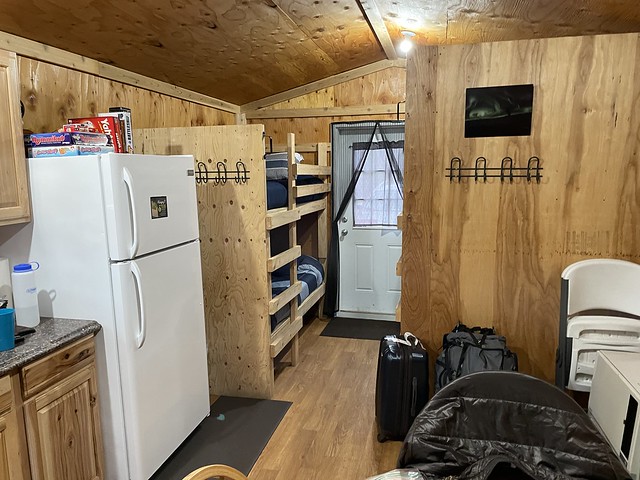 Untitled
by
Hatchie
, on Flickr
We had a lot of business to take care of with picking up the rental vehicles, sat phone, bear spray, getting our licenses and a few odds and ends. We finished a very long day with a meal at this place. I highly recommend it.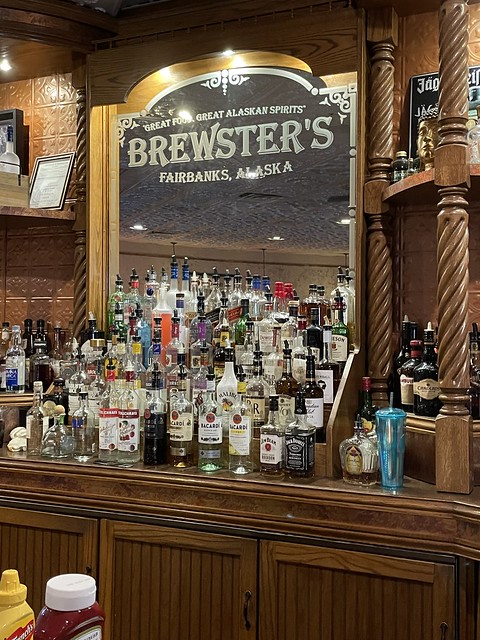 Untitled
by
Hatchie
, on Flickr
So on the 15th Nathan and I headed east on AK 2 if I remember correctly, which eventually turns into the ALCAN Hwy. At times it felt like I literally bounced along in the UHaul with all the frost heave. Having never seen AK, the ride was beautiful and intimidating at the same time.
Untitled
by
Hatchie
, on Flickr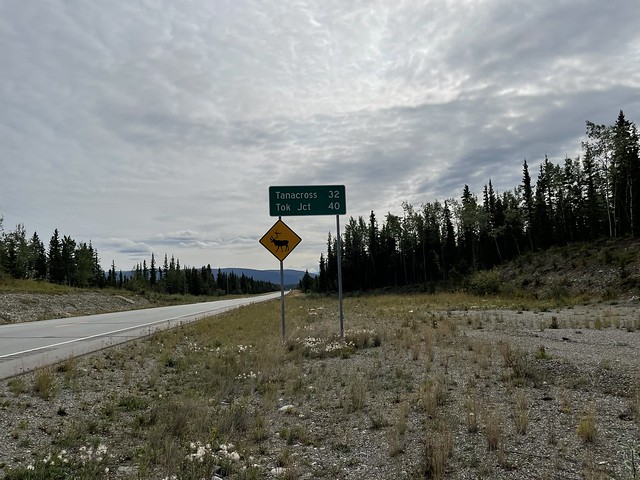 Untitled
by
Hatchie
, on Flickr
Untitled
by
Hatchie
, on Flickr
Made it to Tok and caught up with the Timms. Got our gear together and made check in with 40 Mile. Each man is limited to 50lbs of gear plus his rifle. At least for our hunt we would all travel at some point in a Super Cub so weight is a big issue. We all weighed in and made our marks. Janoa at the Hunters Office was very nice and very helpful in all aspects. We set up communication expectations and planned to fly in the next morning.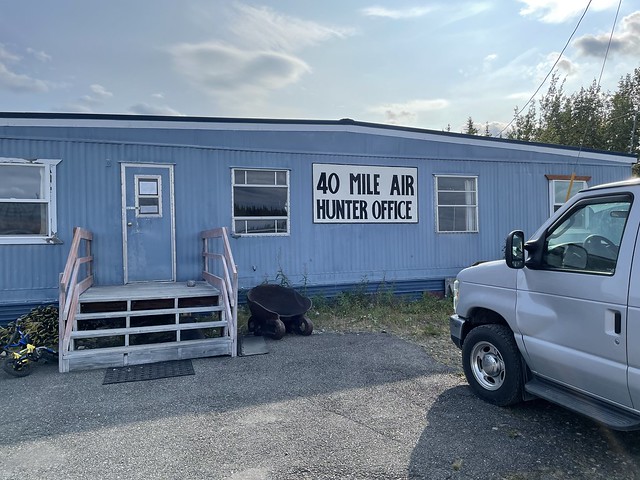 Untitled
by
Hatchie
, on Flickr
Untitled
by
Hatchie
, on Flickr
Untitled
by
Hatchie
, on Flickr
Contd
Last edited: