Joined

Mar 10, 2022
Messages

447
Location
This is the story of my Moms Colorado moose hunt from this past fall. Hopefully it doesn't run too long, but we'll see…
First some background: I have been lucky enough to grow up in a hunting family. My dad has been taking me hunting since before I can remember, my sister hunted with us from a young age, and my mom started coming along too when I was in middle school. She didn't want to be left home alone.
We have always relied on the meat for our meals throughout the year, and we even process all of our game ourselves. We usually hunt deer, elk and antelope but my dad has also always put us in for "the big 3" in hopes that one of us would draw and we could all share in the experience together.
My dad drew a cow moose tag many years ago, and did not fill the tag. All he heard leading up to the hunt was how easy it would be to find a cow moose, and "they're always just standing around on the side of the road" and "better buy another freezer". He ended up hunting for 7 straight days and saw many bulls but never a cow, so I know he had a bad taste in his mouth when it came to moose hunting.
Flash forward to summertime 2021. I'm at work and I get 2 missed phone calls from my mom and a "call me asap" text. I'm thinking: oh no something must be wrong… but instead I get the most exciting hunting news that I've gotten in many years. Mom drew a bull moose tag!! In a unit that I know well and have spent tons of time in. Immediately I'm on the phone with my dad and we're talking about turning in other tags and planning scouting trips etc.
September:
With a bull moose tag in CO you can hunt all 3 seasons until you fill the tag, archery, muzzleloader and rifle. But my mom is only confident with a rifle so we decide to scout in September and start rifle hunting on October 1. Plus in this unit I've noticed the moose movement really picks up in early October anyway. Our first scouting weekend yields ZERO moose sightings. We talk to a few archery hunters who are not seeing much either. I can feel a little bit of anxiety starting from my parents, but I assure them that "once October rolls around, the moose will come out of the woodwork".
The second scouting weekend we finally located a few moose. Thank goodness.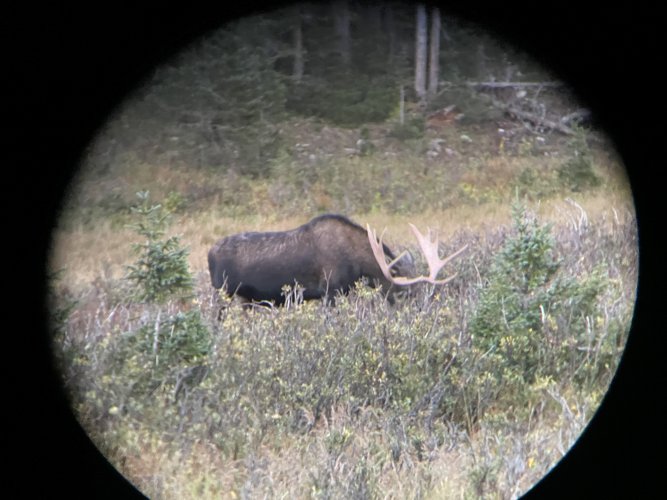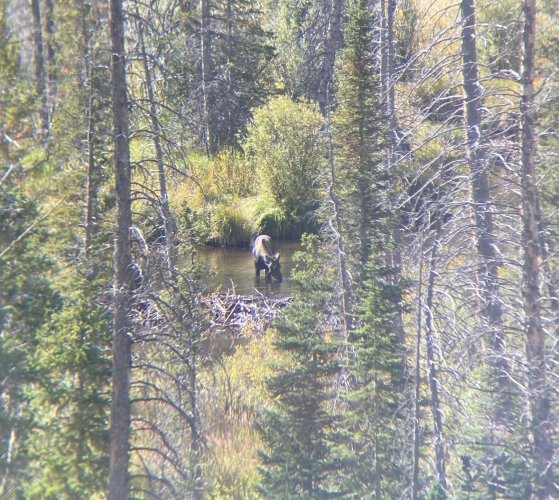 I can tell my parents are less anxious, but they still haven't seen the numbers of moose that I'm telling them are in this unit. Again I say "in October we will see more, I guarantee it".