Joined

Apr 23, 2014
Messages

106
Location
Went to set up my cameras this past weekend and stumbled across this old shed. I wish I had a picture of the before to show you what was actually visible but I didn't really think it was an antler and was just another "antlery" looking stick. The only thing sticking out of the ground was the base and a small part of the main beam that is white on the back side. I was about to step on it when I saw it and have probably walked by or stepped on this thing a minimum of 10 times over the years. I gave it a yank and realized the brow tines were moving dirt next to it. Unfortunately when I gave it a yank I broke off the last 2 points at the main beam. I dug it up as best as I could, as the last points were about 3 feet down into the dirt. The main beam is missing approximately 6 more inches on the end that I couldn't find but from the deteoriation it appears it was there when the antler was dropped. Pictures don't do this thing justice as it has some serious mass. YOu can see part of the hole I had to dig it out of in this picture.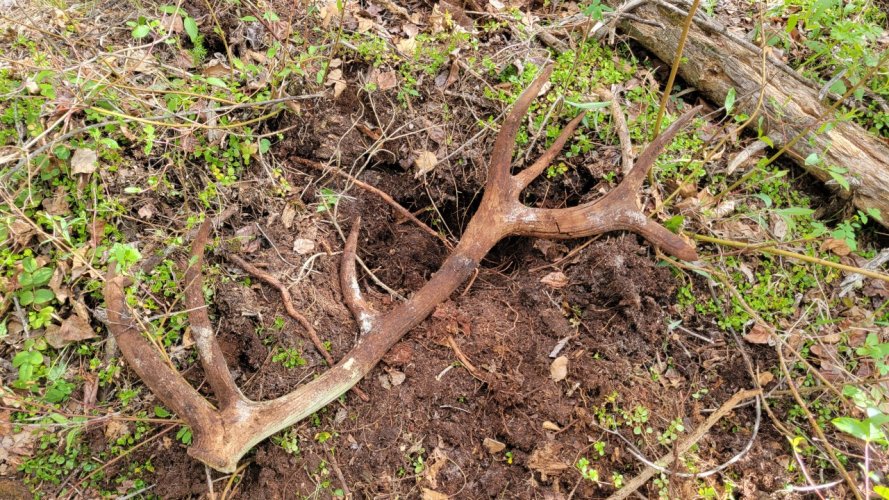 I am guessing this thing must be 15 years old or more. Any ideas?
When I first found it I thought maybe it was a mountain lion kill or something, but there were no other bones or hair around that I could find. The dirt wasn't solid dirt, it was about 2.5 feet of forest duff, pine needles, decaying matter that had roots in it (as you can see in the picture that were up to about the size of a nickel). Its been suggested to me that this thing could be decades old and I basically have a fossil in my hands.
Either way a cool find and I may try and fix it up with some bondo and paint.