Joined

Dec 10, 2002
Messages

7,126
Location
Some of you may be following what's happening up here, but for those that don't know. Sheep numbers in AK are worse off than MT mule deer. Its estimated that we have maybe 50-60% of of the sheep we had 10 years ago statewide, some areas its even worse. The winter of 2012 and again last year in 2021 have really put a damper on the population. There are very few bright spots, and most areas will take decades to recover, if they ever do. The harvest this year was the lowest on record ~400. Harvest used to be around 800 (and at one time 1200). We'll likely see similar harvest for the next couple years as we cycle through some easy winter lamb cohorts, then will drop off a cliff as we catch up to the down years of lamb production. I'm guessing 200-300 rams a year if that. Winter is the biggest killer of sheep, and climate change seems to be playing a role, or at least the "wet" warm cycle in recent times, is to blame. Will the sheep bounce back? I have my doubts they will in my lifetime. I'm grateful that I got in on some good years of hunting, and am hopeful that my kids will get a chance to chase sheep, even if its a limited population comparatively. I wouldn't be surprised to see many closures occur in the near future, especially on federal lands. Although personally, I don't think limiting ram harvest will really have any effect on rebounding the population.
Sheep hunter participation will likely continue to decline, which will reduce competition for what few legal rams are out there. In the mean time, its time to focus on what we can do, shoot wolves and coyotes.
If I had a Dall sheep hunt booked, I'd be seriously considering getting my money back, unless you like rolling the dice, and just want to shoot a ram. I probably have more full curl rams hanging on my wall than there are in some GMUs in the state right now. Yep guides killed sheep last year, and their success rate was 59%. Spending $25k for a 60% chance of killing a sheep? ouch... Some areas were much lower, some were higher.
A good synopsis can be found here:
https://www.adfg.alaska.gov/static/...rd/pdfs/2022-2023/sheep/adfg-presentation.pdf
Hopefully they get the youtube version up soon.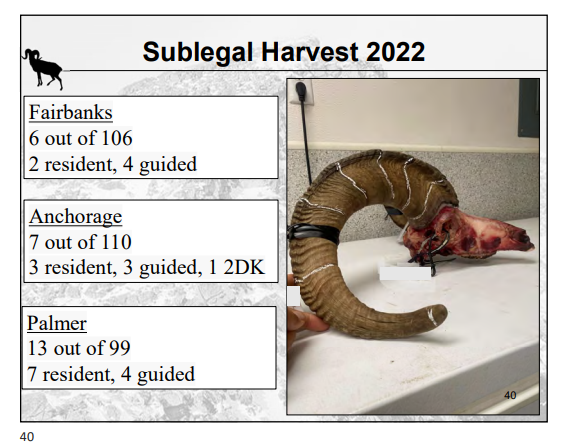 Times, they are a changing.