Joined

Apr 19, 2022
Messages

71
My father started me out when I was 4 allowing me to tag along the final day of deer season and I have been hooked ever since. The beauty of nature, the silence, the challenges, and camaraderie with friends all instantly identified with me. Since that day, I cannot remember a year without some type of big game hunting. At 5 I was toting Dad's spare gun (unloaded) as he taught me gun safety, hunting techniques, rules, and regulations. By 6 I was the camp field dresser and knife sharpener all of camp earning myself a hand me down Old Timer knife. I completed my hunter safety course in 4th grade (only missing 1 question on the test) and Dad bought me a 2 ¾ Remington 1100 that I still own to this day. I bagged my first 8-point buck that season at 9 years old. Uncles, friends, and my father-in-law have all gifted me with lessons and knowledge along the way. Growing up on the east coast, I never even had thoughts of hunting the "Big Three," it was all about whitetails. I guess there were a few years Dad worked for a company headquartered in Maine so he applied for moose permits but we never drew. I was young and never understood what he was chasing.
Fast-forward two decades and I was living in the NOVA/DC rat race working at building my career. Great place to be from career wise but not the best place to settle and start a family in our opinion. When work presented an opportunity for our family to relocate from out Virginia roots to Colorado in 2007 and we jumped at it. Keeping things hunting related, it was April when I arrived and this whole 'applying' for hunting licenses was a foreign concept to me. I was used to just driving down to Wal-Mart and buying my tags the eve of the season opener. Needless to say, I missed the 2007 application cycle all together. Matter fact, I missed the entire 2007 Colorado hunting season due to the transition, house buying, and just general confusion on how to even hunt western states. Luckily, I had a VA Lifetime license and got to spend 2 weeks hunting whitetails that Thanksgiving taking a nice 156 VA Buck (for another thread some other day).
By application time 2008 I figured out the
very basics
of Colorado application process enough so to start at least collecting points. Many of you will remember, this was when you sent the full tag fee in for each species and the DOW would hold your cash sending you one refund check at a time with your "Sorry you were not drawn letters." Needless to say, life was crazy that hunt season as we welcomed my oldest daughter to the family November 2008. I was able to slip away for my first DIY Elk hunt with zero advanced scouting right before she arrived. Looking back, it was more like hiking and bivy camping with guns. While I may have had tag soup that year several things were beginning to build… 1) I was HUNTING in Colorado. 2) I was acquiring some base gear & knowledge 'required' for western hunting I never needed in VA and 3) I had 1 pt. for each of the Big 3.
Fast forwarding 13 years through a positive learning curve of western hunting including a few successful Elk, mule deer, and Pronghorn hunts, and a family with tween girls keeping me busy I was starting to acquire a legit amount of points to envision drawing. For many reasons but mainly time commitment away from family life, I never even applied for anything beyond a point until 2020. After spending hours in GoHunt and other research sources I developed a plan I've been following for applications ever since including the 2022 applications.
On April 19, 2022 @ 10:47 AM I got the email from CPW. Instinctively I started to file in my hunting folder when my eye caught the word Congratulations in the opening sentence and my heart paused. I slowed down and read the message closer looking for the species revealing it was Mountain Goat!!! I started to shake out of joy. Of the Big 3 and honestly all Colorado species, Mountain Goat was always my most desired as I just think they are beautiful creatures.
Part of me thought it was a fake/phishing email so I instantly logged into my CC to check for charges to confirm the validity. With second level confirmation it began to get real and I had to break the news to my wife. At lunch we went for our normal walk routine, and I told her I had just drawn a Mountain Goat tag. She was excited for me but more so seemed to enjoy how giddy I was. She and my two daughters have reiterated they have not seen me so anxious and happy over something like I have been since that day. They still make fun of me about the day the physical tag arrived and I walked into the living room and did a little dance with it in my hand. Trust me… I've got moves…
It is only late April with my head spinning from excitement and anticipation the planner side of me wen into overdrive. I was making to do lists, researching the species, building initial hunt strategies, escouting, itemizing my gear needs so on and so forth. I had so much to learn and do and what seemed to be so little time. Of course, the year we have a 4-week summer east coast trip planned (& booked/paid) would be the year I need scouting time for a new unit/species. I kept telling myself I would find a way… escouting and networking with a few folks I met here or knew as previous tag holders helped start the wheels rolling.
With the kiddos off at IdRaHaJe summer camp for a week, the wife and I planned to hit the trail and tackle some 14ers (Grays and Torreys).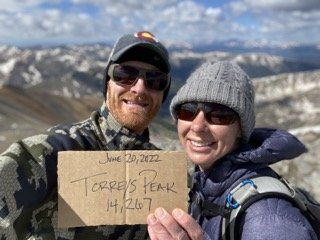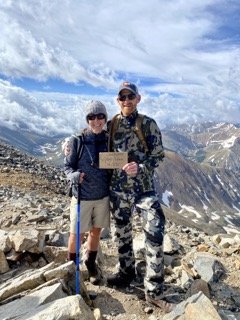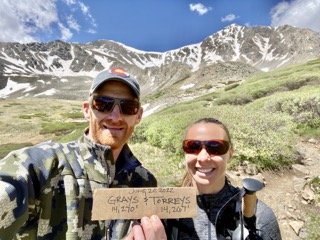 The hike, while not in my G16 unit, was right across the ridges in the neighboring G7 unit, presented many opportunities to observe goats up close (and far away) for the first time since drawing. We counted nearly a dozen anywhere from 20 yards to 500 yards which was super exciting.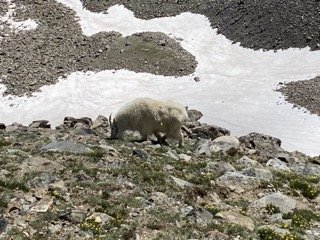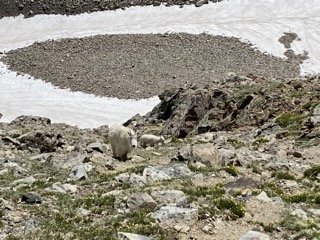 After completing the hike, we on a whim decided to drive Guanella Pass over the top for an alternate route home. As we stopped for a picnic lunch on the other side of the pass, I started thinking… Man, are we are in my unit now??? Pulling out my phone and firing up OnX confirmed we were indeed right at the border of G16. With plenty of daylight left I started talking about that fact we were entering the unit and should keep our eyes peeled. On the way down the pass, with no pre-planning, we turned off a forest service road to check out some dispersed camping options for later that summer with the girls. The road happened to be Upper Geneva Creek Road/FS119 which I really had not gotten around to looking at much escouting. My focus until this point had me hunting the Summit side out of Montezuma/Peru Creek/Cinnamon Gulch based on intel and past friends experience. Our 5-mile run of Upper Geneva Creek looking at dispersed campsites impressed us enough to plan some family camping over the next 3 weeks before the big road trip.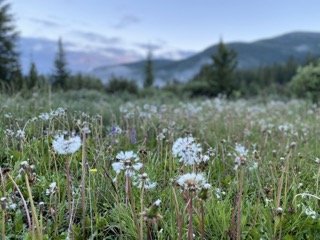 That week my escouting went into overdrive. I plotted all the GPS data of previous harvest in the unit and began seeing some patterns on/near the random Upper Geneva Creek Road we intended to camp. ***Shout of out to my friend Patrick who is a GIS whiz kid and helped teach me the basics for converting (townships to centroids) and plotting all the data ~300 cords. With a new location in mind and time on the calendar to put boots on the ground I was starting to feel a bit relieved. About this time CPW invites to the Goat Webinar came out along with info from KHunter on the RMBS BBQ invite. The BBQ fell on dates I was scheduled to be out of town starting our trip, but I was able to rearrange my travels to fit in my attendance. I'm glad I did as it was a fun time, and I was able to meet some great folks and get good intel confirming some of my plans.