Joined

Jan 20, 2017
Messages

2,227
Location
Working on a load for a 30-06 AI. Seems to have a couple of potentials, but I had an odd thing happen yesterday when shooting some test groups. I don't think I've seen something quite like this, and I still consider myself having lots to learn about handloading. So here's what I got:
Trying 165gn Accubonds on top of H4831sc. Fire formed Remington brass with Fed210M primers. The test loads come from flat spots in a ladder test, which showed no particular pressure signs. Same thing about a week ago, I shot a few test groups and had no pressure signs. So, yesterday. One group was loaded with 61gn. I usually just shoot 3 shot strings initially, but I just happened to have one extra casing, so I loaded it with this group. So you'll see from the pic, 3 shots touching and one about an inch to the right. The flier was the 4th shot, kicked noticeably harder, extracted rough and the extractor nicked it good.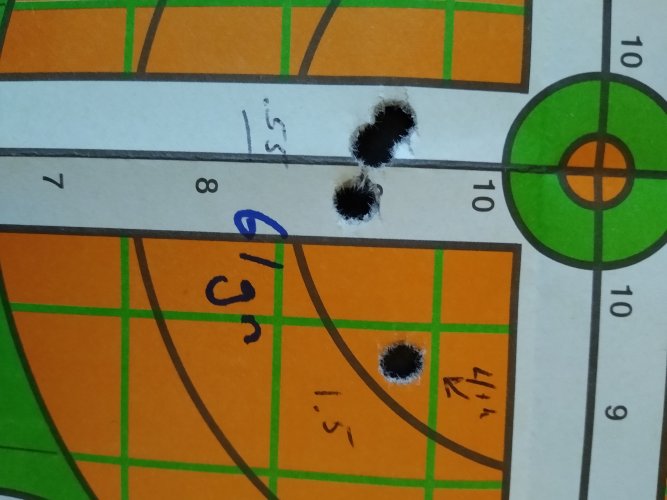 My next test group was nothing special, but then I got to 62.5gn. Last week I shot 62.4gn and it grouped about .65", but I thought it might tighten up a tad more with a nudge, so I went .1gn higher. So on 62.5gn, 2 shots were in the same hole, the 3rd was low/right, and like the other flier, it showed pressure signs the other casings didn't.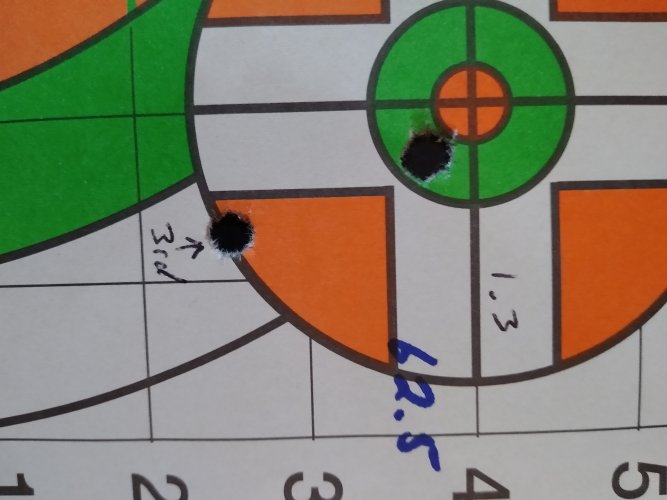 I'm just not sure what to make of this. The only environmental difference is it was a bit warmer. I believe it was in the 30's when I shot the ladder test, but yesterday was pretty warm, about 60. But if you believe the advertising, H4831 is an "extreme powder" and should not be effected by temp changes.
Thoughts? Ideas?