Joined

Jan 9, 2001
Messages

13,399
Location
Been a pretty strange season with the pandemic and election and hunting season just wasn't quite the same. However, did manage to get out and hunt a lot of days this year.
Went to Montana to hunt with my Dad, Brother, and Nephews as well as a good friend of mine that I've hunted with a bunch in the past. The weather and conditions were very good when I showed up. We set up the wall tents and planned on hunting the last 12 day or so of the Montana season. First up was hunting with my youngest nephew since he didn't have much for school. We hunted the first day and had a couple close encounters with some whitetail bucks, but things just didn't work out. The next day, we woke up to rain...which meant conditions were going to go to crap once it stopped. I've always done well hunting deer on days like this. So, we picked a ridge that I've had good luck on in the past. Wasn't long and we started seeing deer. My nephew liked this one as it presented a nice shot at about 120 yards. He got a good rest and shot it with a 100 grain nosler solid base from my late grandfather's .243. The deer sprinted about 50 yards and cart-wheeled over.
Happy hunter:
While walking up to recover his buck, we noticed 7 sets of very fresh elk tracks (more on that later).
For the rest of the time in MT the conditions were tough, real crunchy snow making it tough. My buddy Brian showed up and spent a couple days, filling his tag with this buck:
Next up was hunting with my oldest nephew. We put in a couple pretty tough days, seeing deer, but the conditions just giving the deer the edge.
Hunting whitetail deer all day on public land in NW Montana will wear a person out: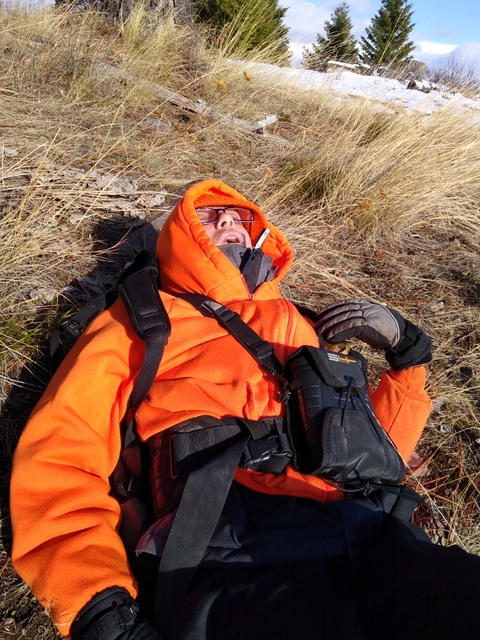 We decided to move to a spot that I've killed a few good bucks in the past, providing a decent over-look at the junction of 2 major draws and a couple ridges that whitetail bucks like. We weren't there long when a small buck and a doe moved up the ridge we were sitting on but never offering a shot. Next I saw a doe walk out on the opposite ridge where I killed a really good buck about 10 years ago. She eventually fed off into the timber. Not more than 5 minutes later I look over and see a good buck walk out of the timber. My nephew got a rest over my backpack shooting prone. I ranged it at 383 yards and checked his drop chart. I told him if he was comfortable to hold about 8 inches over its back and slowly squeeze the trigger. He sent a 120 grain nosler ballistic tip from his 7-08 on its way and I heard the bullet hit. The deer ran about 20 yards down into a small clump of fir trees and never came out. We watched for a while to make sure and then made our way over.
Perfect shot right behind the shoulder with a great blood trail: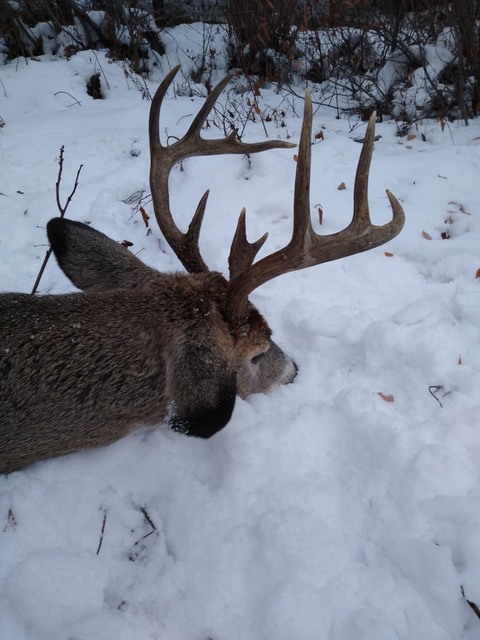 His best whitetail buck so far: