I debated even starting a journal this year as things just won't be the same. If you read my 2020 journal, you'll know that my wife lost a baby during archery elk season last year. It was only through seemingly random circumstance that I was even home at the time that it happened, as I had been slated to be on the mountain for two weeks. Through a lot of effort, she is pregnant again this year ( yay! ). However, with the previous year's loss looming over us, I committed to not doing an archery elk hunt, nor even hunting elk at all, simply due to the remoteness and time it takes to deal with one should I be so lucky.
I still applied for some hunts, but only drew muzzleloader pronghorn. FireTiger went points only this year.
Back in May, we lost our dog Hank, who you'd be familiar with from past journals. We knew he had lung cancer back in January, so it was only a matter of time. He went downhill fast when it finally got somewhere bad. This was him on his last hunt, spring turkey in Eastern Colorado.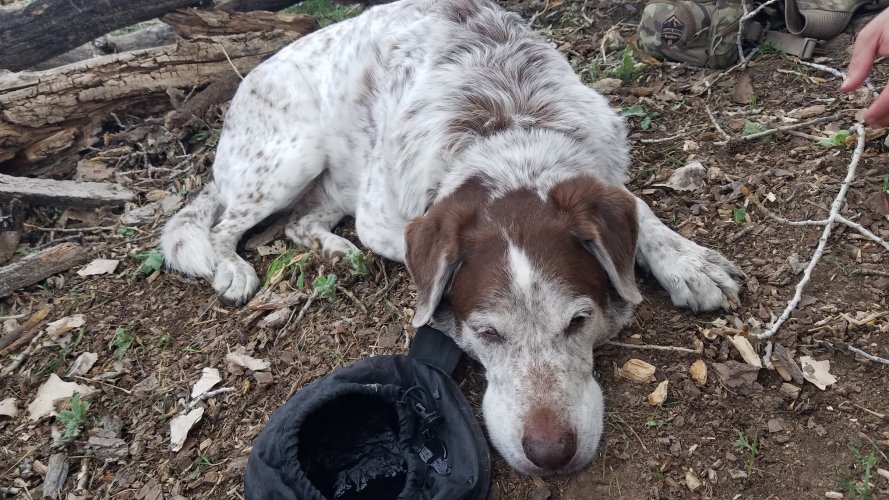 The plan was to go the year without a dog, as we thought it would only complicate her being pregnant. Then, we happened to have an opportunity at the last girl of a litter of Bracco Italianos and what do you know, we talked ourselves into this being a great idea. It would be a bit of a distraction from the pregnancy, and she'd be trained before the baby came. So, Ada joined us in June.
Here she is on a summer fishing trip with me. She's just about 6 months old as of today.
As we have now passed the date of the loss of our previous child and we're multiple weeks past how far along we were last time, FireTiger is relaxing a bit. She doesn't know how it will be come November, but she pulled the same whitetail tag she's hunted the last couple of years off the reissue list. The dates for the rifle season look incredible this year.