Joined

Mar 9, 2017
Messages

235
Location
When shooting a rifle, the weakest links in the system supporting the weapon are the muscles and joints of the human body. As long as the rifleman's off-hand elbow is supported, the shooting sling binds the rifle to the shooter so that it is supported entirely by bone and leather rather than relying upon ever-changing muscle tension to hold it steady.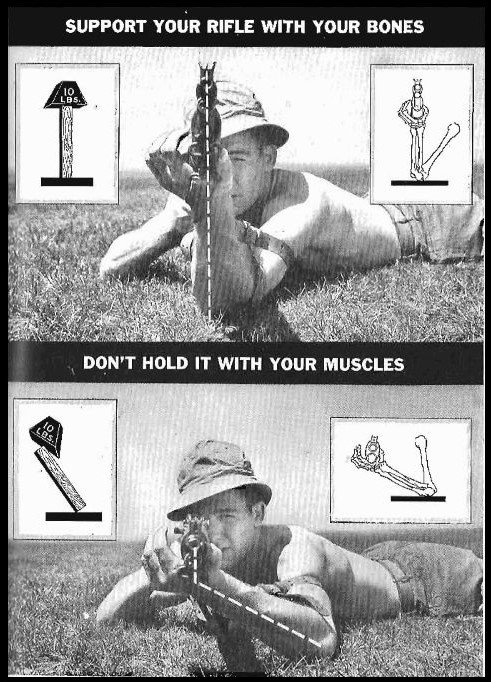 The loop sling goes hand in hand with the proper field shooting positions such as kneeling, squatting, sitting and prone, and offers a very significant advantage in steadiness to all of them. Sling shooting does require one to learn how to properly assume these shooting positions, which in itself is a big plus when it comes to marksmanship in the field. Some positions can be rather uncomfortable when assumed for the first time, but the nice thing is that practice is cheap. You can practice looping up, assuming the position, and going through the remaining marksmanship basics (natural point of aim, breathing, sight picture, trigger squeeze, etc.) with dry-fire. That's why the old school Marine Corps spent days teaching boots to "snap-in" before they fired a live round.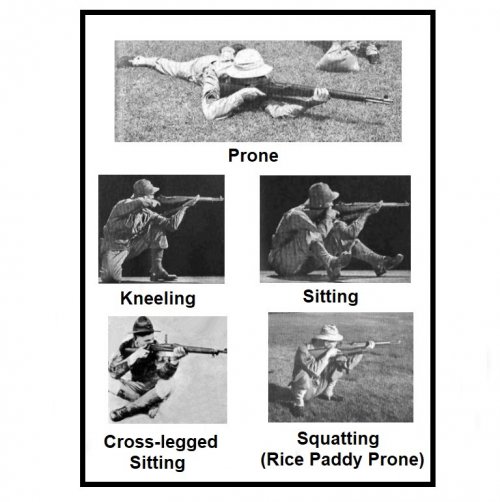 One caveat already briefly touched on; the shooting sling can only work its magic if one or preferably both elbows are firmly supported by the ground, other body parts, or some improvised rest. With neither arm supported, the so-called Hasty Sling sometimes used in the standing or off-hand position does not really contribute anything to steadiness in shooting. It's more or less just to secure the sling and keep it from swaying in the breeze.
The sling is of course very solid in the prone position, which is itself the steadiest of all shooting positions. Elmer Keith opined that he could get better groups prone with the sling than he could from a bench rest. I wouldn't go that far but I have come close. I've done some very good shooting from the prone position but all too often, even when antelope hunting out in the big wide-open, I find that intervening vegetation or micro-terrain prohibits shooting in the prone position more often than one would assume, but it should naturally be utilized whenever it is "do-able."
The kneeling position isn't nearly as solid as the sitting position because it still leaves you with one elbow flapping in the breeze, but it is still hugely preferable to the standing or off-hand position. Teddy Roosevelt, who fully realized he wasn't the world's greatest marksman, was a firm believer in automatically taking a knee whenever he sighted game to increase his steadiness over the off-hand stance. Over the years, I've also conditioned myself to instinctively and immediately drop into the kneeling position as well. If the range is fairly short and I need to take the shot right there and then, I'm much more stable than I would be standing. If time allows, I will continue on down into the sitting position…"If you can get steadier, get steadier."
Sitting has long been my hands down favorite and the most useful shooting position in the hunting field, especially in hilly or mountain terrain. Jack O'Connor, Jeff Cooper, Duncan Gilchrist and others have all written that they took the majority of their successful hunting shots from the sitting position, more than all of the other positions combined. Just guessing, but looking back I would estimate I've taken something close to two-thirds of my hunting shots from that position, using the shooting sling and/or improvised supports, and have benefited greatly by doing so.
To quote O'Connor again: "In most of the big game hunting I have done, the queen of all positions is sitting. It puts the line of sight high enough so that it can be used in high grass and low bushes. It can also be used on a hillside. It is much more flexible than prone and can be used nicely for running shots whereas prone generally cannot. If used with a sling, sitting is a very steady and practical position."
The USGI Model 1907 sling still works fine as a shooting aid but, as noted, it isn't the fastest thing in the world to properly loop up with. Often when I did use it, I tended to be seated on a hillside waiting for game to appear at dawn or dusk, so I could loop my arm up in the sling, then raise the muzzle and rest the butt on the ground and relax. When I assumed my shooting position, it tightened back up nicely.
Fortunately, much faster alternatives to the USGI sling are readily available these days. Versions and adaptations of the old Whelen-type sling are still alive and well. Townsend Whelen created the sling that bears his name just for sportsmen and designed it to be lighter, faster, and easier to use than the military sling. It was the favorite of the likes of Elmer Keith and Jack O'Connor, the latter saying, "The Whelen sling is, for my money, neater, lighter, and more practical for a hunting rifle than any two-piece sling."
The Hunter Corporation still makes a traditional leather Whelen sling that I've found to be quite nice, although the instructions that come with the thing are rather vague at best. Andy's Leather makes a model called the Rhodesian Sling that I see as a kind of quick modern evolution of the old Whelen sling.
For many years, my favorite shooting leather was the Ching Sling, named after its developer, Eric S. H. Ching, a Cooper Gunsite student who really did build a better mousetrap. The Ching sling requires three rather than just two mounting points, i.e. sling swivel studs; forward, amidships, and aft. This allows the sling to form two separate loops, the front loop being the shooting sling, and it only takes a moment to stick your arm through and cinch it up even as you're dropping into your shooting stance. For me, I found the Ching to be able the fastest sling to use in the field.
Since many shooters would rather not install a third sling swivel stud on their favorite rifle, there are also some fast, modern two-point shooting slings. Wayne van Zwoll swears by Brownell's Quick-Set Latigo ® sling ("Pull down-snap out") but I have yet to try one personally. Galco makes their modified leather Safari Ching sling to work with just the customary front and rear swivel mounts and more recently introduced their web RifleMann shooting sling. I've just ordered Todd Dow's R2 Riflecraft nylon sling to try out; he seems to have put a great deal of thought and practical use into developing his R1 and R2 slings specifically for field shooting. I believe Magpul is also making a quick 2-point shooting sling now as well.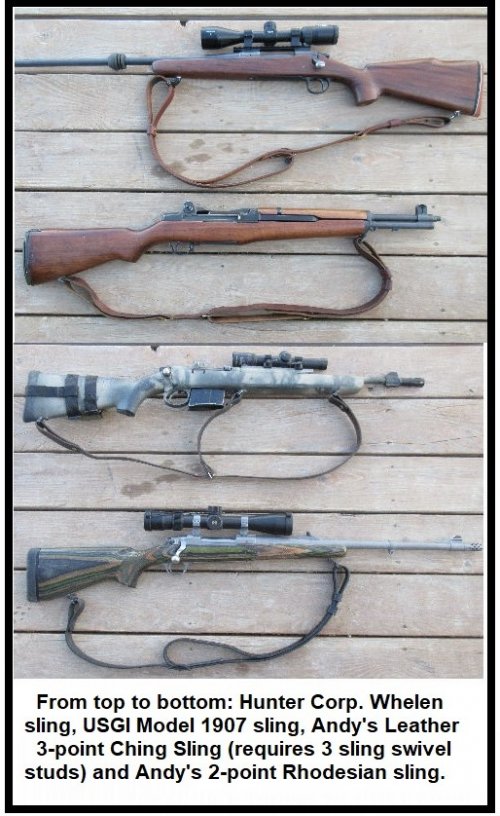 No matter what rifle or sling you use, you need to verify with live fire at the range whether or not a tight shooting sling has any effect on your rifle's point of impact downrange. Some of the cheap injection molded synthetic stocks found on modern factory rifles are just not stiff or stout enough to handle the pressure of a shooting sling, twisting or flexing enough to change the pressure against the barrel even way back at the lug. The factory synthetic stocks that came on my Savage Model 111 Trophy Hunter XP and my Remington Model 700 SPS were not up to the job. I reinforced the Savage forearm with old aluminum arrow shafts and Accra-Glass and made it work. I took one good hard close look at the Remington SPS and just replaced it outright with a Hogue full bed block overmolded stock.
If you are serious about sling shooting, you may also find some rifles put the front sling swivel stud too far forward to get the best out of a shooting sling. Townsend Whelen called for the front stud to be located 12-1/2 to 15-1/2 inches in front of the trigger, depending on the shooter's height and built. He was 6'2" and liked his front stud 12-1/2 inches forward of the trigger.
When it comes to learning how to properly use the shooting sling, I highly recommend investing a weekend at an Appleseed Program shoot or bootcamp conducted by the Ramseur, NC-based Revolutionary War Veterans Association (RWVA). Their Appleseed marksmanship "boot camps" are held in just about every state in the Union and teach all the basic rifle marksmanship skills as well as the shooting sling. Best of all, they use reduced size silhouette targets fired at 25 meters so you only need a .22 Rimfire rifle and ammo to learn on. I've attended three Appleseeds and feel like they did a better job teaching BRM than Uncle Sam's trade school did back in the day.
You can find a lot of resources free on-line to get you started learning on your own. A few good ones I found in the Internet Archive include the old
United States Marine Corps Rifle & Pistol Marksmanship
guide from the '03 Springfield era and the US Army's M1 Garand-oriented
How To Shoot the U.S. Army Rifle.
Two of Townsend Whelen's books are also available there,
The American Rifle
and
Suggestions to Military Riflemen
. You can also watch the 1942 U.S. War Department training film Rifle Marksmanship with the M1 Rifle.
On paper, still my favorite medium, Whelen's
The Hunting Rifle,
Jack O'Connor's book by the same name as well as his
Complete Book of Rifles and Shotguns,
and Jeff Cooper's
Art of the Rifle
all give detailed step-by-step instructions on field positions and sling shooting.
My calendar only has two seasons; hunting season and waiting for hunting season. So this summer could be a good time to learn about, experiment with, and get in some practice with the shooting sling on your favorite game-getter or even your .22 gopher whacker to see what it can do for you.