Joined

Jan 20, 2013
Messages

1,695
Location
Sixteen Mile Road relocation
A year one of y'all that tried to go hunting on the east side of the Bridger Mountains, utilizing a FS road, encountered a private landowner's outfitter who locked the gate, cutting off access that had previously been there before, though there was no easement with the FS. He called, I found all the landowner information and got in touch with Lisa Stoeffler at the Forest Service. She confirmed all the information I researched, explained what had been transpiring with this landowner, all the negotiations they were trying to have with him. Get this, he was demanding the FS maintain that road, but refused public access.
So finally, the FS explained that they could simply bypass his place, improve the road, restoring the public's access to all the land north of there. He still would not budge, so the FS now has this out for public comment. The road will not only not be on his land for that almost 1/3 of a mile, but it won't even touch his land either, do you know what that means for him?
The owner is Brinson Farms LLC, John Logan from Prentiss, Mississippi. The outfitting business is
Big Sky Outfitting
.
Here is the Forest Service page
. You can see the map and the close up, how this road change would actually benefit the public, bypass the privatizers land and stick it to them. Public Comments are due about December 16th.
Send public comments to:
[email protected]
Attn, Steve Christiansen
Subject - Sixteen Mile Road Relocation
Or Hard Copies to:
Steve Christiansen
PO Box 130
Bozeman, MT 59771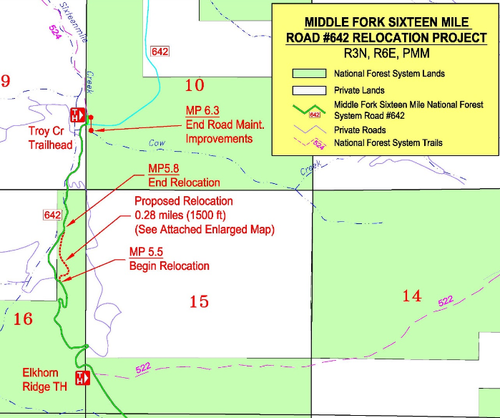 Last edited: