After doing about a year of intermittent research, last week I purchased a Lite Outdoors Plateau 5 tipi and 18" titanium stove. There was not a ton of info on this product online (especially the tipi), so I figured I'd share my initial reaction/experience if anyone is in the market. I will update this thread as I use it more, and share specific experiences regarding the conditions it was used in.
Why I bought it:
In addition to hunting, I spend a lot of time on rivers, and especially in early and late season conditions. A couple years ago I would have killed to have a hot tent 20 days into a particularly cold Grand Canyon rafting trip in December. If you are on the water all day, having a way to warm up your whole body in the evening can pay dividends for your physical and mental comfort.
For hunting purposes, I am realistically never going to own an RV, camper, and probably not a full size wall tent, so this seemed like a more minimalist way to accomplish the same goal: warm up, and dry things out. I have spent plenty of nights in a bivy mountaineering and backpacking, and hundreds in a 3 or 4 season tent between my hobbies and former job for the USFWS. The single hardest part of "toughing it out" in inclement weather or after hiking in snow all day, is drying your boots and/or clothing out so they are ready to go for the morning. The tipi and stove seemed like a convenient way to solve that problem. To sum it all up, this is the bullshit I sold my wife on as to why we should spend $675 on a tipi.
What did I buy:
I purchased the Plateau 5 with the 18" stove, baffle and no spark arrestor (the baffle essentially prevents sparks from going directly up the stovepipe). The total package I got weighs about 7.8 lbs, and bulk-wise is about the size of 2 standard 2 person backpack tents. It cost me $675 to my door (free shipping).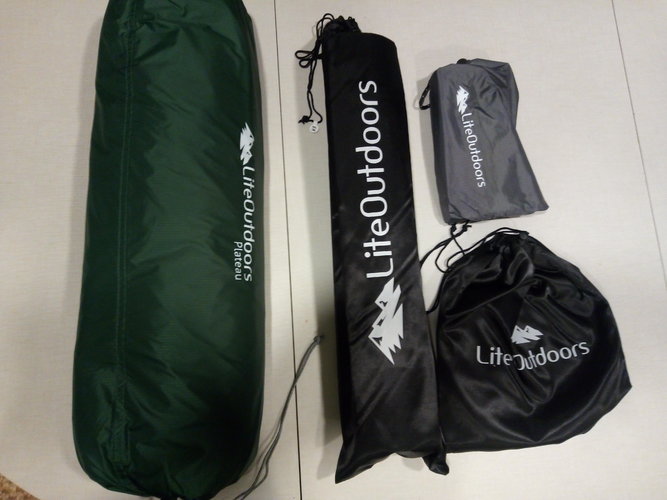 Initial impression:
I set it up today in my backyard in order to burn the stove in and check it out. There are instructional videos on their website, but rolling the stovepipe the first time was a bit of a pain, but only in the sense that my wife and I had to set down our beverages, and take our time doing it, probably about 10 minutes. Everything else seemed intuitive and was straightforward.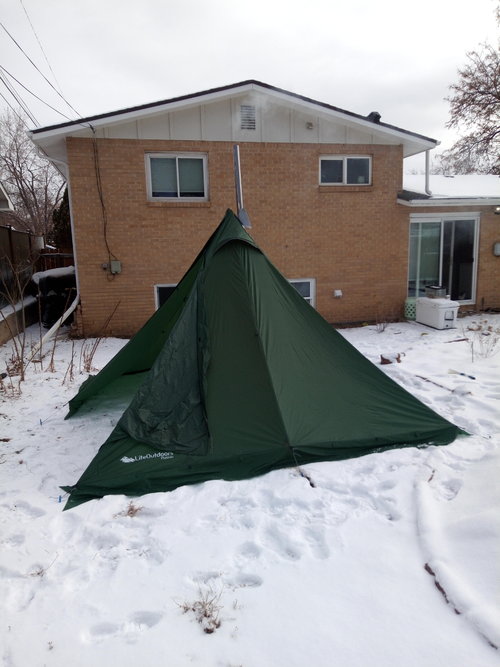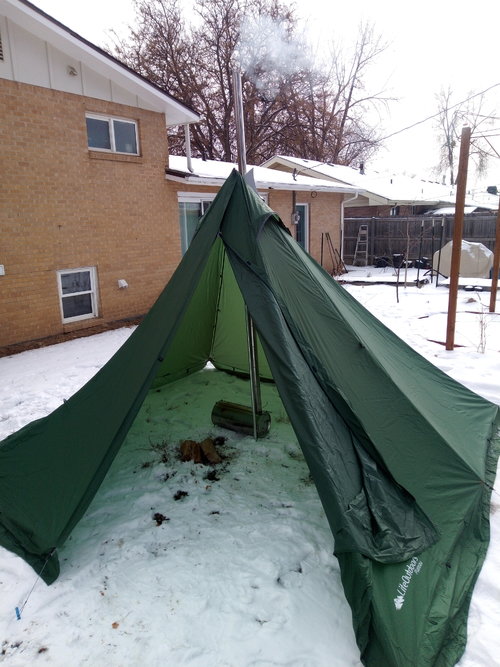 In terms of space, especially if you used all the guylines (camping in trees would be best, or you could purchase more stakes to guyline out the sides in open country) I think 3 people AND backpacking gear would have no trouble sleeping in the tipi with the stove. The fire started quickly and efficiently, and heated up the tipi quickly. With a 42 degree outdoor temperature and no wind, inside the tipi rose to 96 degrees in one hour. 5 hours after last stoking it, although there was not much heat coming off, there were still coals that I could have restarted the fire with.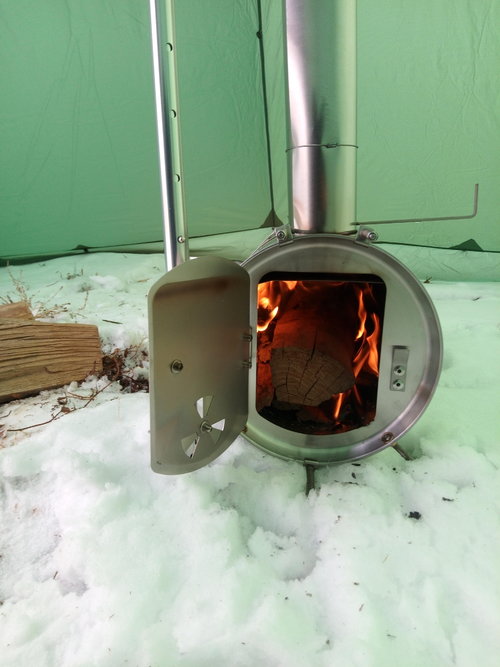 The biggest challenge I got a glimpse of would be if there was a small amount of snow on the ground, you camp in one location for a day or two, and the inside of the tent becomes a bit of a mud pit. This probably comes down to site selection, but something to consider.
I am heading out for a plains doe whitetail archery hunt on Friday, and I will update my impressions when I get back on Monday night or Tuesday. I will also try and report back after an upcoming beaver float hunt in January. Obviously the biggest question mark will be long term durability, but I will put it to the test and update this space as I do.
Last edited: