Due to unforeseen circumstances, I had a part wear out on my bow this year, can't get a replacement, and found myself without a working bow only 2 months away from the archery elk opener. Hit up the local bow shop, searched classified ads, and eventually came across a BowTech Reign 7 that checked all my boxes for a reasonable price.
Swapped over the sight and stabilizer, set the draw length and draw stops, got a new rest (old will be a backup), got the peep height set, and hit the range. Luckily, it's the same same draw weight and length as my old bow, so I was good to go on arrows.
It took a minute to get my grip right on this bow, and I struggled shooting decent groups the first couple times out, making bareshaft tuning difficult. Once I got that figured out and got the bare shaft hitting with field points, I switched over to broadheads at 10 yards, then 20, 30, etc. Move the rest to bring the broadheads towards the field points, move back in to 10 yards, take a couple shots with field points to sight in again (unnecessary if I had a big enough broadhead target, which I didn't), then shoot a broad head followed by a few field points. Repeat until desired results achieved.
This photo is one broadhead and two field points at 45 yards from earlier tonight. Other groups were almost as good. I think the bow is ready.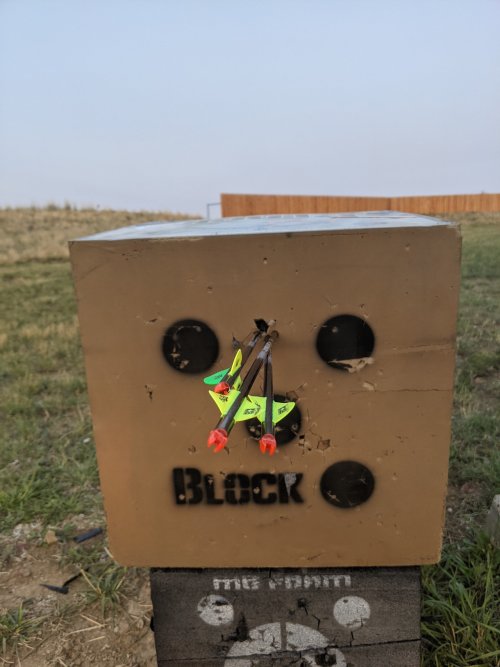 The block obviously moved with each shot, so don't read into arrow angle too much. Largest group at 60 yards was 5". If you look closely, I also kinda busted an arrow shooting that group in the photo above. It's a good confidence booster, but not entirely helpful.
Finished honing & stropping a brand new pack of NAP Thunderhead 125s to match with the set of arrows that are flying better out of the bow- used an exacto knife handle to hold them, and got them push-cut sharp with green and white honing compounds. Takes a minute to adjust them to perfect spin on the arrows, but I usually get them dead nuts on by rotating the collar a bit and retightening.
It's a definite relief having everything set up and shooting well. Now all I have to do is find an elk. Good luck to everybody headed out, and hope to see some photos!
Last edited: