Joined

Jun 8, 2008
Messages

2,759
Location
Well, this year I drew 3 lottery odds tags
NM archery antelope
, discussed in another thread
Idaho bull moose
Season is Aug 30 to Nov 23 and is short range (bow/smoke pole/pistol) weapons only hunt as it is in potato farming country. I plan to hunt with a bow but my brothwr @abq will be bringing a muzzleloader on the trip for possible reserve duty. Idaho lets you hunt river bottoms from high water mark to high water mark regardless of land ownership, so I could see using the muzzleloader if we find a bull we want that we need to drop in its tracks, lest the bull run onto forbidden pvt ground after the shot. There are some area landowners who flat out told me if my moose drops on their land I am out of luck as they will not allow retrieval. Vast majority of the unit is pvt land with strips of BLM and state land sprinkled along the river corridor. Interestimg twist, I habe a ton of dispersed irrigated potato farmland and hay fields I can hunt away from the river corridor as the biggest farming family in the area said I an welcome to any moose on any of their 50+ parcels. Thank you Onx for making those prcels easy to identify.
Colorado archery cow moose
(my 3rd Colo cow tag after a bull tg back in 2001)
I will share stories and pics of the Idaho and Colo archery moose hunts in this thread.
My last Colo moose hunt ended like this back in 2016 after 7 hard days of hunting and I drew the same tag this year. Saw bulls daily but never saw a cow till day 6.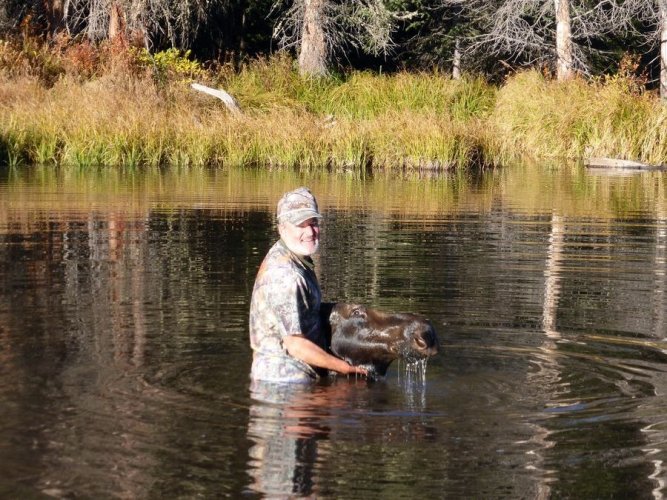 Leave for Idaho this Friday, Aug 26 to scout Sat/Sun/Mon and hunt the opener on August 30th
till perhaps till labor day, Sept 5th if needed and depending on hunting conditions we encounter. It is a 9+ hour drive so lose a day coming and going.
The follow up trip, if needed, will be Sept 23 till Oct 13th or so to take advantage of the rut. Dand sound like a lot of time when see it in print!
Colo moose may get short shrift depending on how the higher priority Idaho moose hunt pans out. Plan is to hunt Sept 9-11 for Colo cow moose Hunt unit is only a couple hours away but reserving a ton of vacation time to the Idaho hunt.
The Idaho hunt should mostly consist of partial day floats along the Henry's Fork of the Snake River with periodic stops for calling sessions and trying to spot bulls. Know nothing of boating or boat hunting so will learn a ton and hopefully keep the watercraft right side up and 5e bow out of the river. Will used a borrowed 15 foot skiff with oars and also have a borrowed Alpaca Mule pack raft. May even luck out with a local who offered to at least tour us around n a jet boat during a scouting day. Have not floated this river befor but did do a 4-day scouting trip to learn the area and river access points and to knock on doors to gain some key pvt land permissions I hope will be productive.
Fun will be had in generous portions and hopefully the coming photos/videos and stories bear that out over time.
Last edited: