Joined

Apr 8, 2019
Messages

2,923
Location
Now I am fond of Italian food period so I use Italian flavoring in many of my recipes and when I get tired of that then I switch to mexican style recipes. Anyway this is good and you can prepare it as a casserole if you want and put cooked noodles with the meat and sauce on top. Traditionally, Italian prepare pasta separately then then add the meat and sauce on top during serving time. Note: If you like a bit more meat in your recipe, feel free to increase or double the amount of game bird you prepare for this.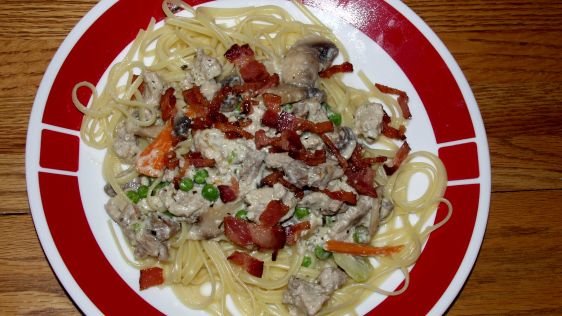 Ingredients
1-4 grouse breasts or 1/2 pheasant breast, or about 6 dove breasts sliced into strips
4 slices of thick sliced bacon
1 large garlic clove, minced (the fresher the better)
1⁄2 cup fresh peas
1 cup half-and-half cream
4 tablespoons of grated parmesan cheese
1 dash rosemary
1 dash sage
1 dash thyme
1 dash basil
1 dash marjoram
1 teaspoon fresh tarragon
sliced mushrooms
1/2 medium onion diced
salt and pepper
linguine
Directions
Dice bacon and brown over medium heat. Drain and remove, leaving 3-4 tablespoons of grease.
Brown game bird breast in bacon grease, adding spices, onion and minced garlic as it cooks.
Once browned, add cream, peas, mushrooms, and cooked bacon. Simmer until cream begins to thicken.
Add parmesan cheese to further thicken sauce, and serve over linguini.
I also provide grated fresh parmesan cheese people can add to taste.
Recommend you serve this with an Italian soup or salad. Garlic toast also recommended to be served with this.
Last edited: