On Saturday, I shot my second caribou and largest to date. After an unsuccessful day of hunting Friday, I planned to hunt a saddle about a mile from camp on Saturday morning. I hiked in to avoid spooking anything with a quad. I looked up about 45 minutes into my sit and saw a caribou standing in the open. Looking through my binos, I started seeing a few more but the bushes offered very good cover and little opportunity to shoot. They were feeding off to the left so I decided to make a move to cut them off. I closed to about 50 yards but still did not have a shot. They started moving back to the right and I moved with them but the path took me closer. I saw a lane and a cow crossed, then a small bull was coming so I lined up. I didn't get a shot but saw a larger bull's tops coming. I prepared for him to come out but he stopped and locked eyes with me. I settled my crosshairs as low on the neck as I could see and squeezed.
At the shot, I saw steam and hair fly and he dropped. I believe he had squared up with me because the ELD-X entered on the left side of his neck and did massive damage to his airway, arteries in his neck, and the lungs were tattered.
Another hunter came almost immediately on a side by side and took the smaller bull (his first) and they gave me a ride back to camp. Another hunter in our group was coming to find me on his side by side as the radio didn't have line of sight with them. After some congratulations we got to work getting him quartered out and back to the trailhead on the quads. A trooper pulled up and checked my tags and said I had the only caribou he'd seen in the 100 or so miles from Tok.
A voworker and another hunter came over yesterday and we got everything butchered out. I gave them each some roast, ground meat, and steaks. Overall we had a great time, and I'm going to enjoy this meat. A sample last night confirmed it was much better than the rutted up bulls my wife and I shot two years ago.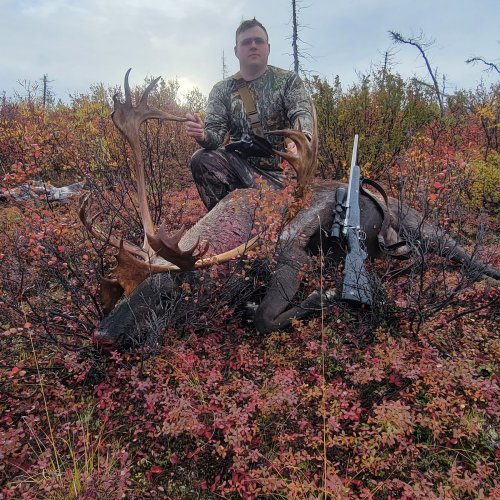 This was our view from the truck on Thursday night.