Joined

Jul 14, 2015
Messages

174
So I was a little intimidated in prior hunts but I decided "how bad could it be"? I watched videos by Randy, Eastman's, and a few other YouTube videos. If your hesitant, don't be! Turned out great. Maybe others have different ways but the best helper was a pair of pliers to pull the hid off especially around the antlers. So much easier than cutting off. Also, i used a power washer to flush the brains out. Easy peasy and the dog loved the smells and scraps leftover after.
First I needed a pot big enough. Wal-Mart had a "Tamale and Seafood Steamer Pot" that was perfect. Put the deer head in and filled water to the base of the antler and fired up the Camp Chef burner.
Second- Added some dawn dish soap and some oxi clean laundry detergent. Seemed fine but after it simmered a bit, the pot boiled over from the oxi clean as well as getting some suds on antlers, which basically turned them white. As the videos warned, add slowly, but I don't mind much and nobody else will care either, but for future reference it will boil over, so I recommend doing it outside.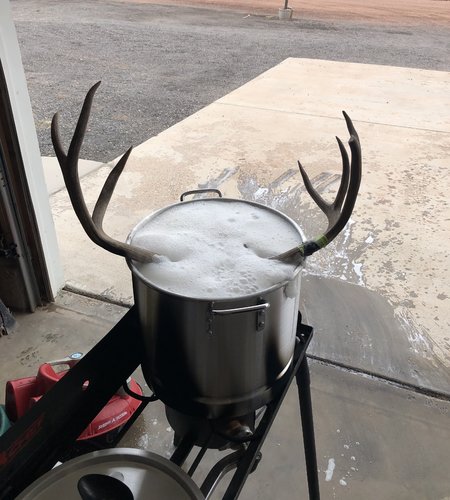 Third - Let it simmer for about an hour.
Fourth - Strapped it to a spare tire and used my pressure washer to get the remainder of the meat.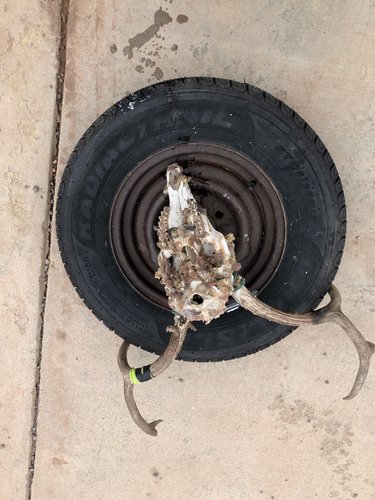 Fifth - Didn't get as clean as I hoped.
Sixth - Boiled / simmered another hour.
Seventh - Pressure washer / scraped and it was nice and clean.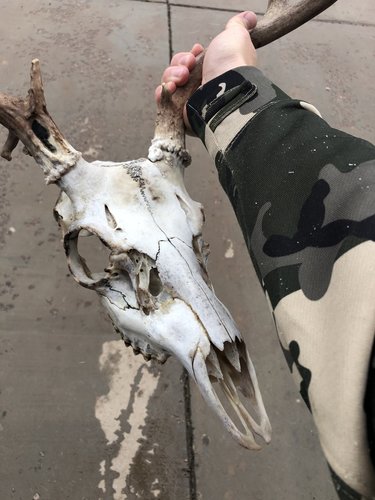 Eighth - Let it dry a day.
Ninth - Went to beauty supply store for the developer (bleach / peroxide cream)
Tenth - Lathered it on with a brush and hands and let is sit for 72 hours.
Eleventh - Rinsed off the remaining cream, let it dry and there you have it.