Joined

Jul 14, 2015
Messages

409
Opening weekend antelope is always a blast. I got to hunt the whole weekend which is awesome, but also frustrating. I was able to draw a buck tag and then pick up a doe tag in the reissue list. My wife and good friend drew doe tags and I was also able to pick them up buck tags off the reissue list. I wanted them to have the option and hopefully take some pressure off. So this trip any antelope will do.
First thing Saturday morning we drive to a property that usually has antelope. As we drive there are 2 does and a nice buck headed straight to us on the road. Since we all have a tag I look over at my friend and wife and neither one of them are ready so I jump out run to the fence line to rest on the post and drop the buck at 120 yards. Pretty good start and just so happens to be the nicest buck I have ever shot. I am not picky so the first antelope with horns past the ears usually gets dropped… it just so happens this one was nice!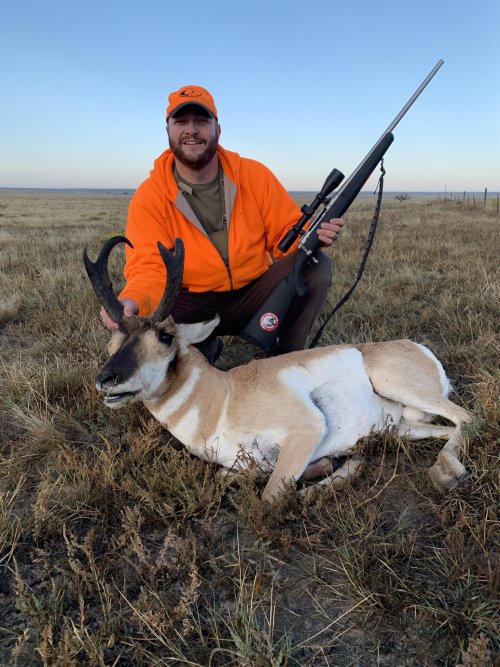 The 2 does took off but neither of the other 2 were ready to shoot yet. Quartered and on ice we went for more. We had a few great stalks and standing shots at 250-300 but buck fever became a big issue this trip. About 10:00 my wife and friend set up on a group and have clear shots at 275. My wife hit a doe in the leg. We tracked her down but she was getting ready to pass to a property the owner won't let on even with a wounded animal. My wife missed a few more shots and tells me to take her if I can. Not a great shot by me but at least I put her down. So now I have both tags notched.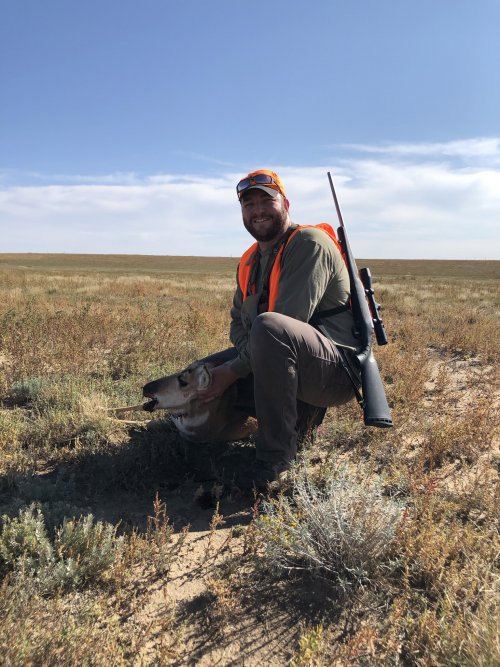 Both my wife and friend were shooting terrible. We went to the range prior to season and they were both doing fine. After lunch I suggest we shoot at a few prairie dogs to check their rifles. 200 yard shots on prairie dogs confirmed that it was not the rifle. So a few more great stalks blown by bad shots and my friend finally connects on a doe that stopped 3 times within 300 yards to give him great opportunities. His first big game animal!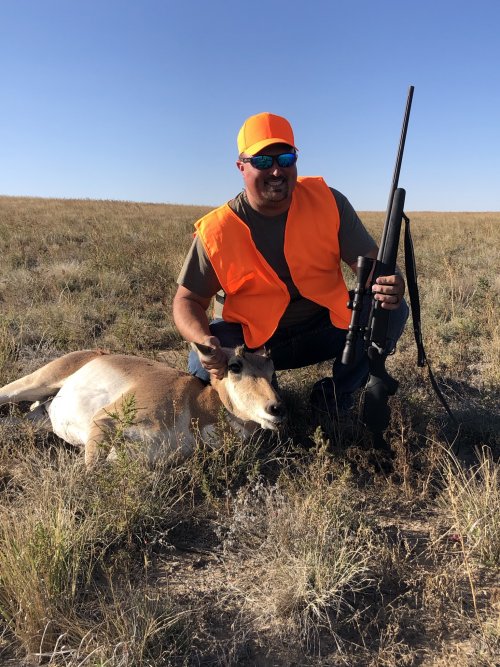 Sunday morning was much of the same until we put a great stalk on a group. My wife was able to connect on a doe. I was getting anxious for her due but super happy she connected.
This was all on private land that I am so thankful did the landowners who allow me access. I grew up in the area and still have family and friend out there so it's great to get back for the weekend. Great antelope numbers this year and bigger bucks than I have seen in a long time. My wife and friend both still have buck tags so we are deciding if we are going to head out this weekend or not. Was a fun weekend and the kids loves shooting .22's at cans during breaks. Definately need to help my wife and friend get more comfortable getting on target faster and get shots off faster but we got meat in the freezer and great memories.