Joined

Apr 15, 2020
Messages

457
My daughter drew a 1st rifle bull tag in the secondary draw for a unit I know well. She has been extremely excited about it for months, she was even more excited that the hunt would take place over her 16th birthday (which is today). We made the 1000 mile drive Thursday night and found some elk on Friday.
Up at 3am Saturday morning to be in position at daylight. A group of 6 hunters were already headed in when we got to the trailhead, but we passed one of their party on the way in, he let us know where they would be so we adjusted a little. Slow morning until about 8:30 when the herd came over a saddle with plenty of bugling.
They were about 1/2 a mile away so we made a dash across the mountain to get in position. At the bottom of a draw I looked up and saw a cow coming over the ridge and told her to get ready. 110 yards. A couple cows and a spike came over then shots rang out above us and they went the other direction.
We moved to get over the ridge, got there just in time to see the big herd and several bulls run over the top of the main ridge above us. I said let's get over to where they came from and see if there are any stragglers. Sat for while and I saw I had phone service so I called my brother in law who was elk hunting in New Mexico to see how his morning went. Talked a bit and then We saw some cows coming about 300 yards away. I set my phone down, without realizing I hadn't hung up.
Several more cows came out and were milling around, I was telling her I bet there will be a bull. Then I could hear my brother in law through the phone, I laughed and said "well, I'll just leave it on so maybe you can hear the play by play". About 5 minutes later a bull came out from the bottom, 220 yards. Two 7mm-08 shots to the lungs, he went 10 yards and was done.
A great morning and she is still on cloud 9 and I'm a proud Dad.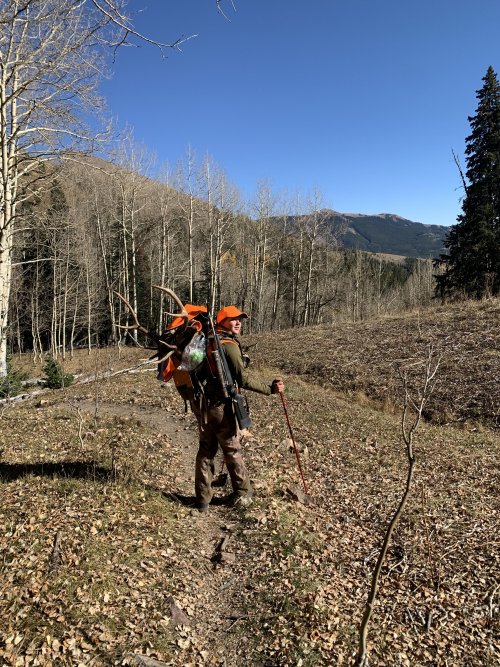 Even better her uncle got to hear the whole thing over the phone. She came realize over the next 10 miles total of packing out that the hard part is after the shot!