After swinging & missing all limited entry draws this spring, my brother and I were preparing and planning for OTC archery elk, but he got a call from CPW on Aug 3 saying someone had turned in the archery elk tag he'd applied for, and he was next in line if he still wanted it. Immediately our plans shifted -- he'd be the hunter and I became designated caller and sherpa.
This would also be a return to a unit we'd hunted in 2019 when I was the muzzleloader tag holder. High elevation, lots of elk, lots of elk hunters, and with some luck the possibility of tagging a good bull.
Drove out to the unit on Sep 8th, and set camp.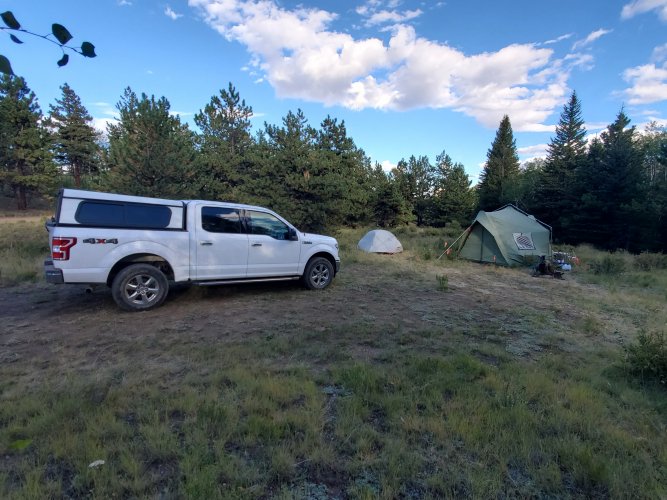 Our base camp was at about 9,600 feet of elevation, and we live at about 500 feet, so we planned to take it easy the first day or two and acclimate to the altitude just a bit. First morning out we hiked to a glassing knob, all was quiet as the sun rose.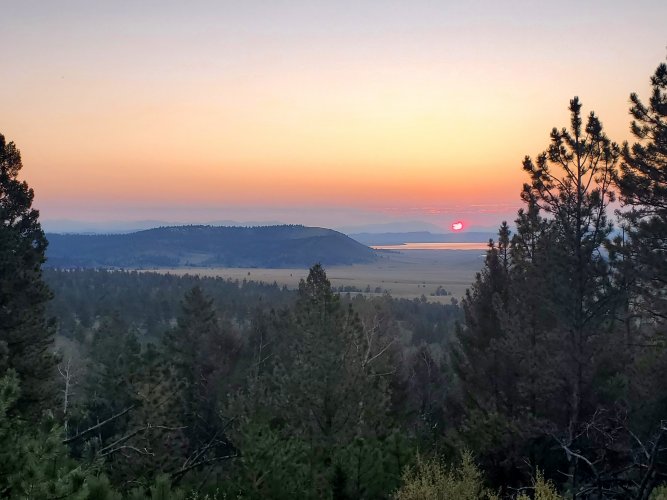 Pretty soon the whole mountain was buzzing, literally, with bees. Still no elk talking but about 9AM we spotted a few cows and a raghorn just across from us. They quickly disappeared into the timber to bed for the day, and we decided a raghorn the first morning wasn't quite enough to make a play on.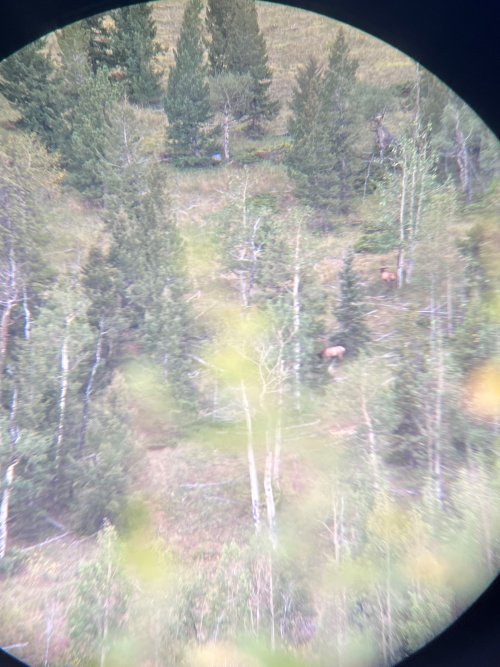 We hiked about a mile further up the mountain, to a stand of north facing timber where we expected elk could hide out from the heat of the day. As we entered the timber I glassed ahead of us, "Elk!...Bull!" I was a bit surprised as I'd only just raised the binoculars and looked for a few seconds -- a decent 5x5 bull was walking directly at us. He stopped and while he didn't wind us he knew something was up and eventually detoured around us at about 60-70 yds while never presenting a shot opportunity. A close call on a bull we'd have gladly harvested.
Eventually we made our way back to the glassing knob for the afternoon, and about 5:30 we saw the same cows out feeding, and a few minutes later I spotted a herd of about 50 cows up the mountain a half mile or so. We headed their direction, and heard a bugle in the timber before we got to the opening I'd spotted the cows in. We got on the bull's level and within about 200 yards, and started a cow calling sequence. He bugled once or twice, and it sounded like he was still bedded. As darkness came on he bugled a few times as he went directly away from us.
As we headed back down the mountain towards camp we came upon three cows, with one standing broadside at 50 yards right at last shooting light, but not yet ready to harvest a cow with over a week left in our hunt schedule. We were into elk on Day 1 -- no complaints.
Last edited: