Joined

Jun 8, 2018
Messages

262
For those of you looking for a big Arizona Bull down, made you look!
Earlier this year I made a bonehead mistake and put in the wrong code for my Arizona Elk application. Instead of a bull tag, I put in for a cow tag. I only had 2 bonus points, so in the grand scheme of things the lesson learned wasn't too harsh. I ended up with more than 200 lbs. of boned-out Elk meat in the deal and a ton of new knowledge, so I'm smiling right now as I sit back drinking my lemonade.
I had plans of hunting Wyoming this year and didn't think I would go on this hunt. A surprise Sheep tag for my wife sucked up most of my vacation time allocated to Wyoming, so I canceled my app there and decided to give my Arizona tag a go on a short solo trip.
Though my elk hunting experience is limited to just four years, I will argue that killing a cow with archery equipment on public land can be greater challenge than killing a bull (during or near the rut, that is). I've been fortunate enough to kill two bulls and called in several more, but I've never really called in the ladies. I'm sure many on here will dispute my claim, but this was a tough hunt, and I couldn't be prouder.
After two hard days of hunting and limited Elk sightings, I got on to a herd of Elk around 6AM on Friday morning. I stalked them for 3 hours and 4 miles, coming close to getting a shot several times, but the Elk were always one step ahead of me. At 9AM, I finally wised up and instead of setting up where I think I should at the moment, I went another ¼ of a mile and waited there.
I could have shot multiple bulls on this stalk, including a very nice 6x6 herd bull, and got myself into the middle of a true rut fest. I got to hear almost every vocalization an Elk makes, saw breeding taking place, and learned a lot about Elk behavior. Such a great experience and I'm now humbled by the opportunity to hunt "just a cow".
The shot was 30 yards, broadside in some thick brush, through a window about the size of a basketball. Had about an hour of "oh crap" when I couldn't find good blood and began to doubt my shot placement. It was so thick I didn't really know much about the direction my Cow had run since there was another dozen or so with her that got out of dodge right after my shot. A memory of my orange fletching sticking out just behind the shoulder kept my spirits upand I ended up finding her only 75 yards away from the point of impact.
Arizona Success: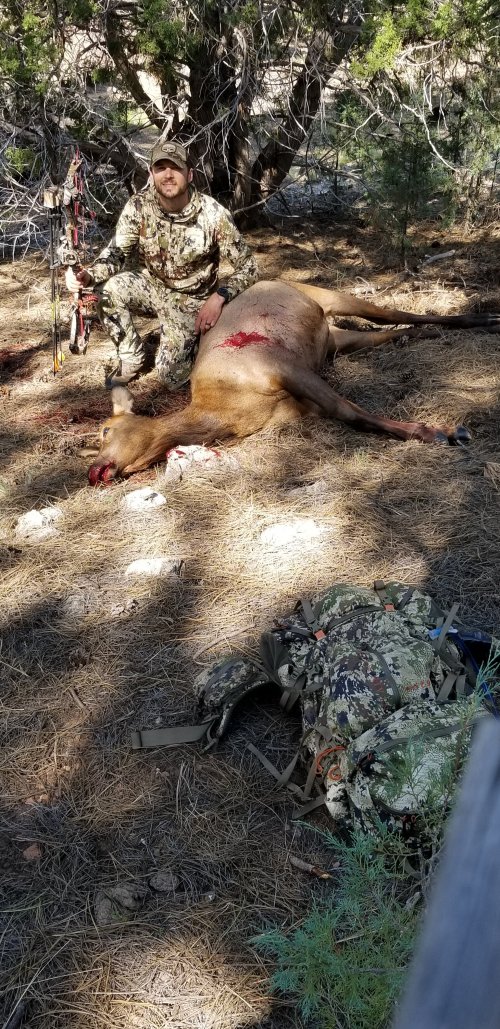 After taking packing a rear quarter and shoulder out 3 miles out in a single trip by myself on Friday afternoon, I knew I was going to be in a time crunch to make my flight at 6AM Sunday morning. Called the nearest bike shop and was able to rent a bike and trailer which made the rest of my pack out a real treat.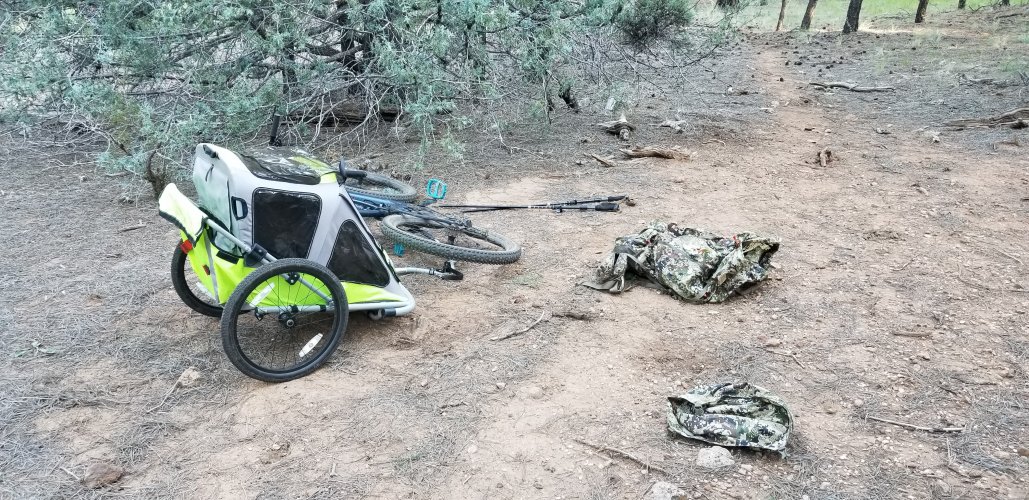 Spike I called in to 20 yards as I was dogging the herd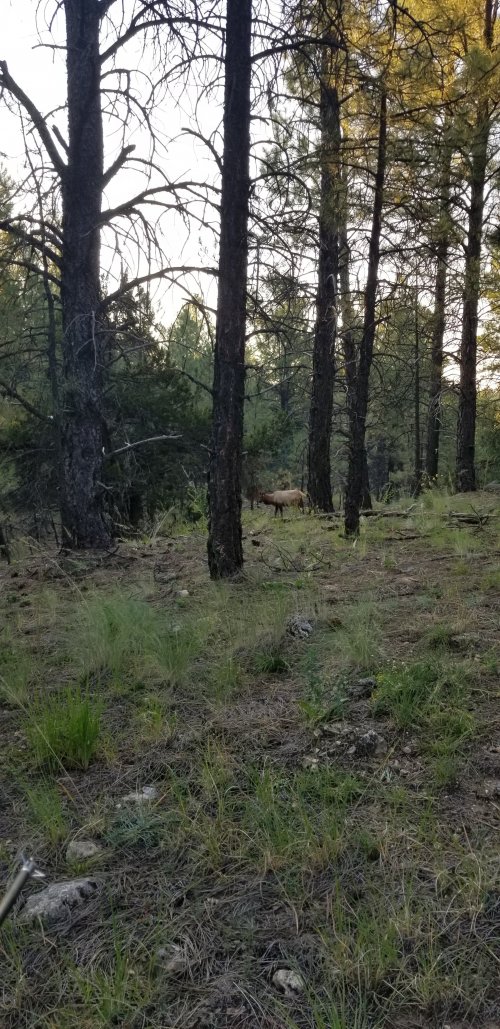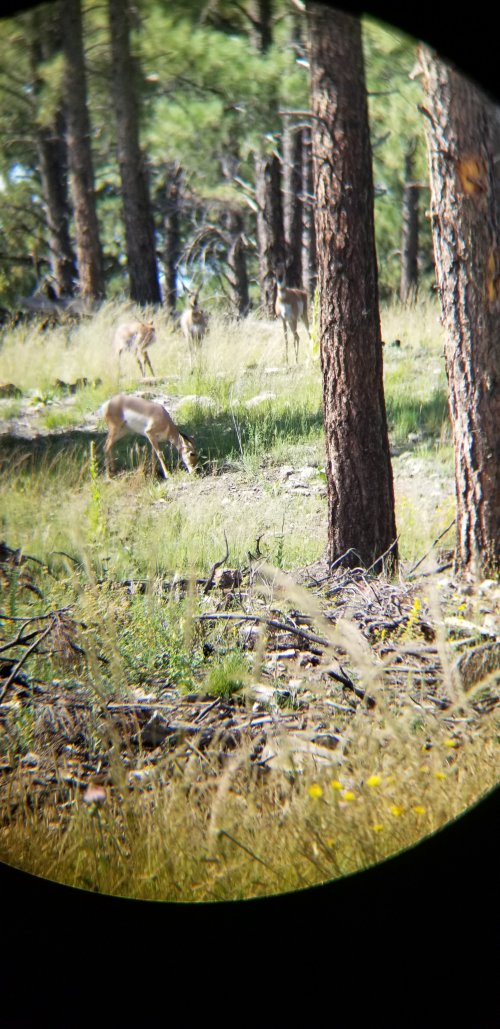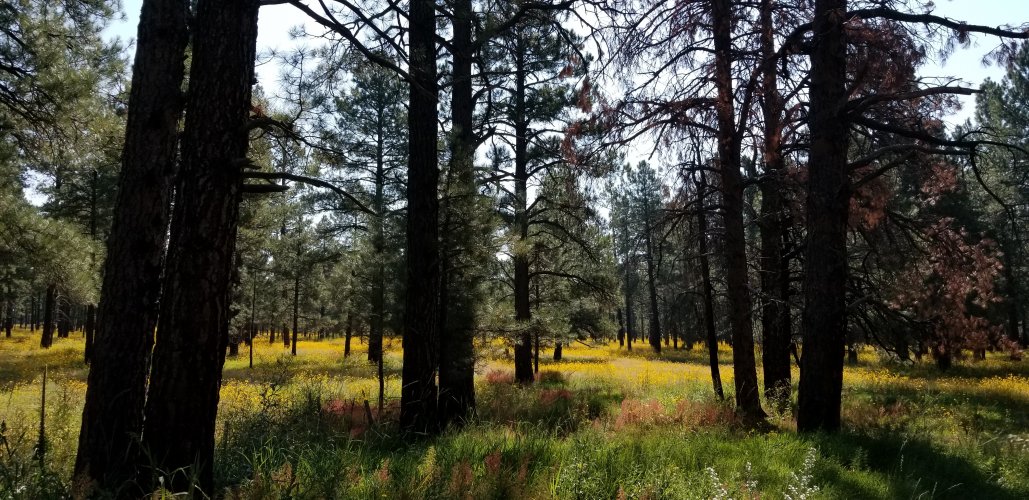 A touching tribute that someone made to their friend. Assuming it was an animal, but I don't really know. I will say, these rocks were brought in from a pretty good distance to this pretty spot, so someone definitely put a lot of time and effort into the memorial.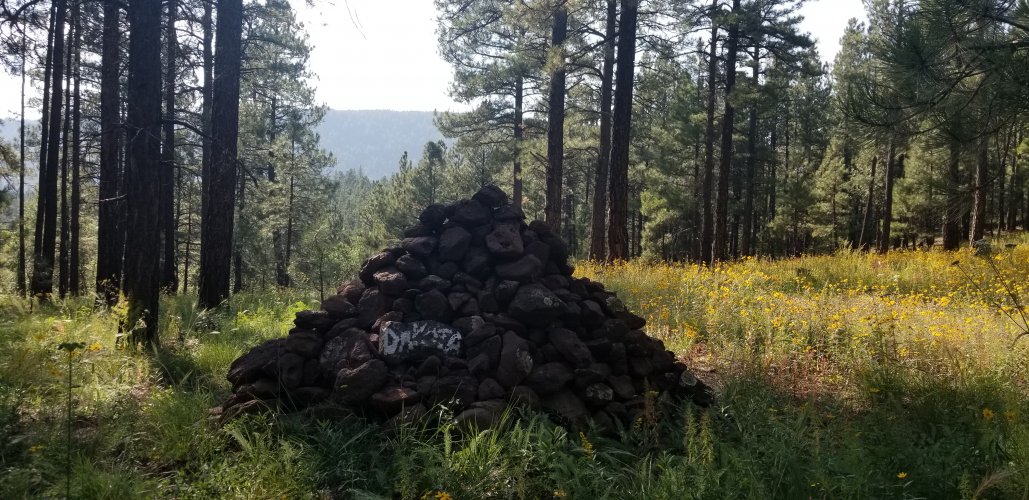 I managed to get all ~200 lbs of meat home to Florida via plane for around $200. I have a rear quarter and a huge bag of trim in my carry-on pack, which weighed around 80 lbs. A small carry-on cooler bag as my personal item that contained 4 shanks and two 70 qt. coolers packed with Elk. It was a HUGE pain to get through TSA screening with meat in my bag. They made me take all of it out for inspection and I can't really blame them since a small block of dry ice looks like C4 on an X-Ray. Will plan on making another post on how I did this for about as cheap as I think a person traveling solo can accomplish it.