Joined

Jun 19, 2020
Messages

453
Location
With the lack of elk that I had seen once the season started compared to all of my preseason adventures plus with my truck breaking down I was feeling a little down about everything. I think this lead to me sleeping in a little bit and getting a little later start on morning 4 of hunting. I got to the trailhead just after 9 so the morning of hunt was pretty well shot. I had kind of decided to just use this day as more of a scouting day to check out this new drainage that I had never set foot in.
There is a nice gradual sloped hiking/horse trail that goes 10 miles right up the bottom of this drainage that I wanted to hunt, but after seeing the lay of the land in person and in the daylight, I decided not to go up the bottom of that drainage, but instead to hike up this long, steep, bald ridge to the east of the drainage that I wanted to check out. Doing this would put me out in a saddle that should give me a great glassing spot right in the middle of this canyon where I could glass up and down this canyon and should be able to see for miles.
I hiked up this ridge for about four miles and am getting close to the top, thinking the whole way, "there are no elk here, it's way to dry and wide open." As I get towards the top I come into this little basin where 3 small creeks start and go three different directions. As I come into this basin I start seeing elk sign everywhere. I was about a mile and a half from the saddle that I wanted to get to with one more hill to go up and back down, gaining about 200 feet of elevation and loosing it again. I was at the same elevation as the saddle already so I decided to try and maintain that same elevation and still hunt m way through the North facing, dark timber hillside to work my way over to the saddle I was trying to get to. It was rough going working my way through the dark timber because it was fairly steep and there was a ton of dead fall. Shortly after starting into the dead fall I quickly realized that this was one of the sanctuaries the Randy often talks about. It was a long ways from any road or trail, it was rugged, it provided good cover and it had you questioning why the hell did I come in here? There were elk beds everywhere. About half way through this timbered hillside I heard a bugle rip about 200 yards below me, followed by a bugle in front of me a little ways and just uphill from where I was. The thermals were going up hull and I didn't want to get busted by the one that was just above me, I quickly and quietly worked my way uphill to where I felt I was just above where the bugle came from. Once I got to that elevation I blew my cow call and was immediately answered by a bugle right in front of me a little ways off. I gave another little blow on my cow call and waited. Within a minute I heard something coming through the trees from the direction the bugle came. After another minute I was standing eye to eye about 20 yards away from a spike who thought he was going to get lucky. After a brief stare down he decided that I wasn't a suitable mate and took off down the hill to where the first bugle came from and then I heard several elk take off out the bottom of the timber into the creek bottom. I continued to make my way across the hill through the timber until I came out into a clearing that had a couple of springs and a big wallow, and more elk sign than I'd seen in one place all summer and fall. I took a couple of minutes and marked a few waypoints on my ONX and then continued the last couple hundred yards to the saddle that I wanted to glass from.
As I got to the saddle I was in awe at the beauty of what laid before me.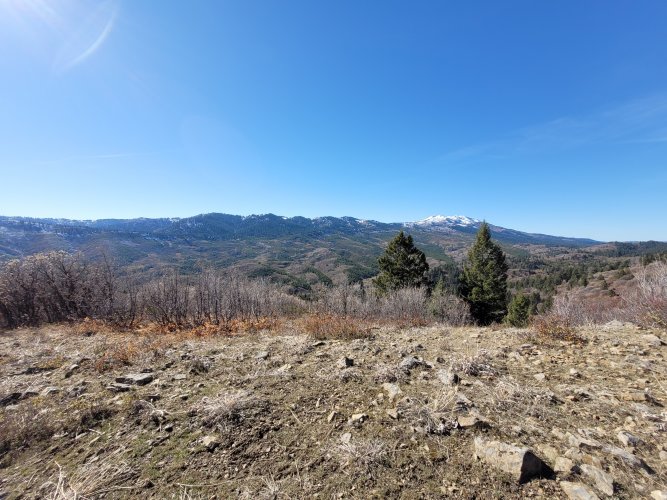 I slipped my backpack off and pulled out some snacks since I hadn't eaten since about 6:00 and it was now aproaching 4:00 in the afternoon. I started to eat a little bit between glassing up and down this drainage. I thought to myself, "If I had to write a book on elk habitat I would just take a picture of this drainage and put it in the book." I continued glassing and eating some snacks. I turned the airplane mode off on my phone and happened to have service, so I text my wife and gave her a few updates as I continued to eat and glass. After about a half hour I started to hear some bugles coming from several different directions in the drainage I was overlooking. All of a sudden I heard two bugles going back and forth in the little side canyon just below me. I text my wife and told her I had to go, there were elk that want to play. I put my phone back on airplane mode, put my lunch away, slid my binos back in the harness and the chase began.