HAHA sucker. There are no live deer in WA!
For the 4th year in a row I have ventured into the Great Chelan County Deer Desert! In the hopes of finding a
unicorn
deer (actually needs to be a 3-pt buck but let's not be greedy).
I know I swore off big game hunting just a couple of weeks ago. But my daughter was really excited and really wanted to go even if she wasn't quite ready to pack her own gun (though she has a tag). She wanted to go a different direction, into the Columbia basin, and hunt in a spot were her and I got a deer a couple of years ago.
https://www.hunttalk.com/threads/wa-general-deer-hunt-summary.302396/
But I told her no, too many people, even if we know there are deer out there.
We
I picked a new area of the desert we'd never been to before instead. We were the only hunters at the trailhead in the morning. Hiked 3 miles in the dark on the trail that follows the creek, then started working our way up a ridge just as it was getting light. 2 hrs and 1,500' later we came out onto a big open basin that I'd digitally scouted. It was exactly nothing that I thought it would be. It was too steep, too rocky, had the wrong kind of cover, and was hundreds of miles from the nearest flowing creek (slight exaggeration). But we sat on it, because it was there, we were there, and well, there wasn't much else to do. There were no deer. I lost interest in the bowl within a few minutes and spend the rest of the time trying to glass a far off burn until the smoke/sun obscured my view too much. I then ran out of water because I can't plan for an 84 deg deer hunt. We then proceeded further up. To the top. Because, well, why not. Up is always the answer. There is a motorbike trail up there that was supposed to be seasonally closed. The 12 motorbikes that went by apparently didn't read that sign. We then hunted back down the trail (thankfully no more bikes by that point), glassing every opening. Started running out of light with 4 miles of trail to go. Finally cut a deer track 15 minutes before dark, but as I tried to follow it, I decided that no matter how dumb this buck was (I'm calling it a buck because, well, why the hell not, not like I saw it), it wasn't going to stand for the amount of noise we were making. Picture a perfectly silent day, no wind, no birds, no bugs, SILENT. Then opening a hundred bags of lays potato chips while also trying to crinkle a ball of tyvek. That's what every step sounded like. So we retreated to the trail. It got dark. We then walked another 3 miles back to the truck.
All total 14 hrs truck to truck, just under 14 miles, zero deer. But I would bet money there wasn't another hunter within 10 miles of us! Oh how I love solitude!
Now some pics.
There were no deer here.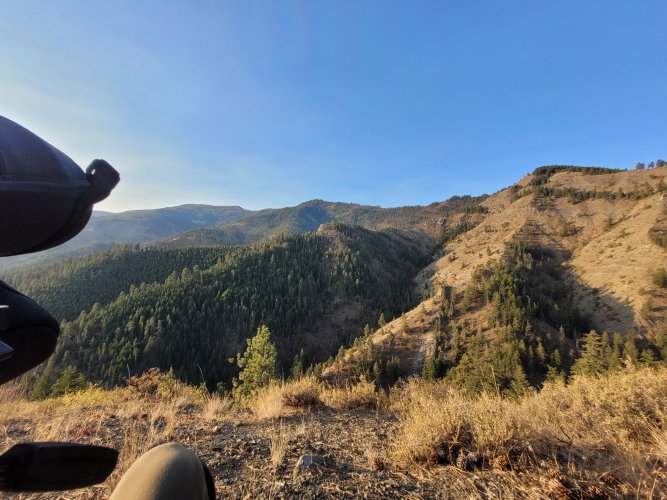 but we looked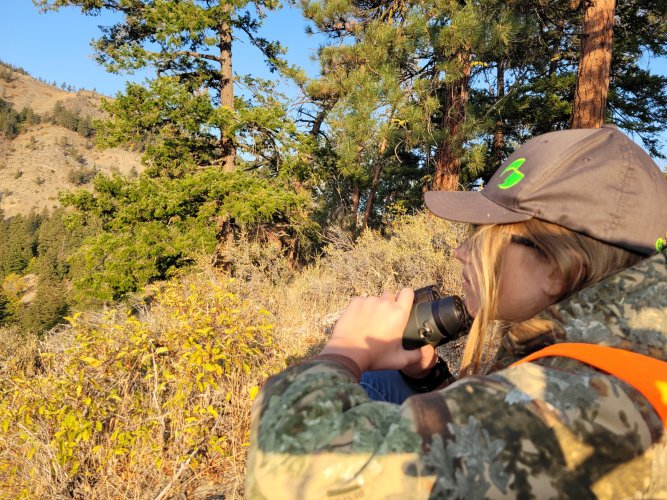 Then we whittled some monuments to our presence into some sandstone and let them in random locations in the woods. The artist at work.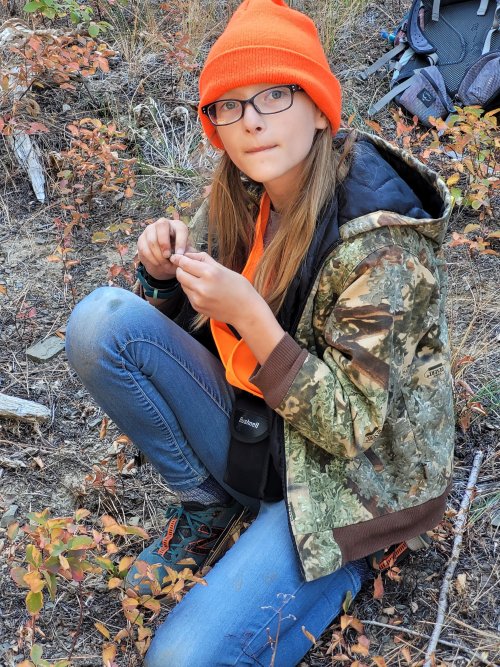 There were also no deer here.
Last edited: