Joined

Sep 23, 2021
Messages

494
Location
I've mentioned this on other threads but just need to say it again to be sure everyone who I can get to reads it.
On September 26th my, wife, daughter, and I decided to go give our hunting spots and tree stands a once over before the coming deer season. I had been so focused on the 2nd season rifle Colorado elk hunt that everything else had taken a back seat.
So around 12:30 that Sunday we took the thirty minute ride up to the public land we hunt. We got to our first spot which was about 1/2 mile down to a couple of spring fed water holes where I had a 20 ft ladder stand.
I put out a camera and my wife was doing some scouting in the area. A split second decision made me think moving the stand around the tree a little would not only give me more cover but would also a better shot at the main trail. I climbed the stand and popped the top buckle loose. The next steps happed fast. I remember grabbing for a limb that broke. I think I heard another strap break and I remember getting to far away from the tree to reach any other limbs. The next thing I know I hit the ground hard….very, very hard!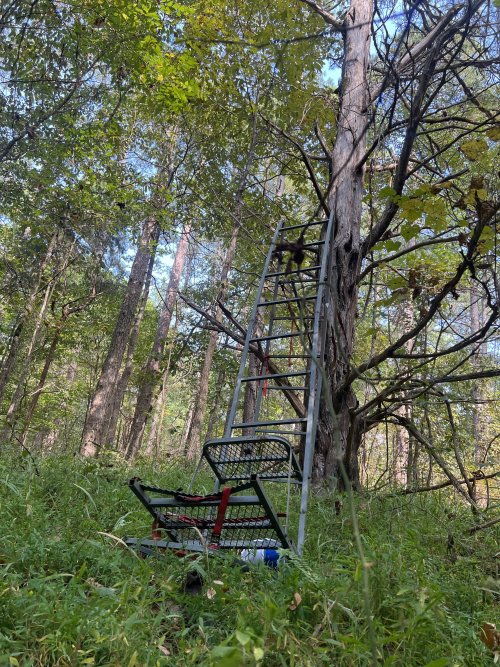 I remember rolling around on the ground and my wife asking what hurt. I don't know what I said to her. I do remember telling them to give me a minute and I'd walk it off. My wife told me not to move and told my daughter to be sure I didn't. They tried to decide who was gonna run up the hill to get a signal to call 911 and the next thing I know I was alone for a while. Finally I heard someone callling and my son in law found me. The wife had called 911 and my son in law and my daughter who is an RN. They led the paramedics to me it was three men. The paramedic in charge I think asked me a bunch of questions and checked vitals and told me to lay as still as possible and not move my neck. He checked movement to be sure I wasn't paralyzed and I wasn't. Then things got strange. He told me the backboard would most likely cause me more long term damage since I was so far in the woods. He said they were going to stand me up and help me walk out. My daughter was the first to say you can't move a patient with a possible spinal
injury then the wife he ignored them like they weren't there. The paramedic told me it would be extremely painful to lay me flat on that board and be carried out. I asked since I wasn't in intense pain lying on my side couldn't he strap me to the board that way and he said no that it would possibly cause spinal damage.
So he started an IV and gave me some pain meds. He rolled me over as I screamed in pain and two guys tried to pull me to my feet I couldn't stand and went to the ground. He told me I had to tough this one out for them and this time the other guy joined in and the snatched me to my feet. I held firm. One guy gave me a stick he found to use as a walking stick and I ask my son in law to give me my extendable limb cutter. At this point if I wanted out it didn't seem I had any other choice in the matter so determination to get it done set in.
I walked the 1/2 mile out of those woods while everyone followed and my son in law cleared a path. I crossed dead falls, small ditches, and about an hour later reached the road. One of the paramedics held a belt loop to keep me from falling when the pain hit and I would start to fall.
I got to the hospital about 45 minutes later and as we pulled up to the ER bay they unwrapped a c-collar and put it on…he said the docs get pissed if a patient doesn't have it on.
So maybe 10 to 20 minutes of seeing nurses and docs getting IV 's started and vitals I was in a ct machine.
Before I could get settled back in the ER room the doc came in and told me I had one vertebrae in pieces and several cracked. Also, there was a section of bone pressing into my spinal cord. He had already started the process of getting me airlifted to a trauma center because they didn't have a surgeon that could handle the injuries. A helicopter arrived to airlift me to Jackson Ms. and they locked me down to that bed so I couldn't even twitch.
Thirty minutes later I was in the air doped out of my mind. I was in surgery after about 3 hours after landing that took around 5 hours I have 2 titanium rods and 10 screws with a large portion of my lower spine fused together, but 12 days later I'm recovering now. I'm lucky….beyond lucky.
The only thing so far is a nerve damage in my left leg. It's numb to the touch from my hip to my in knee. The doctor who did the surgery said it was permanent spinal cord damage. If that's all the problems I have from this I'm good.
I told this story not for sympathy or anything like that. I'm 48 years old and have been moving stands and climbing trees for hunting for 40 years. I considered myself a safe guy when it came to this, but in a matter of 30 seconds I left all that to the side and almost killed or paralyzed myself just to move a stand a foot or more.
Guys be safe….hunting is a wonderful sport, but it can be dangerous and no matter how much experience you have tragedy can hit you too, and hard!
.
Last edited: