Joined

Aug 18, 2016
Messages

3,068
Just like the old-timers...
I Took my Hawken .50 caliber to Idaho looking for an experience from the 1850s. Several stalks later I found out why Lewis and Clark took 20 times as many deer as pronghorn. Getting close is not easy on the open sage sea.
Day one produced many stalks but I wasn't able to get closer than 200 yards. Glassing from the top of the area, I saw a doe several hundred yards running through the sage, stopping to look back only when she wanted to catch her wind. It took some time for me to see that the doe was actually a small buck and what pursued her was clearly the dominant male in the area.
While they focused on each other I moved in using small rocks clumps to hide my approach. But, at 150 yards the small buck made me and snorted. His departure took the larger buck another 500 yards away. Then someone else crested the ridge to my right.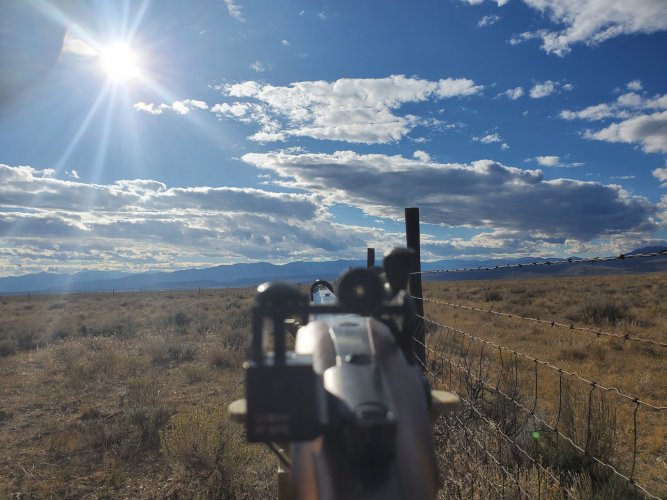 A doe instantly took both their attention and I watched the dance of a love triangle until the larger buck had enough. His return brought him near me, but I had to use the curve of the hill to hide a last dash. As I sat and waited for the buck to appear, his delay made me wonder if he had spooked off. As a I slowly rose his head appeared close enough that I didn't need a range, under 50 yards.
I wrapped my sling around my left arm to support the 11lb black powder rifle. I capped the nipple, brought the hammer to the rear, and pulled the set trigger. As he rose from below me I set the front pin on his chest and centered the peep. As I pulled the second trigger I heard the distinct report of a gun not modern and watched as my buck ran and fell.
I have been blessed to hunt in abundance and firsts for me are rare. But this first antelope by muzzleloader was a challenge I looked for. Closing the distance and using very primitive weaponry made this the experience I wanted.
Soon it will be antelope tenderloins with huckleberry glaze, my celebration ritual.
(I prefer to not have weapons in my pictures with animals.)
More on my
IG
.