Joined

Oct 23, 2012
Messages

2,656
Location
To piggy back on the boo boo bear thread and at
@MTTW
half serious request it is time for a ground shrinkage thread on the bucks and bulls you have taken. Ground shrinkage happens to everyone sooner or later. They say confession is good for the sole so it is time to fess up and post up some stories and pictures of those bucks that turned out to be far less than thirty tall you thought he was when you pulled the trigger.
My all time biggest ground shrinkage buck was the one I shot back in 88 on the Custer. In Jan of 88 I located two bucks, one was to this day the best clean 4 point I have ever seen and the other was flat and well into the thirty's wide buck with some big cheaters. It was quite a sight seeing those two bucks standing together on a snowy hill. Naturally come fall I was in the same place hunting. I spotted this buck with some does and he looked real big, not tall but wide and some cheaters. I figured I was looking at the wide buck I located in Jan. so I shot him. When I got down to him I was not looking at the buck I thought pulled the trigger on. Yes he is wide, over thirty, a nice buck by almost anyone's standards but not near the buck I thought. His body is small he has young written all over him. A three year old future monster most likely.
I left him over night and the next day my brother and I hunted our way to him. My brother shot the other buck that morning, A much older and better deer.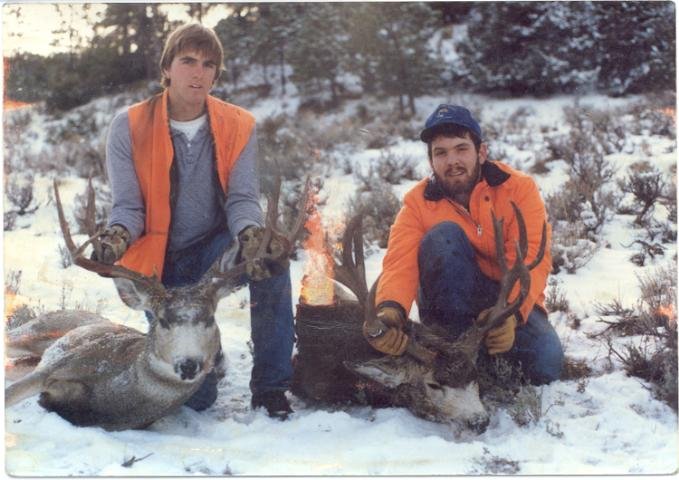 Last edited: