Joined

Jan 13, 2020
Messages

223
Location
Just returned home from a great archery AZ javelina and coues deer combo hunt. I had been thinking of doing this hunt for several years and after Bigfin's multiple Arizona episodes I decided to just go. I went solo and hunted the southeastern part of the state. I spent 6 days trying to fill both tags.
Day 1 NYE
- I was about 2 hours late because the plane had to return to the airport due to smoke in the cockpit. I was near the front of the plane and could smell a slight electrical type burn. Just a whiff of smoke, like someone had a lit cigarette 20 yards upwind of you. It was scary when the pilots turned that plane around and the smoke smell hit me… We made it back to SMF and were greeted by airport fire trucks at the bottom of the runway…. Great way to start a trip eh? Anyway, another plane was available, so everyone boarded the new one. Right before we started boarding the new plane I almost said screw it and drove, but that would have taken 14 hours of driving (one way) out of my hunting time. I'm at least 15 years from retirement, but once that happens, I don't think I'll be flying to hunt much anymore. Yeah, I know statistically flying is much safer than driving but planes just kind of freak me out. After about a 2-hour delay, I finally picked up the rental car and was on my way to a great adventure. First stop AZ DGF for a non-prmit archery deer tag: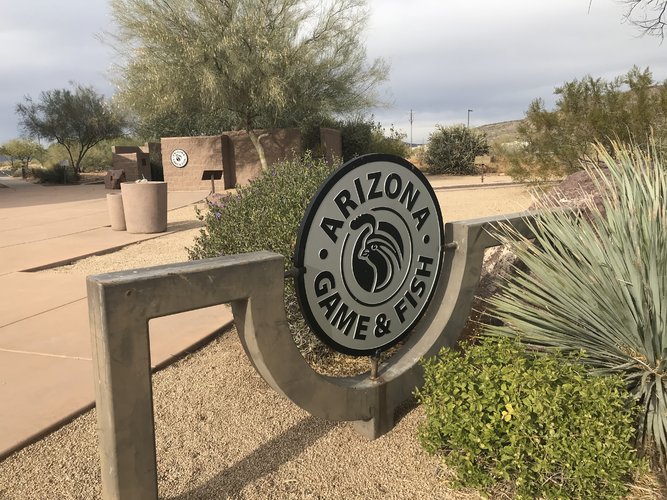 In the planning stages of the hunt, I reached out the multiple people I know from AZ including a friend who is the Director of a small regional land trust. He happened to have an old ranch house that was currently unoccupied in the heart of some great deer and javelina country, and for small donation to the trust it was all mine for the next 7 nights. The place was nestled into a mountain valley with steep sides right at about 5600 feet. A sweet spot for sure with lots of deer, Goulds wild turkey, quail, and coatimundi running around the yard. It was a fine hunt camp with luxuries like hot water, a flush toilet, and heat! Things like these are usually much to expensive for me to spring for on a solo hunt. The land trust would not allow me hunting on their lands, but the place was surrounded by national forest and a lot of state lands.
Day 2-NYD
- Working a tip from a friend who just finished up a rifle hunt in the area and said he saw lots of javelina at this spot I beat feet early to javelina plan A spot. I decided to concentrate the javelina tag first knowing it would be easier than the deer tag and was surprised when the first legal game animal I glassed up was a mule deer buck. He was not very large just a 2 point, but what the hell I went after him. I did not make it very far before he was gone and soon realized quadrupeds have a great advantage of bipeds on that rocky desert terrain and well really any terrain... While this spot was not very high it was hilly and had a lot of loose stone they liked to roll underfoot. I tried to find him, but he vanished into the desert. I hiked up onto a knob and glassed for deer and javelina for a few more hours but saw noting. On to javelina plan b spot.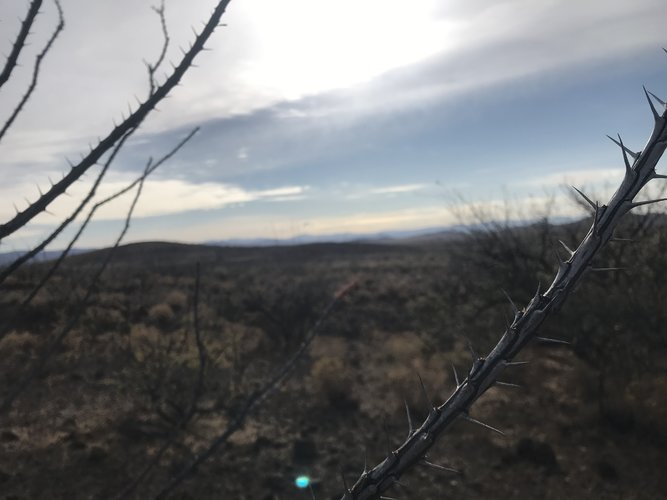 AZ DGF does a great job describing units and breaks it down by species. This information combined with some intel from others I met gave some great insights to the plan b area. As soon as I arrive at plan b area BINGO! I spot javelina from the truck maybe a half mile off. The time was about 4 pm and I set out after them. The wind was perfect in my face and spot was flat-ish and very open as apposed plan A which was hilly, scrub covered, and rocky. It was an easy stalk and I covered the half mile pretty fast. The 3 javelina 1 big one and 2 smaller didn't pay much attention to me until I got to about 60 yards. Then they started to get a little nervous. I think they could hear me crunching the grass under my boots. Anyway, I closed to 47 yards and the largest in the group started to circle around me, trying to get my wind I suspect. It got to about 40 yards and I drew back and let fly…doh! I missed. I couldn't believe it. Right over the back. All three spooked and took off. By this time, I only had about 30 minutes of shoot time left called it a day and headed back into the hills and my ol' ranch house. That evening I formulated a plan to return to the same area at first light and try again. Cold beers and dinner were in order and this desert was really starting to grow on me.