Administrator
Staff member
Joined

Dec 27, 2000
Messages

15,581
Location
I think Wyoming is a prime example of how state agencies can work with private landowners to open lands for hunting access. The Hunter Management Areas and the Walk-in Hunting Areas administered by WY Game and Fish provide excellent big game hunting.
That program fits very well with RMEF's access initiative. RMEF takes seriously the results of the NSSF study that show access as the most commonly cited reason that hunters 1) quit hunting, 2) hunt less, 3) don't get into hunting even though they come from a hunting background. I can assure you that access is one of the top priorities at RMEF.
In the link below you will see that RMEF granted money to help WY G&F and partners open up access in Unit 7, a unit known for good elk and difficult access, under a 15-year agreement. It will provide access to 6,700 acres of private land, plus another 4,000+ of State and BLM lands.
http://www.rmef.org/NewsandMedia/Pr...nersOpenHuntingAccesstoWyomingElkHabitat.aspx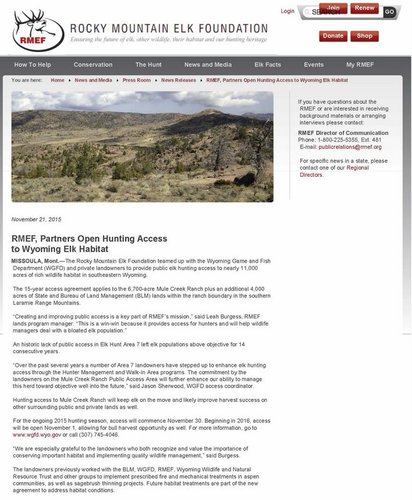 If you are interested in all of the Wyoming properties, below is a link to their
Private Land/Public Wildlife web page
. They accomplish a lot with very little. To all who donate and fund that program, I provide a big Thank You!
PLPW Web link ------->
https://wgfd.wyo.gov/Public-Access/Private-Lands-Public-Wildlife