The following is copied and pasted from another turkey forum I spend time on in the spring, so some of the references my sound off since I penned it back in the spring.
Here goes............2015
We started the season in MT with Boyd's and Heather's special permits. Heather hasn't hunted turkeys in 8ish years and Boyd had never killed a turkey, so I couldn't persuade either to pass up a jake. We tried to get Boyd up first but these turkeys were on a mission to be shot by Heather instead of Boyd.
Heather's first bird in a long time
Heather and Isaac
Boyd and I tried to get it done a couple more times that first week, but could not convince one hard headed bird (he'd been shot at on day one by another hunter) to close to closer than 50 yards and another refused to stay on public ground on two different occasions.
Boyd hiking up the mountain
Isaac and I hunted public land in a General area on the following weekend.
Isaac killed this melanistic tom about a half hour before dark after one of his four hens decided to com investigate. He strutted right in to 25 yards. We didn't notice the black wings while he was strutting.
We worked another bird a couple times that same day and the next morning but couldn't get him to close the deal. He was a beutiful Merriams and strutted at 75 yards on a big rock for a while at noon, before Isaac killed his bird. I was hoping to catch him again when we returned from our trip back home.
We made it back home the next weekend to chase Easterns and hopefully get Boyd his first bird.
Boyd walloped this tom on our second morning. The tom had been strutting in the field with several hens and gave us the slip on day one, but day two found him gobbling and strutting around the field edge to meet a load of #6 Hevi from Boyd's youth model 20 ga.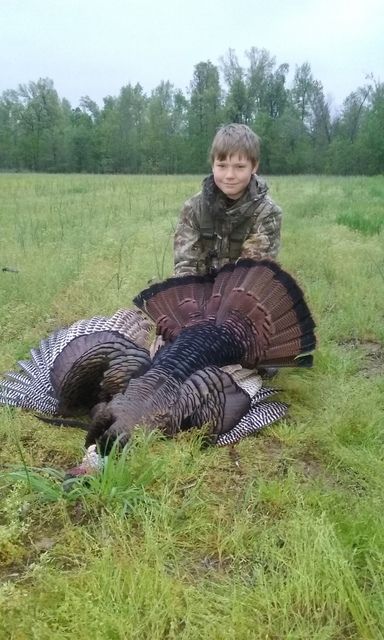 Boyd's first turkey was a great tom. (me showing off his spurs)
We followed that up with a two bird day for Isaac and I on public land.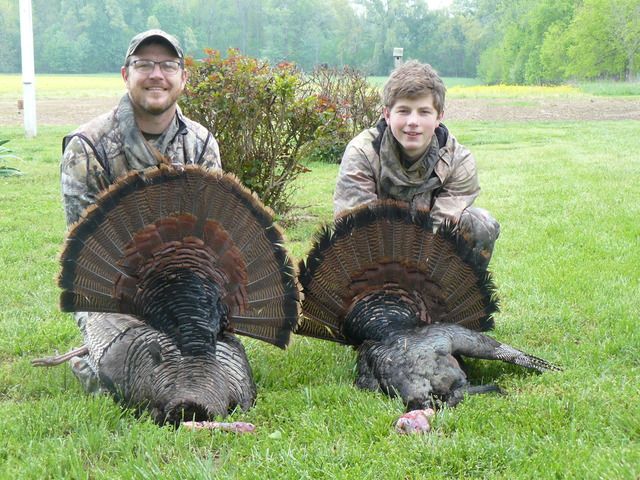 Then I filled my second tag with another field bird that I moved on several times.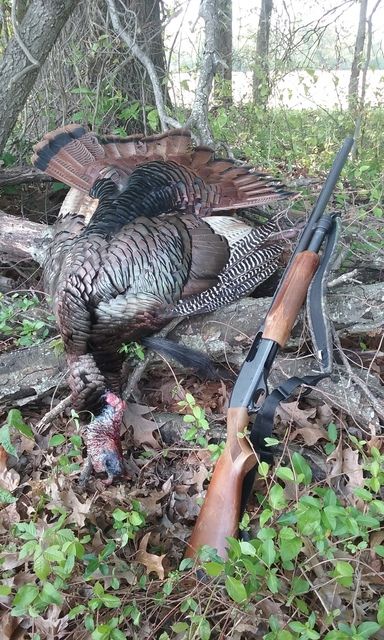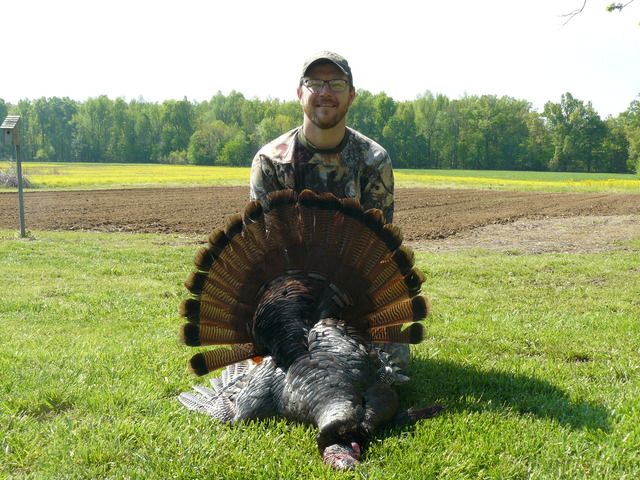 Last edited: