It's been a family tradition since I was a kid to rent a beach house on Galveston Island in the summer. About 20 years ago I learned that when the conditions are right you can catch speckled trout by just wade fishing in the surf, and they will often hit topwater, which is my favorite kind of fishing. There's also the possibility of catching sharks, mackerel, Jack crevalle, and really just about anything in the Ocean, which just adds to the experience. Unfortunately you plan the vacation 6 months in advance so there's no way to predict what the conditions will be, it seems like I have about a 1 in 3 chance of the surf being right. More than once our vacation got cut short by a tropical storm or hurricane, which ruins more than the fishing. This year we hit it pretty good with a 3-4 day stretch of good to great conditions, here are a few results.
The first morning the gulf was flat but a bit sandy, visibility only 6-12". My brother and his son caught a cooler full of sand trout as we needed a "meat-haul" to feed a large group. I was focusing on topwater speckled trout, and by 8:30 I had 4 keepers (limit is 5, 15" minimum size), nothing big, and thrown back about 10 undersized. The bite had died down but I was still seeing some bait activity 50-60 yards out in deeper water, I was already standing in water up to my armpits. So I tied on a Heddon super spook (very large walking bait) since I can cast that thing a mile, it's like throwing a javelin.
So 2nd or 3rd cast, HUGE blowup, then a large fish went airborn, but I didn't get a good look at it. Good hookset, I immediately knew I had big fish on, but it didn't feel like a trout. I also quickly remembered that that reel had an 8 lb test leader, which was sort of a screwup, normally have 15-20 lbs in the surf. So I really had to be patient with this fish, it was a long lumbering fight with numerous drag peeling runs. I got back in knee deep water thinking it was probably a shark, but my nephew finally got a good look and said it was a redfish!
After a few tries he did a good job netting the fish; 33", 11.2 pounds, my biggest redfish by far. It's not unusual to catch redfish on topwater in the marshes and bays, but those are typically smaller fish (1-5 lbs) in shallow water. Catching a big one on topwater in the surf in 7-10 feet of water doesn't happen very often, as far as I know. Normal method in the surf is live or cut bait on the bottom.
Here's a couple of redfish pics, I'll add some trout pics later.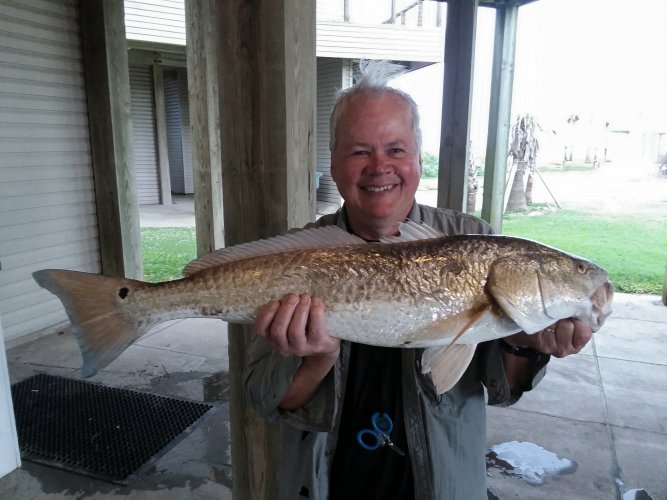 pic of fish, lure, net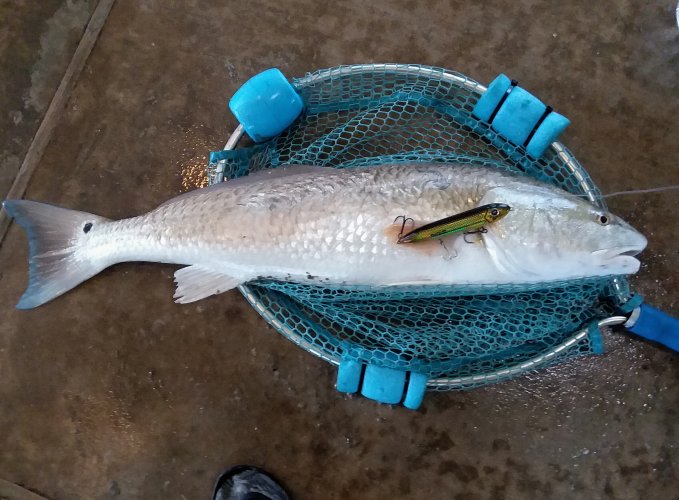 Last edited: