Joined

Jun 6, 2013
Messages

4,808
Location
There has been a lot of discussion about damage hunts in Montana and potential changes to their structure on here recently. Over the next month I will be participating in one, and I figured I'd record the experience and process here. I will omit the specific location.
A couple months ago I threw my name in the hat on the Damage Hunt Roster. Typically I will google the words "Damage Hunt Montana" and limit the results to the previous year. I then read newspaper/whatever articles noting places where hunts took place the previous year. It can be kind of useful to increase your chances and give you an idea of whether or not the hunt will take place in the HD you throw your name at.
Once the Rosters were released I ended up 21 out of 508, which seemed pretty good. A couple weeks ago I checked and my position was 18. Even better - a sign that people were being called to hunt.
Last week I checked and saw this: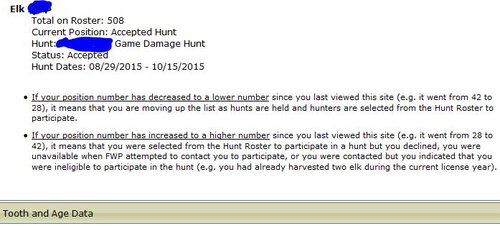 Sweet.
Checked my email and there was a letter telling me I had been drawn.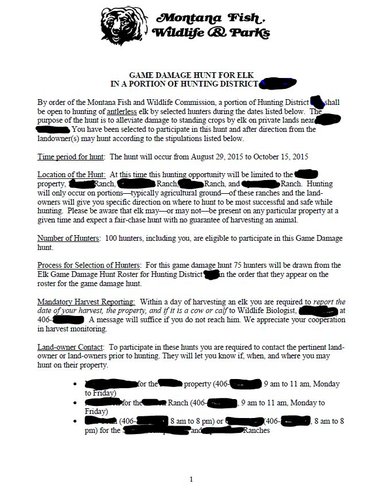 So, this hunt takes place on 5 different ranches. No map was provided. I queried the names using Montana's parcel data, and I have a decent idea of where I will possibly be hunting. Maybe a 1000 acres total between all of the ranches combined. Some thoughts at this point:
-- I live about an hour and a half away. This hunt occurs on five ranches with four different contacts that will tell me where and when I can hunt. If I call and ask if I can hunt next Wednesday and they don't jive, it will make things more complicated. One of these ranches looks to only be 80 or so acres.
-- If you look at the letter, 100 hunters are participating and 75 were chosen from the roster. So it seems that 25 were handpicked by the participating landowners.
-- I wish a map were provided. Land ownership can be complicated, and getting my bearings from someone simply from a phone conversation could have potential issues. I am not overly familiar with the area, but that is on me.
I'm excited about this. I've never done an elk damage hunt. I plan on calling the ranchers later this week to get permission to hunt in the middle of next week. I'm sure I'll know a lot more once I speak with the landowners. I've got over a month to get it done, and I'll update this thread as I go.