Joined

Aug 29, 2017
Messages

120
Location
I finally got a chance to get out looking for some sheds over the weekend. Only had a couple hours before dark to look around, but the cabin fever has been killing me this winter and the weather was good so packed up the dog and headed up. Had to get about a mile up the hill before I found the first one, a hard white two point that was bladed on the back tine. Good sign that nobody had been in the area since this was most likely last years shed.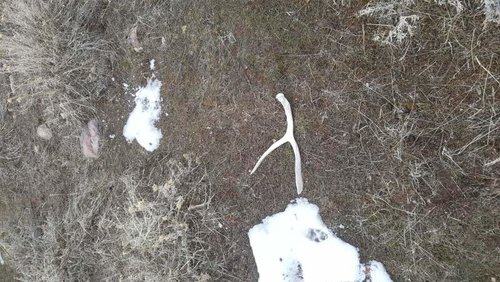 Another 30 yards up the hill and over on the north side on a game trail something did not look quite right on a sage brush, so I headed over to investigate (and regretted leaving my binos in the truck). Huge four point with 3" eyeguards and a 24 3/8" main beam. This was easily a bigger deer than any I have ever found, let alone shot. Not a ton of mass, but great tine length. Did a rough score on him when I got home and estimated he was about a 184" buck. Will have to look for him this fall.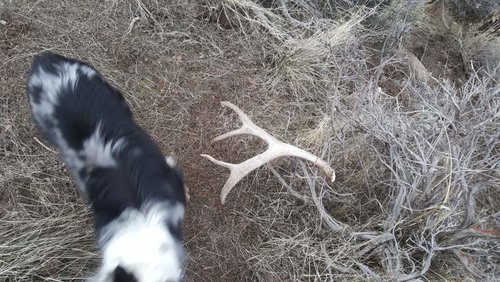 Instantly I was focused on finding the other side. Started looking around and spotted another 4 point not 20 yards away. Sadly it was not a match, but still a great find.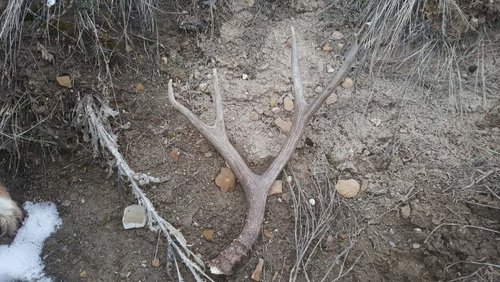 It was starting to get dark about now, but I had to spend another 30 minutes looking to match up the sheds, no love. Decided to traverse the south slope and ended up hitting a deep rocky canyon/slide area. Headed down the very bottom in hopes of better footing, only to stumble upon this deadhead.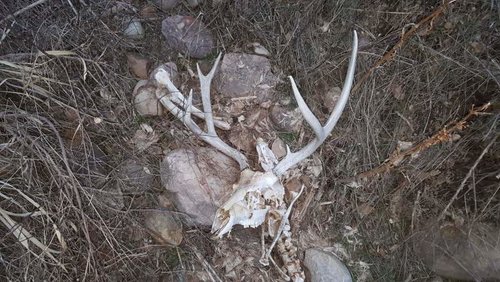 Headed down the hill as quick as I could before the sun ran out on 45* slopes and slick mud. Not a bad trip for only a couple of hour excursion. This pic shows a little better the size of the bigger 4 point, and makes me think that I should grow my beard back to cover my double (triple?) chin. Oh well.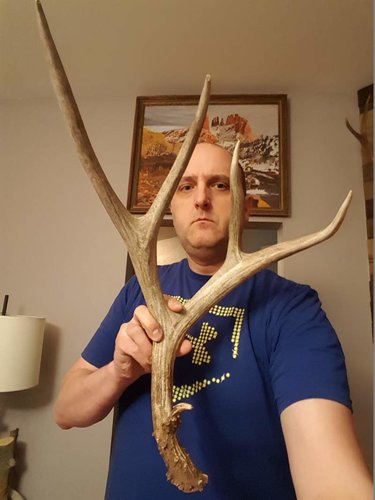 Lets just say that I am very eager to head back up to the area in the next few days and spend a few hours looking for the other sides and whatever else may be out there.